Chevron: No Surprise Here
This article was originally published on
this site
The quarterly results for Chevron (NYSE:CVX) weren't surprising at all. The oil major still focusing on production growth while paying a big dividend in a weak commodity environment is bound to struggle with results.
The interesting part about the Chevron story is that the stock recently hit 52-week highs despite cash flow questions persisting. One has to wonder if any reason exists to own the stock over $100.
(click to enlarge)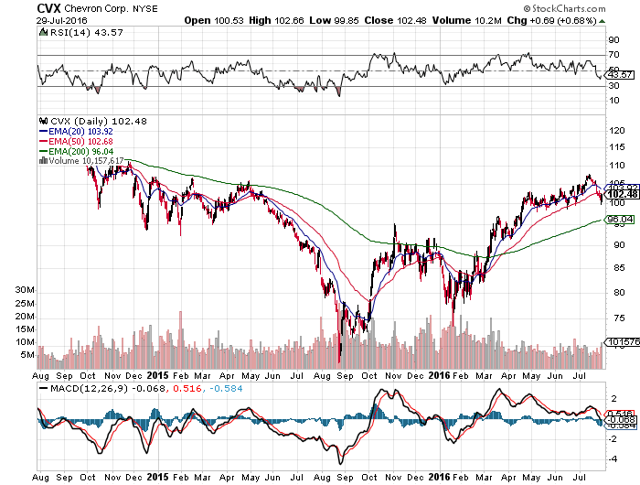 Click to enlarge
Chevron actually reported adjusted earnings that beat analyst estimates, but the company remains far away from producing positive cash flows as oil prices head in the wrong direction. The not so surprising part is that the oil exploration and production is still focused stable production.
For Q2, the oil major produced operating cash flows of only $2.5 billion while spending $4.5 billion on capital expenditures. If that wasn't bad enough, Chevron spent another $2.0 billion paying dividends to shareholders. The results continue the trend of the company needing other sources to cover cash outflows.
(click to enlarge)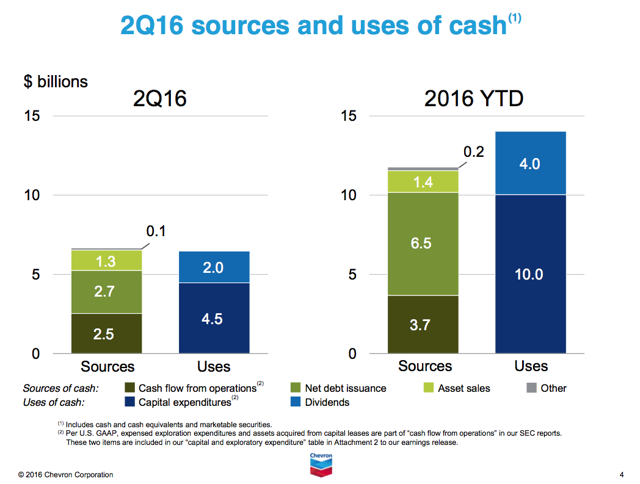 Click to enlarge
The story might be promising if commodity prices were going in the right direction. Instead, Chevron had to obtain $4.0 billion from dumping assets in a weak market and raising debt.
Unfortunately the Q3 operating scenario isn't likely to improve as oil prices have plunged in the last few weeks of July. As oil production firms cut costs, the ability to drill at lower prices is going to keep a cap on oil. The end result is an ongoing race to the bottom.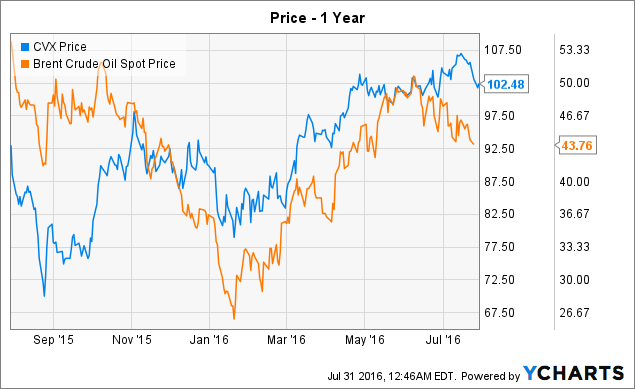 The key investor takeaway is that the path to operating cash flow covering dividend payments remains tenuous. Chevron still targets up to $8.5 billion in additional asset sales through the end of 2017 knowing that the commodity market is likely to remain weak.
The stock remains difficult to own following a big rally from the lows and still falling $4.0 billion short of covering what amounts to only a 4.2% dividend yield. Investors need to question why they are chasing a stock for a dividend that is far from covered in this weak commodity market.
Disclosure: I/we have no positions in any stocks mentioned, and no plans to initiate any positions within the next 72 hours.
I wrote this article myself, and it expresses my own opinions. I am not receiving compensation for it (other than from Seeking Alpha). I have no business relationship with any company whose stock is mentioned in this article.
Additional disclosure: The information contained herein is for informational purposes only. Nothing in this article should be taken as a solicitation to purchase or sell securities. Before buying or selling any stock you should do your own research and reach your own conclusion or consult a financial advisor. Investing includes risks, including loss of principal.