General Dynamic Remains Enticing After Earnings – Seeking Alpha
This article was originally published on
this site
| | | | | |
| --- | --- | --- | --- | --- |
| ($ millions) | 2Q16 | 2Q15 | Change | % Change |
| Revenue | 7,665 | 7,882 | (217) | -3 |
| Earnings | 1,070 | 1,081 | (11) | -1 |
| Net Income | 758 | 752 | 6 | 1 |
| Earnings per Share | 2.44 | 2.27 | 0.17 | 7.49 |
| Operating Margin | 14.0 | 13.7 | | |
| Tax Rate | 27.7 | 29.1 | | |
| Share Count | 310 | 331 | (21) | -6 |
General Dynamics Corp. (NYSE:GD) reported strong growth in EPS for the second quarter of 2016 (2Q16) despite softening revenue. The improvement in profitability reflected margin expansion for most business segments, a lower tax rate and significant share repurchases. These favorable movements were partially offset by a decrease in revenue. Since GD trades at only 16 times trailing earnings, investors should not be too concerned about the decline in revenue. Instead, value based investors should strongly consider adding GD to their portfolio.
GD's 3% decline in revenue in 2Q16 should not be alarming. Since peaking in 2011, the firm's annual revenues have fluctuated within a narrow band; therefore, an occasional decline in quarterly revenues is to be expected. Four of GD's five business segments reported a decrease in revenue in 2Q16, but combat systems is the only segment where the decrease in 2Q16 appears to be a continuation of a long-term trend. The cause of the decline in 2Q16 is different than the key driver of the segment's long-term downward trend. Lower revenue from the U.S. military has been responsible for most of combat systems' long-term decline, but lower revenue from weapons and international customers represented 95% of the $93 million decrease in combat systems' revenue between 2Q16 and 2Q15. Furthermore, the nature of the decrease – production delays and unfavorable foreign exchange movements – seem ephemeral which bodes well for reversing the long-term trend in combat systems' revenue.
Change in Revenue by Business Segment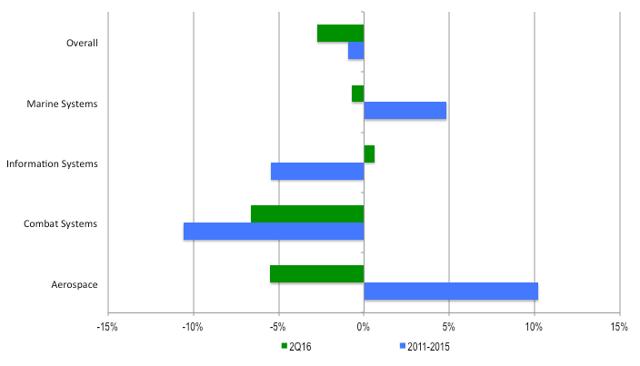 Click to enlarge
Operating margin helped GD beat analysts' expectations by $0.13 per share or 6%. GD's overall operating margin improved 24 basis points (bps) to 14.0%. Results by segment varied, aerospace and combat systems showed healthy margin expansion. Information systems' operating margin increased slightly, and marine was the only segment to report a decrease (24 bps).
Chart below demonstrates that every business segment except marine has shown significant improvement in its operating margin since 2012, a challenging year for GD. Marine's decline likely reflects costs associated with preparing for significant medium term growth opportunities, such as the updating of the U.S. Navy's Virginia class submarine. During the 2Q16 earnings call, CEO Phebe Novakovic emphasized that maintaining strong margins is about disciplined cost control. This philosophy coupled with favorable macro and micro trends explains why margins have marched upward since Ms. Novakovic took GD's helm in early 2013.
Operating Margin by Business Segment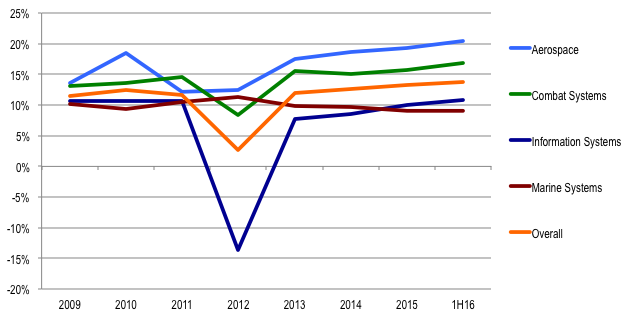 The Financial Accounting Standards Board (FASB) issued an update that boosted GD's GAAP earnings in 2Q16 but does not affect free cash flow. Accounting Standards Update No. 2016-09 (ASU 2016-09) revises FASB's position on accounting for the expected tax impact from awarding stock based compensation. Previously, FASB advised companies to recognize excess tax benefits as additional paid in capital. Now, FASB wants companies to incorporate excess tax benefits into their income tax expense. This change was the primary reason GD's effective tax rate was 27.7% in 2Q16 compared with 29.1% in 2Q15.
Investors need to understand ASU 2016-09. The update will generally cause companies that award a material amount of stock based compensation to report a lower tax rate in 2016. Unfortunately, the lower tax rate will not translate into improved free cash flow since the Internal Revenue Service has not made any changes to its treatment of stock based compensation.
Since GD's net income in 2Q16 only increased a measly $6 million or $0.02 per share, share repurchases were obviously responsible for most of the $0.17 or 7% increase in earnings per share. GD spent $3.2 billion buying back shares between July 1, 2015 and June 30, 2016. This activity reduced the firm's diluted share count by 21 million or 6% since 2Q15.
Conclusion
GD remains an attractive investment after reporting its results for 2Q16. Modest decreases in quarterly revenue have become more common since CEO Novakovic assumed control and emphasized operating margins instead of growth. GD delivered margin expansion in its most recent quarter. Importantly, GD has been right sizing its capital base to reflect its limited expectations for growth. The chart below illustrates how cash returned to shareholders has exceeded free cash flow for several years. Currently trading at 16 times earnings in the past four quarters, GD seems like a good fit for a value based investor.
Share Repurchases, Dividends and Free Cash Flow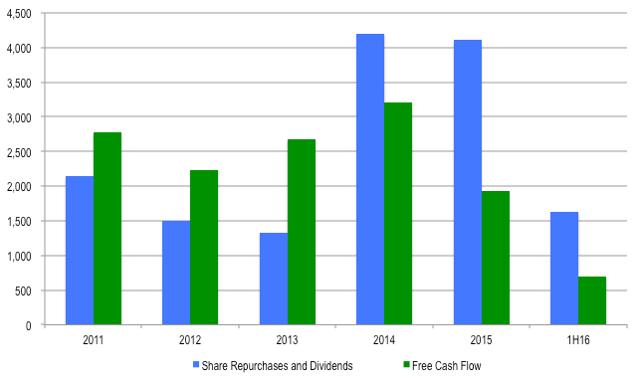 Click to enlarge
Disclosure: I/we have no positions in any stocks mentioned, and no plans to initiate any positions within the next 72 hours.
I wrote this article myself, and it expresses my own opinions. I am not receiving compensation for it (other than from Seeking Alpha). I have no business relationship with any company whose stock is mentioned in this article.