2 Big Bank Stocks to Own Today
This article was originally published on this site
The Federal Reserve has given the "all clear" when it comes to investing in big bank stocks.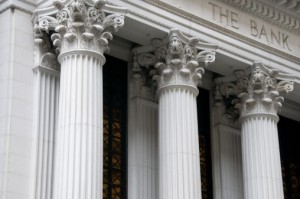 Banks are finally to the point that they can pay out most of their earnings via dividends and buybacks. In addition, banks are poised to reap the benefits from an economic environment in which interest rates are on the rise.
For more than a decade, banks have built up earnings and improved balance sheets.
A decade ago, banks were undercapitalized and taking on a lot of risk. All that has changed today. Banks are now operating more cheaply and are reducing overhead costs, like excess bank branches, thanks to mobile banking.
Banks now have plenty of capital and many have overhauled their balance sheets. The Federal Reserve gave a passing grade to all 34 of the major banks in its annual stress tests last month. This is the first time that all banks have passed the tests since testing was introduced after the financial crisis. On average, the Fed approved a 36% increase in dividends and a $10 billion share buyback per bank.
U.S. banks may also benefit from reduced regulation. The Trump administration plans to ease a wide range of regulations imposed on financial institutions. After getting a solid boost from Trump's win, most of the large bank stocks have been flat for the last five months or so. That's despite positive second-quarter earnings for most of the banking sector. Some 65% of banks managed to beat analyst estimates in the quarter.
All this should help unleash pent-up demand from investors — finally giving them a reason to buy back into big banks. With that in mind, consider these two big bank stocks to own today:
Big Bank Stocks to Own: Bank of America (NYSE: BAC)

Bank of America is chalking up some big positives. For starters, Warren Buffett's Berkshire Hathaway (NYSE: BRK.B) is set to become Bank of America's  largest shareholder. That's a vote of confidence that any company would want. Berkshire will now own 7% of Bank of America.
Bank of America gained approval this month to increase its dividend to $0.48 share — a 60% boost. This is a big reason Buffett is swapping his preferred shares for ordinary shares, as the dividend will now pay more than the preferred dividend. Also, the bank received regulatory approval to buy back $12.9 billion in stock. This is second year in a row in which Bank of America has upped its both its dividend and its buyback.
Buffett is trading in his preferred shares to capture some of the upside from gains that Bank of America will see from rising interest rates and the improved banking environment.
Big Bank Stocks to Own: Citigroup (NYSE: C)

Citigroup is one of the most undervalued big banks. Shares still trade at just 90% of book value. But compared to other banks, it carries reduced leverage and still pays a 1.2% dividend yield.
Citigroup underwent a huge restructuring that commenced after the financial crisis. With restructuring now complete, the company is seeing the benefits from improved efficiencies.
Citigroup is more diversified than other banks when it comes to having exposure to high-growth emerging markets. Citigroup has a strong presence in growing markets, including China. And, with Citigroup's largely improved balance sheet, it carries a lower debt-to-equity ratio than banks like JPMorgan Chase (NYSE: JPM) and Wells Fargo (NYSE: WFC).
Bank of  America and Citi are two of the most capable companies in the industry when it comes to rewarding shareholders, making them among the best big bank stocks to own now.  Each has an underrated dividend yield and each is poised to gain in an environment of higher interest rates.