2 New Gold Price Predictions Point to a 451.4% Gain
This article was originally published on this site
Gold is coming off a rough 12.1% decline in Q4 2016. But our newest gold price predictions show gains of 24% in 2017 and 451.4% by 2019.
You see, the decline in gold prices over the last three months is only a short-term reaction caused by two temporary factors…
The first is the U.S. dollar, which is up 5.8% since the presidential election and 2.2% since the December interest rate hike. A stronger dollar lowers the price of gold because gold becomes more expensive in foreign currencies.
The second headwind is news of India potentially limiting its gold imports. As one of the world's largest gold consumers, India's new policy would drastically reduce global demand. While the policy could benefit silver prices, it would drag gold prices lower.
Despite these headwinds, one of our gold price predictions sees the metal rebounding through 2017.
Here's how high Money Morning Resource Specialist Peter Krauth – a 20-year veteran of the metals and mining market – sees gold prices heading this year…
Gold Price Predictions, No. 1: $1,400 an Ounce by the Second Half of 2017
According to Krauth's newest gold price prediction, the metal will rise at least 24% to $1,400 an ounce by June 2017 at the earliest. He expects Donald Trump's economic plan to stoke interest in gold investments throughout the year.
"With a new president bent on stimulating the economy through tax cuts and massive spending, along with a number of overbought markets, 2017 could turn out to be a strong year for gold," Krauth told Money Morning readers on Dec. 23.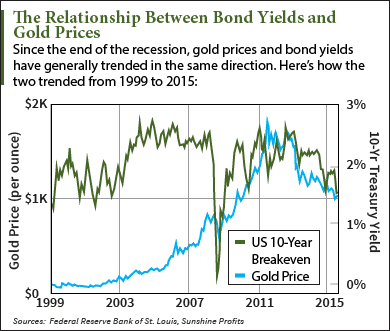 Gold prices will also soar from rising inflation. High bond yields typically indicate high inflation, and the U.S. 10-year Treasury yield currently hovers near 2.5%. That's the highest level since September 2015.
At this pace, inflation will easily outpace current short-term interest rates of 0.5%. The latest data from November shows the inflation rate at 1.69%. Since gold is considered a safe-haven investment, gold demand will rise as investors try to protect their money from the effects of inflation.
"As we see inflation ramp higher, that mindset settles in and people start thinking overnight that we're in an upward inflation cycle," Krauth explained. "I expect we could see $1,400 gold in the latter part of next year."
But this is just one of our gold price predictions…
In fact, our second gold price prediction is looking farther into the future and has a much higher price target.
Here's why gold prices will more than quadruple from current prices over the next four years…
Gold Price Predictions, No. 2: $5,246 an Ounce in the Next Two Years
If history is any indication, the price of gold could surge to $5,246 per ounce by 2019. That's an incredible 451.4% gain from today's price of $1,162.20 per ounce.
You see, despite recent declines, gold prices are in a bull market. Once they hit a five-year low of $1,056 in November 2015, prices rebounded 23% the following year. Even if the gold price moves lower in early 2017, it won't be enough to end the current bull market.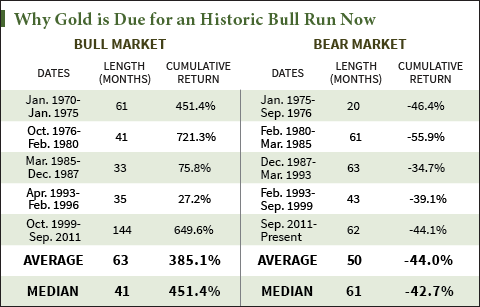 And every gold bull market over the last 47 years has provided massive returns. The median length and return of every gold bull market since 1970 is 41 months and 451.4%, respectively. If we're technically 14 months into the bull market since the November 2015 bottom, that means gold prices could rocket 451.4% to $5,246 by Q1 2019.
The Bottom Line: Despite last quarter's 12.1% decline, our short-term and long-term gold price predictions show handsome gains. We see gold prices surging 24% to $1,400 an ounce by the second half of 2017 as Trump's economic policies take shape and inflation rises. Beyond 2017, we project the price of gold to soar 451.4% to $5,246 by the start of 2019. That's because gold bull markets have historically seen more than quadruple returns.