3 Large-Cap Biotech Stocks to Buy Now
This article was originally published on this site
Last week was a swell one for the broader market, which saw multiple major indices hit all-time highs. The S&P 500 gained 0.52%, while the Nasdaq-100 tacked on 1.4% and hit uncharted territory. However, the party to watch is not the forest, but the proverbial trees among biotech stocks.
The market has become increasingly risky to own. The major averages have skirted any type of meaningful correction for nearly 18 months, not to mention we're well into the eighth year of an epic bull run. That's concerning!
The good news is the market isn't a level playing field. Sectors and industries fall out of and back into favor, even during bull markets. From a purely technical perspective, the friendlier trend is a newly emerged bull run in large-cap biotech stocks following a corrective cycle.
Trends can continue longer than most give them credit for, but biotech stocks are in much stronger position to outperform compared to a broader market that looks set up for a more menacing bear cycle of its own.
Let's take a closer look at three major biotech stocks. I'll show you the bullish setups, and offer up limited-risk options strategy that align ourselves with our technical expectations while minimizing risk in case the market has other plans.
Large-Cap Biotech Stocks to Buy: Regeneron (REGN)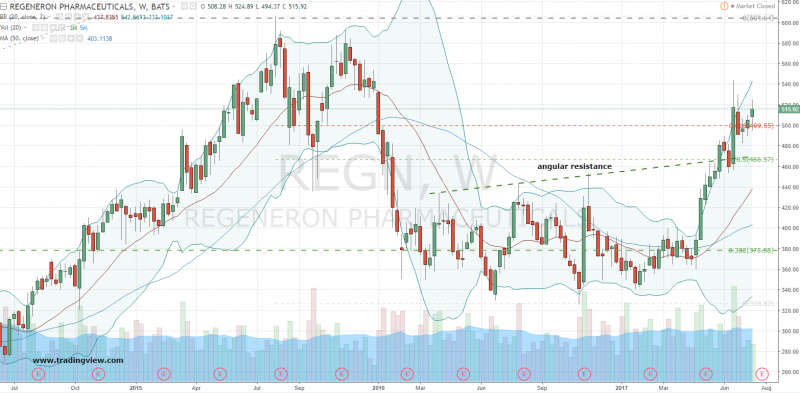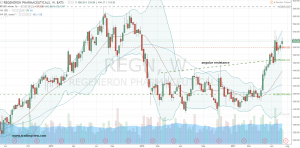 Regeneron Pharmaceuticals Inc (NASDAQ:REGN) is one of the more notoriously volatile names in large-cap biotechnology.
But with price risk comes reward.
Right now, following a deep correction of about 18 months in length, REGN stock has worked its way into a position of technical strength. Ont he weekly chart, Regeneron is stationed firmly above the 50% retracement level after breaking above an angular resistance line. Shares are currently consolidating on either side of the 62% level.
After four weeks of toiling technically, there's growing evidence that a bullish handle consolidation within a large cup-shaped base is setting up. My view is a powerful breakout in REGN stock is imminent. It likely will be prompted by Regeneron's earnings release in early August.
The Trade: Position with a Sep $550/$570 bull call spread. The vertical is priced at $5.50, or just more than 1% of stock risk (with REGN near $515). That's nice insurance. Also, given the potential for favorable price volatility, roughly 10% of upside in the stock over the next couple months could yield $14.50 in profits, or more than 260%.
Large-Cap Biotech Stocks to Buy: Celgene (CELG)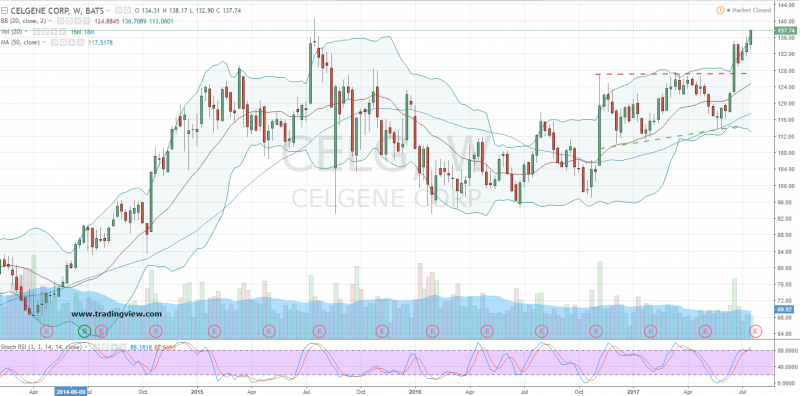 Shares of Celgene Corporation (NASDAQ:CELG) have followed a similar-looking path over the past couple years. While not as volatile as other large-cap biotech stocks, CELG did manage to put together a healthy-sized correction of 30%-plus.
The right side of Celgene's base has been quicker to develop than Regeneron's. Shares have demonstrated a bit more overall leadership in putting together a slightly smaller three-week handle much closer to its prior all-time-high of $140.72, established two years ago.
Celgene's handle received bullish confirmation last week as the large-cap biotech broke out. Shares of CELG are now stationed within a couple percent of breaking out into uncharted territory above former highs.
The Trade: Bullish traders wanting to participate in the breakout to new all-time highs might like the Sep $140/$145 call vertical. With shares at $137.74, the spread is priced at $1.80. This reduces and limits holding risk in front of Thursday's earnings report. And if CELG stock can rally by a fairly modest 6% over the next couple months, you'll enjoy a nice return of 177%.
Large-Cap Biotech Stocks to Buy: Amgen (AMGN)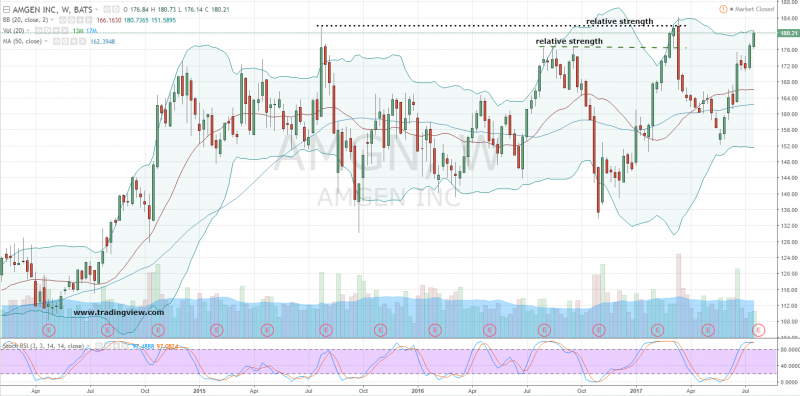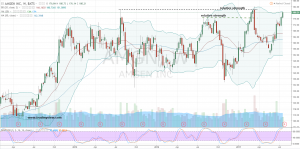 Amgen, Inc. (NASDAQ:AMGN) looks well-positioned for new highs coming out of a monster channeling pattern of nearly three years in length.
AMGN stock is the most established name in this list of biotech stocks. That seniority is likely behind the more lateral base development, rather than the deeper cup-shaped design of REGN and CELG.
Having said that, Amgen shares aren't without volatility. On two separate occasions, AMGN corrected by around 25% within its more benign-looking base.
Amgen appears to be setting up for a third attempt at breaking out to fresh all-time highs. The biotech actually already demonstrated technical leadership earlier this year in narrowly making a new high before a sharp reversal took shares back into the base. We think the third time will be the charm, and will result in a powerful move higher.
The Trade: Amgen reports earnings Tuesday after the bell, so a vertical spread once again makes sense. Bullish traders should enter the Sep $185/$190 bull call spread, which is priced at $1.40. The spread limits the trader's risk to less than 1% of owning AMGN stock outright. It offers a max return of 257%, or $3.60, if the company can rally by about 5.5% into September expiration.
Investment accounts under Christopher Tyler's management currently own positions in Baidu stock and its options, but no other securities mentioned in this article. The information offered is based upon Christopher Tyler's observations and strictly intended for educational purposes only; the use of which is the responsibility of the individual. For additional market insights and related musings, follow Chris on Twitter @Options_CAT and StockTwits.