3 Little-Known Weed Stocks Crushing the S&P 500
This article was originally published on this site
The U.S. economy is in a funk.
Second-quarter gross domestic product (GDP), the broadest indicator of economic strength, clocked in at just 1.1%, well below expectations of 2.4%.
In economics, 1.1% GDP growth is the equivalent of "holding your nose just above water."
In the meantime, the S&P 500 is mired in a nasty earnings recession. Earnings have now declined for the last five quarters. The last time that happened was in 2009 during the financial crisis.
The weak economy has created a dilemma. Investors are desperately searching for growth.
I've got the solution.
Legal cannabis is the fastest growing industry in North America.
In 2015, when the U.S. economy grew 2.4%, the legal cannabis industry grew 17%.
In the next four years, while the U.S. economy is expected to grow less than 12%, the legal cannabis industry is expected to grow 250% to $22 billion in annual sales.
This explosive growth is being driven by a wave of legalization across North America.
In the United States, 25 states now have enacted medical marijuana programs.
With more states set to vote on legalization tomorrow, November 8th, the number of states embracing medical and recreational cannabis is set to expand.
America's closest trade partners are following suit.
North of the border, Canada has already legalized medical marijuana on a federal level – something that hasn't happened in the U.S. Canada's next goal? Newly elected Prime Minister Justin Theroux has made it a top priority to also legalize recreational consumption. A vote could come as early as the spring of 2017.
South of the border, Mexico is also in on the legalization trend. Mexican laws already permit citizens to possess five grams or less of marijuana. Mexican President Enrique Peña Nieto was pushing for further reform early in the year. Today, these proposals have hit a road block as the Mexican Senate buries the legislation behind other issues. Long term however, it reveals Mexico's desire to move in the direction of further legalization.
Moving forward, as more countries and states get on board with legalization, the legal cannabis industry is still in the first inning of growth.
This is creating an incredible investment opportunity.
A little-known group of cannabis companies that trade on the US and Canadian stock exchanges are in the position to deliver huge returns to early shareholders.
In fact, it's already happening.
In 2016 the S&P 500 has returned a little more than 5%.
In the meantime, the MJIC North American Marijuana Index, an index that tracks the performance of 39 North American marijuana stocks, is up more than 100%. Take a look at the chart below.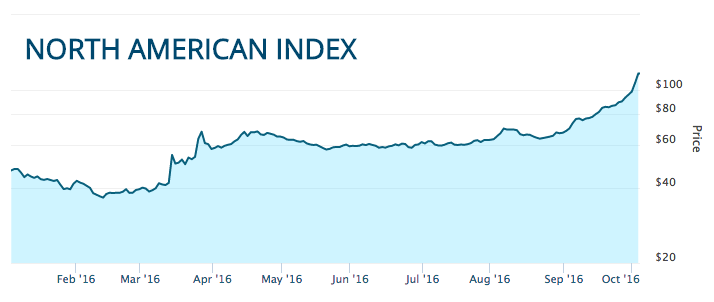 From this group, I have identified three early industry leaders that are in position to grow into global leaders and deliver market-beating returns to investors in the next three to five years.
Canopy Growth Corporation (TSE: CGC.TO) is Canada's largest medical marijuana company. With Canada's medical marijuana market booming, Canopy's revenue is up 41% in the last 12 months. That impressive revenue growth has shares up 53% on the year. Take a look below.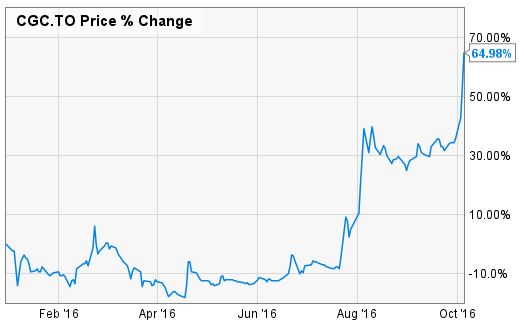 Terra Tech Corp. (OTC: TRTC) is a U.S. based cannabis company and is a popular name amongst pot stock enthusiasts. It's the only vertically integrated cannabis company in the U.S., with its activities extending from production to dispensary ownership in California and Nevada.
Terra Tech is the only publicly traded cannabis company that owns dispensaries. Terra Tech is having an incredible year. Shares are up 336% in 2016. Take a look below.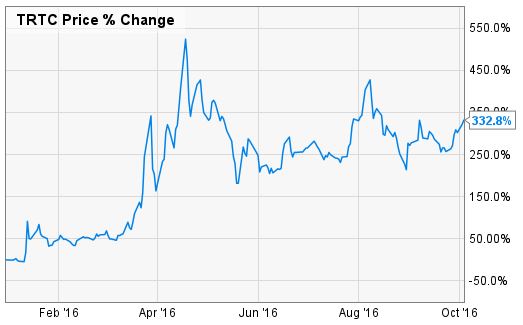 GW Pharmaceuticals (NYSE: GWPH) is a U.K. based pharmaceutical company. GW is already a global leader in marijuana and THC based pharmaceuticals. The company has been researching medical marijuana since the 1990s.
Although that research had long failed to lead to any commercial breakouts, that changed in 2014 when Phase III clinical trials showed one of its marijuana-based drugs helped reduce epilepsy. Today, GW is on pace to complete four Phase III trials for marijuana-based pharmaceuticals by 2017. The market is clearly expecting good news. Shares of GW are up 91% in 2016.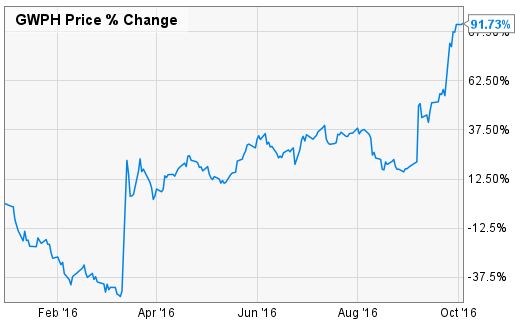 These are just a few examples of the exciting companies operating in the legal cannabis industry.
There are dozens more that are in position to grow into future global leaders and deliver market-beating returns to early investors.
In case you missed this…
Insiders are calling this breakthrough the "Greatest Innovation in History". Experts expect this technology to surge into a $19 trillion industry and at the epicenter of it all is a $6 billion company that makes a unique device that is essential to this technology's growth. 
Watch this video now!