3 Reasons Why this Biotech Rally is the Real Deal
This article was originally published on this site
The biotech sector was one of the poorest performers in the market in 2016, dropping some 20%, but the sector has been greeted in the New Year with a breath of fresh air. The sector rallied over five percent in the first five trading sessions of 2017, and it feels like sentiment has gotten much more positive on this beaten down sector of the market. Let's take a look at some of the reasons for the rally so far this year.
Valuations:
Thanks to a year and a half of substantially underperforming the market, valuations for the large cap behemoths of the industry dropped to the lowest collective levels since 2011. At some point, the "weak hands" get all washed out and sentiment has nowhere to go but up.
Investors saw something similar happen in the energy sector around the same time last year after that area of the market's 18-month turn in investment "purgatory". Energy turned out to be one the best-performing sectors in the market for 2016. In addition, lots of tax loss selling in the last quarter of 2016 probably resulted in biotech being oversold to start 2017.
A More Benign Regulatory Environment: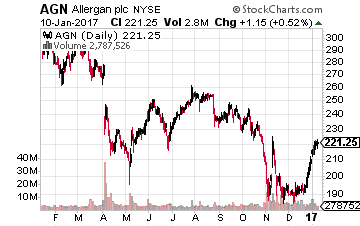 The surprising election outcome in November brought a "clean sweep" for Republicans. This substantially lessened the chances of any negative legislation on the industry in 2017. It will also mean an easier environment for significant mergers this year after the Treasury Department shot down the mega-merger ofAllergan (NYSE: AGN) andPfizer (NYSE: PFE) in April of last year. This was a major reason M&A activity was down so much in 2016 from record levels in 2014 and 2015.
The President-Elect may issue an occasional tweet that might cause investors to temporarily have some concerns, however, given the congressional leadership's priorities, new legislation on the industry is a non-starter. In addition, Mr. Trump has offered up several very pro-market nominees to head the major government health agencies.
The JP Morgan HealthCare Conference:
Every year, JP Morgan hosts one of the largest healthcare conferences of the year in San Francisco during January, and it is well-attended by analysts and fund managers. It is a place where companies come to tell their stories around pipeline development and how their businesses are doing.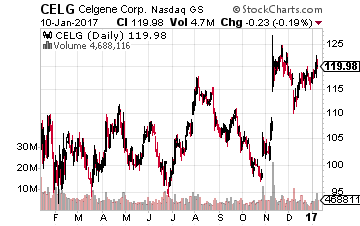 Usually, we see increased positive analyst commentary come out of the conference, which usually gives the sector a boost. Biotech stalwart,Celgene (NYSE: CELG), is just one biotech company getting a bit of a lift after its presentation this year. It reported preliminary full-year 2016 results showing a 22% rise in revenues and guided for another roughly 20% increase in FY2017. Management also reiterated FY2020 guidance of $13.00 a share in earnings, which makes the stock's $120 a share trading levels look more than reasonable. Other companies are getting positive analyst commentary after giving updates on their pipelines.
M&A Is Picking Up:
Most importantly, M&A activity is starting to noticeably pick up. This often happens around the time of this healthcare conference and boosts the "animal spirits" in the small and mid-cap parts of the sector. On Monday, Takeda bought mid-cap, ARIAD Pharmaceuticals (NASDAQ: ARIA), for over $5 billion with a 75% premium. Mars also announced it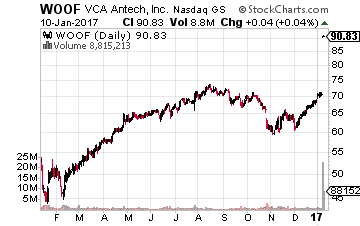 was buying animal health play VCA Antech (NASDAQ: WOOF) for almost $8 billion, roughly a 30% premium. In addition, bothJohnson & Johnson (NYSE: JNJ) and Sanofi (NYSE: SNY)are still rumored to be interested in acquiring Actelion, Europe's largest pure-play biotech company.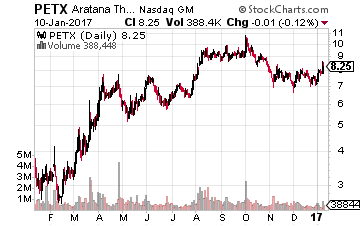 Two names investors should keep an eye on as M&A activity picks up are Aratana Therapeutics (NASDAQ: PETX) and Acadia Pharmaceuticals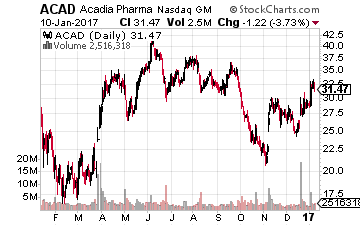 (NASDAQ: ACAD). Aratana is one of the last remaining small pure plays in animal health, a sector that is rapidly being consolidated. The company has a market capitalization of just over $300 million and had its first three drugs receive FDA approval in 2016.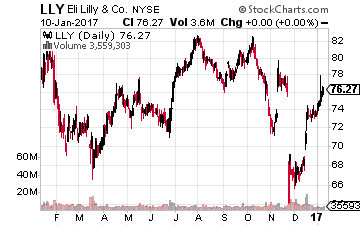 It also has over a half dozen candidates in the pipeline and is well-funded. The most likely suitor is Elanco, the animal health unit of Eli Lilly (NYSE: LLY). The company already has a collaboration deal with Aratana to market and distribute galliprant, the company's first drug on the market.
Acadia is one of the few plays between $5 billion and $15 billion in market capitalization left in the sector now that ARIAD has been purchased. Its primary drug is Nuplazid, which is approved for the psychosis found in 40% of Parkinson's patients. Eventually, this will be is a $1 billion a year product.
The drug is in late-stage trials for the same symptoms commonly found in Alzheimers and Schizophrenia populations. I am also hearing reports the drug is already seeing some "off label" use outside its approved indication despite only being on the market since May. 20% of the float is owned by the Baker Bros. which has flipped numerous biotech plays over the years. Rumored interested parties include Pfizer among others.
All in all, it is shaping up to be a much more positive year for biotech than 2016, so if you've been sitting on the sidelines waiting for the right time to jump back in, I can't see why you would wait any longer.