3 Red-Hot Retail Stocks to Trade Today
This article was originally published on this site
Everyone loves a comeback story. Especially when the redemption is accompanied by big-league rewards. Today we're looking at three such tales in retail stocks. Some brick and mortars have been "Amazoned" to death, and some have adapted and are surviving.
The trio of retailers we're highlighting all have one thing in common — earnings growth. Due to improving fundamentals, the share price of each is rising from the abyss to reclaim some of its former glory.
Regardless of the eventual destination, the current price action is bullish and justifies a trade. Behold, three retail stocks that are heating up.
3 Retails Stocks Heating Up: Abercrombie & Fitch Co. (ANF)
Abercrombie & Fitch Co. (NYSE:ANF) shares have rallied 204% since carving out a 52-week low last July at $8.81. The rise has persisted long enough to turn all major moving averages higher. Better yet, the momentum on ANF stock's last upswing increased showing the trend still has plenty of power fueling it.
For evidence of an earnings turnaround look no further than the previous five quarters of earnings (71 cents, -91 cents, -16 cents, 30 cents, $1.38). The last three releases delivered strong up gaps to ANF's stock price helping to propel the nascent uptrend along its way.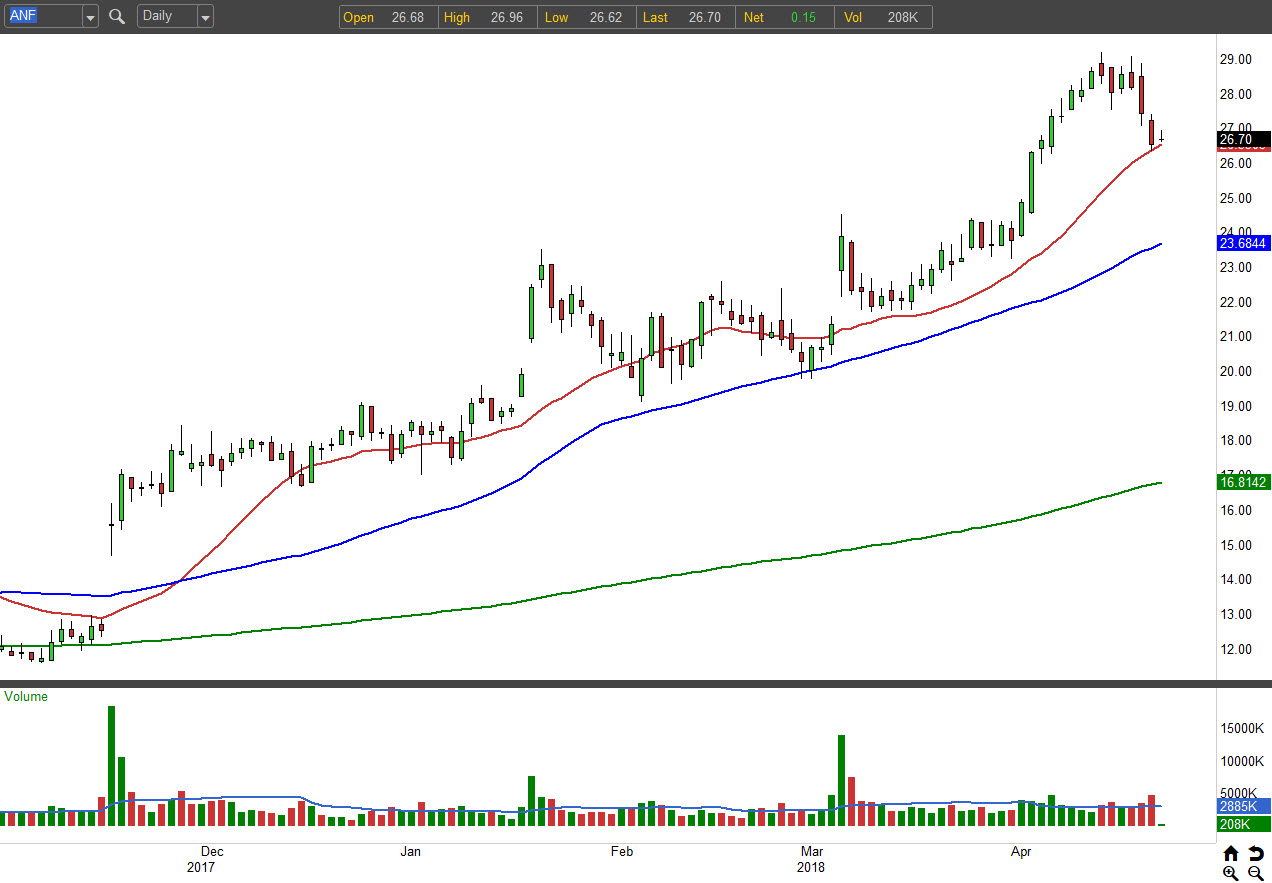 Last week's pullback has returned this recovering retailer to its rising 20-day moving average which could be a lower-risk buying opportunity.
If you think ANF sits above $24 at May expiration, then sell the May $24 put for 65 cents.
3 Retails Stocks Heating Up: Urban Outfitters, Inc. (URBN)
The earnings turnaround for Urban Outfitters, Inc. (NASDAQ:URBN) hasn't been near as dramatic as ANF, but the recovery in its stock price has. Since bottoming last June at $16.19, URBN stock is up 139%. Like its predecessor, URBN has been able to turn its trend across every time frame higher.
Last week's higher pivot high confirmed the uptrend is continuing and Friday's retreat is providing a decent entry point.
Since its uptrend is a bit more gradual I like the idea of building a bull call spread here. It will hedge our time decay risk and provide ample time for URBN to rise into our max profit zone.
Buy the URBN June $38/$42 bull call spread for $1.70.
3 Retails Stocks Heating Up: Macy's Inc (M)
The inclusion of Macy's Inc (NYSE:M) in today's list has less to do with its earnings and more to do with it's beautiful looking chart. The uptrend that began last November has stood the test of time so far. The 200-day moving average is now ascending, really for the first time since M stock peaked in 2015.
Since vaulting higher in late-February on strong earnings, Macy's has been building a base. This creates a clean entry point for traders looking to game the retailers next advance.
While it may take a few days yet, watch for a breakout above $31 to signal buyers have finally mustered up enough support to end the current stalemate.
You can wait for the breakout to deploy a trade, or sell a bull put now in anticipation of the surge. The June $27/$23 bull put spread is currently offering a credit of 61 cents.
As of this writing, Tyler Craig didn't hold positions in any of the aforementioned securities. Want more education on how to trade? Check out his trading blog, Tales of a Technician.