3 Stocks for the Future of Electric Cars
This article was originally published on this site
It seems inevitable that electric vehicles (EVs) are the future of the automobile industry.
Even Big Oil seems to agree. The CEO of Royal Dutch Shell PLC (NYSE: RDS.A), Ben van Beurden, thinks peak oil demand may hit as early as the late 2020s thanks to the rise of EVs. Others, like ExxonMobil (NYSE: XOM), think that this scenario won't unfold until the 2040s.
Auto Parts Dinosaurs?
Then we come to the head in the sand crowd that think it may never happen. Incredibly, at a recent JPMorgan conference in New York, the CEOs of five of the top 25 suppliers to North American automakers said either it will never happen or that it would not occur for multiple decades into the future.
Apparently, they haven't noticed that governments in both the developed world in Europe and the emerging world (China, India, Mexico and a host of others) are demanding cleaner cars. Or that Chinese-controlled Volvo said, beginning in 2019, it would no longer produce vehicles with internal combustion engines.
Nor is it likely those company executives have heard of futurist and inventor Ray Kurzweil. He best described the age we live in when he said we are living in "exponential" times rather than "linear" times. Linear times are marked by slow and gradual improvement. Exponential times are characterized by rapid and sometimes tumultuous change.
Those companies and investors stuck in the slow lane will be left behind. As part of the Industrial Singularity research project I'm working on (click here for a sneak peek of the kind of investments I'm looking at), I'm endeavoring to "separate the wheat from the chaff" for you.
But let's get back to the auto parts suppliers.
My guess is that the good times have lulled some of the executives into a sense of complacency. As cars have become smartphones on wheels, it has been the specialized auto parts suppliers that have benefited. Niche expertise is required as auto technology became more complex.
Today, suppliers' components account for more than 70% of the value of a vehicle. That is up from 40-50 percent in the early 1990s.
But as the technology advances exponentially and moves toward electric and hybrid cars, only some of the suppliers to the automobile industry get it. German parts maker Bosch summed it up nicely with its "vision zero" for mobility – "zero emissions, zero accidents and zero stress."
Suppliers that invest in the wrong areas will go the way of the dinosaur.
3 Companies to Consider
While other suppliers will continue to prosper no matter how quickly electric vehicles become more widely adopted.
Here are just three auto parts suppliers that I believe are worth a look.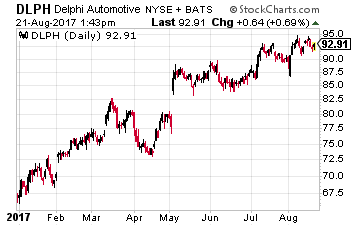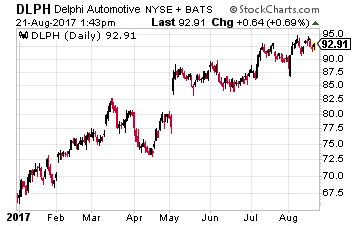 My favorite and a company that gets it was once part of General Motors (NYSE: GM), Delphi Automotive PLC (NYSE: DLPH).    
In early May, the company announced it will spin out its powertrain arm as a standalone business. That will allow Delphi to focus the remainder of itself (about ¾ of the current company) on self-driving, connected and electric cars. Delphi is heavily involved in components for hybrid vehicles and its $12 billion advanced electronics business is the company's top revenue generator.
The reason behind the split was given by CEO Kevin Clark: "The pace of change in our industry is accelerating." He sees what some of his peers do not.
That move has added about 15% on to the value of its stock, which is up 37% year-to-date.
I expect Delphi to continue to do well as it continues to innovate in all sorts of new vehicle technologies. For example, it has teamed up with Frances' Transdev on operating Europe's first self-driving vehicle service and with BMW (OTC: BMWYY) on developing a self-driving car. It also just partnered with Israel's Innoviz Technologies on providing high-performance LiDAR solutions for autonomous vehicles.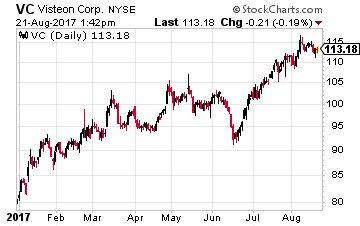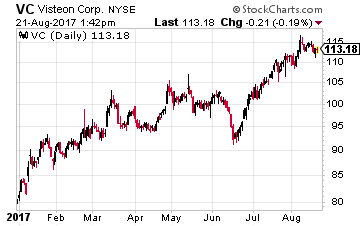 The next company to consider is Visteon (NYSE: VC), which designs and manufactures electronics products for automakers. Visteon provides everything from standard gauges to high resolution, reconfigurable digital 2D and 3D displays to infotainment and audio systems.
I like the fact that the company has considerable global exposure. That exposure came to the fore in its latest quarterly earnings report. A slowdown in the U.S. was more than offset by strong sales in China, which is Visteon's highest profit region.
The other message from the conference call with executives was that the company is focusing on capitalizing on trends in audio and infotainment, including integration of Apple's CarPlay and AndroidAuto.
These trends should keep the stock motoring ahead, adding to the 41% year-to-date gain.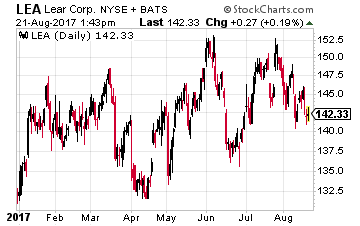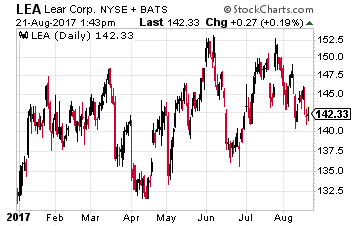 Finally, there is Lear (NYSE: LEA), which best known as a supplier of vehicle seating. But it is also involved in supplying vehicles' electrical and electronics systems.
Today, a typical vehicle with a 12-volt power system may have from $500 to $700 in Lear products. But a 48-volt hybrid could have about $750 to $850 in Lear content. And a fully electric vehicle will have $1,500 to $2,000 of Lear products in it. This is an obvious boost to the E-Systems part of its business.
That could boost its stock, which is only up a bit more than 7% year-to-date.