3 Top Growth Stocks with Room to Run
This article was originally published on this site
Stocks Benefiting From the Petrochemicals Comeback Story
Most of us love a good comeback story.
In the economic and industrial world, there is one story that truly stands out as a comeback story for the history books. This story features an industry nearly left for dead just a decade ago.
But it got a new lease of life thanks to the emergence of another industry.
The comeback story I have in mind is that of the U.S. petrochemicals industry. Just a decade ago, it was in long-term decline due to rivals in the Middle East that had access to cheap feedstock. In Asia – where market growth is strongest – competitors there also beat up on U.S. petrochemicals companies.
But then there was a little item called the U.S. shale gas boom. Natural gas prices dropped like a rock from over $14 per million BTU to less than $2 per million BTU.
Suddenly, U.S. petrochemicals firms had the cheapest feedstock in the world and became the most competitive companies in the industry. Many U.S. competitors use naphtha as a feedstock, which is made by distilling oil and therefore is tied to the price of oil.
Saying that the effects of the shale gas boom on the U.S. petrochemicals industry was dramatic is a vast understatement.
Let me fill you in on some of the details.
Petrochemicals Investment Boom
The amount of money spent on investment into the U.S. petrochemicals sector over the past seven years is one of the biggest spending booms in a developed country so far in the 21st century.
According to the American Chemistry Council (ACC), companies are investing in excess of $185 billion on at least 268 projects in the U.S.
Since 2010, the ACC says $85 billion of petrochemicals projects have been completed with another $100 billion proposed to be spent.
And this will make President Trump happy – some 60% of that number is direct foreign investment into our country. When fully in operation, these plants will employ about 62,000 workers directly.
Even Saudi Arabia's petrochemicals giant Sabic has announced plans to invest into the U.S. industry – in conjunction with ExxonMobil (NYSE: XOM). And it all comes down to the United States being the lowest cost producer.
In fact, in the western Pennsylvania region where I live, Royal Dutch Shell PLC (NYSE: RDS.A) has proposed building a $6 billion ethane cracker in order to take advantage of the cheap feedstock from the abundant Marcellus shale fields in the area.
The biggest opportunity in the United States is the building of ethylene cracker plants like Shell. These plants take a feedstock – ethane – and convert into ethylene, which is a building block for plastics. For those of you unfamiliar with ethane, it is a hydrocarbon that belongs to a group of natural gas liquids (NGLs) that also includes propane, n-butane, iso-butane and natural gasoline.
U.S ethylene production will rise from 25.8 million tons last year to 34.2 million tons in 2018, according to S&P Global Platts. That is a whopping 33% jump in output.
Most of this increased production will be exported, often in the form of polyethylene pellets. Many of these exports will go to the growing emerging economies in Asia. As these countries move up the economic scale, they consume more plastic. Estimates are that demand for plastics could be growing as much as two times as fast as their GDP grows.
Investing in Petrochemicals
How can you invest profitably in this U.S. petrochemicals boom?
Some of the biggest players include all the major oil companies like Shell and ExxonMobil. But of course, these guys are not pure plays and are weighed down by the woes in the oil market.
So I recommend sticking with the pure-play chemicals companies.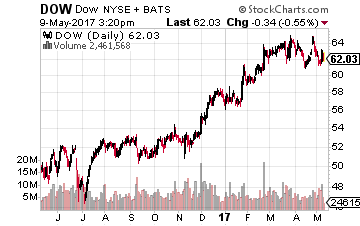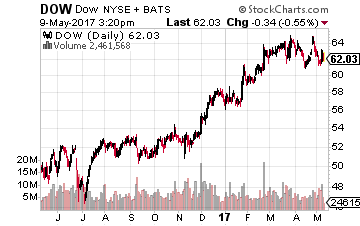 At the top of my list is Dow Chemical (NYSE: DOW), which is in the process of a $150 billion merger with fellow chemical giant Du Pont (NYSE: DD). Its stock is up nearly 23% over the past year.
Dow management has invested about $4 billion into new cracker capacity along the U.S. Gulf Coast. But it now suggests it will only have "incremental" increases going forward, which is probably the right stance. Too much build-out of capacity will result in an ethylene glut in the years ahead.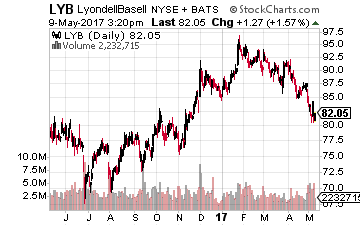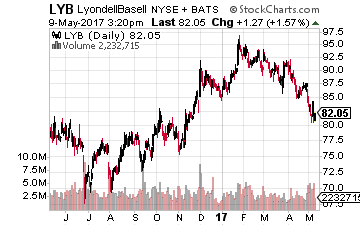 Even more cautious is another chemicals company I like – the Dutch-based chemicals firm LyondellBasell Industries NV (NYSE: LYB). Its stock is up only 2.5% over the past year but rose over 113% over the past five years. And it posts a healthy yield above 4%.
The company did not build any new cracker plants but spent billions adding on to existing capacity. Its CEO Bob Patel, in a recent presentation, suggested his priorities were dividends, debt repayment and keeping his plants running as well as possible.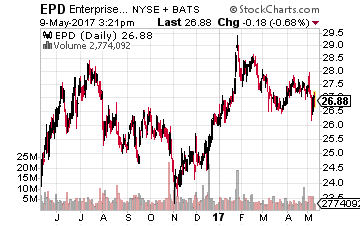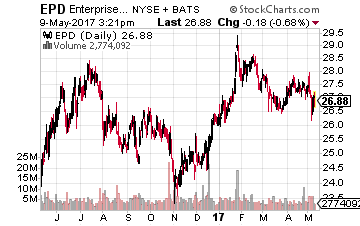 Another possibility for those of you looking at the industry from an income viewpoint is Enterprise Product Partners LP (NYSE: EPD) with its 6% yield. Its stock is up 3.5% over the past year.
The company invested over $3 billion in adding capacity in ethane refrigeration and propane dehydrogenation plants. That adds to its existing infrastructure of 19,300 miles of NGL pipelines, its NGL storage facilities and export capabilities.
The natural competitive advantage U.S. petrochemicals operations have will not go away anytime soon. And if global growth holds up – especially in the emerging world – these companies will continue to do well for their shareholders.
If you want to own stocks that grow every year not just for one year, but for ten years or more, then you need to own stocks that take advantage of a strong competitive advantage and a long-term growth trend.
I always like hunting down the best investing opportunities in the market based on long-term trends and competitive advantages like the cheap natural gas and export potential mentioned in this article. It's become a specialty of mine.
And just recently, I found another opportunity that is even more lucrative than the petrochemical stocks that sits right at the crossroads of an industry that has an over 100-year history of success and a new rapidly evolving technology that has unbelievable potential.
The first industry has the potential to be one of the largest growth opportunities the market will see over the next ten years, and the second is a sector is as essential to the global economy as water is for a human to live.
That combination makes for one massive growth opportunity for this one company. You can get the name of this stock for free in the May issue of my Growth Stock Advisor newsletter which was just released.
If you're not already a subscriber, I'm offering up a 30-day free trial to anyone who joins today, so they can read the May issue that contains this potential generational investing opportunity.
To join at this special discounted rate, CLICK HERE to take advantage.