4 Biotech Stocks to Buy After Clinton's Defeat
This article was originally published on this site
The 2016 election certainly was a historic one … just not in the way people expected. Rather than Hillary Clinton becoming the first female U.S. president, Donald Trump managed to pull off the biggest upset in recent memory.
Biotech stocks were a clear winner, as Clinton's calls for new drug-pricing regulations now amount to empty threats, considering republicans' newfound control over Washington.While futures plunged overnight on the news — as much as 800 points for the Dow Jones — stocks ultimately continued higher on Wednesday, led by key groups expected to benefit from the Trump presidency.
With that in mind, let's see which biotech stocks are looking particularly attractive from a technical-analysis standpoint. Powered by Recognia, here are the Profit Scanner's top four bullish plays in the biotech sector.
Biotech Stocks to Buy: PDL BioPharma (PDLI)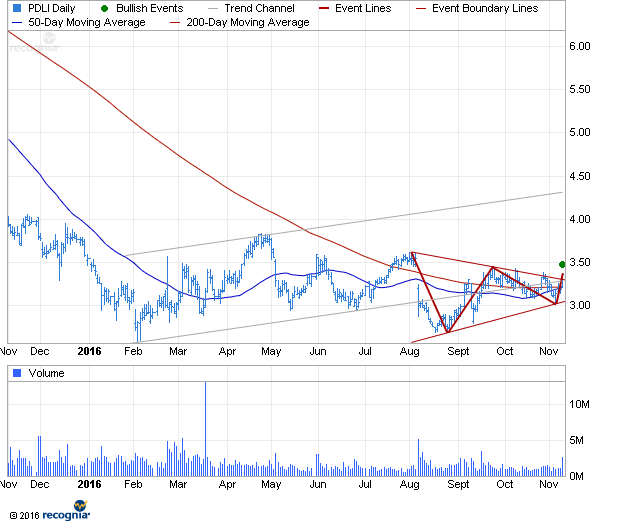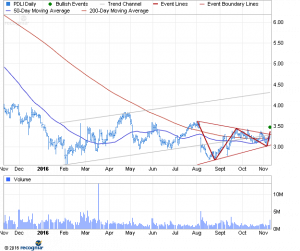 While the short-term signals were mixed, PDL BioPharma Inc (NASDAQ:PDLI) is looking solid in the intermediate term. Shares recently crossed above their 50-day moving average and completed a bullish symmetrical continuation triangle.
The latter takes the form of two converging trendlines as the stock makes lower highs and higher lows. Volume tapers off within this narrowing range — then, before the triangle can be completed, both price and volume shoot higher. Now that PDLI has broken the upper trendline, we can expect it to continue higher in its prior uptrend. Based on this pattern, Profit Scanner's intermediate-term target is $4.15 to $4.35.
PDLI is looking good over the long term as well. That same day, the stock also overtook its 200-day moving average and completed a "diamond bottom." From here, Profit Scanner projects PDLI could get up to $4.70 in roughly the next 10 months.
Biotech Stocks to Buy: Gilead (GILD)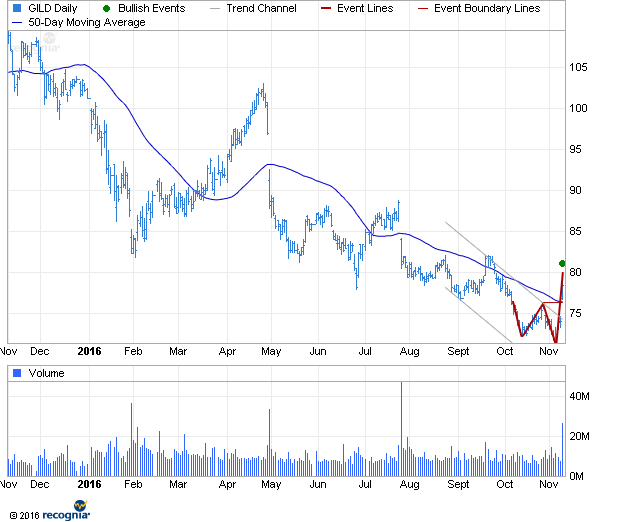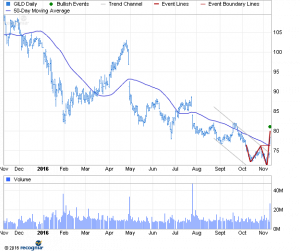 Gilead Sciences, Inc. (NASDAQ:GILD) gapped higher and gave off two intermediate-term bullish signals on Wednesday.
One was a cross above the 50-day moving average, while the other was a completion of a double bottom.
In the double bottom, GILD stock made two distinct lows at roughly the same level. Ultimately, the bears failed to push it below support, and shares reversed higher into a new uptrend.
When GILD rocketed above the pattern's highest high, that confirmed the bullish signal, and from here you can expect shares to reach $80.80 to $81.80 in the intermediate term.
Biotech Stocks to Buy: United Therapeutics (UTHR)
United Therapeutics Corporation (NASDAQ:UTHR) also gapped higher on Wednesday, and while the short-term signal was bearish, UTHR stock is looking bullish long-term.
UTHR looks to be done with its prior downtrend, having just completed a head and shoulders bottom.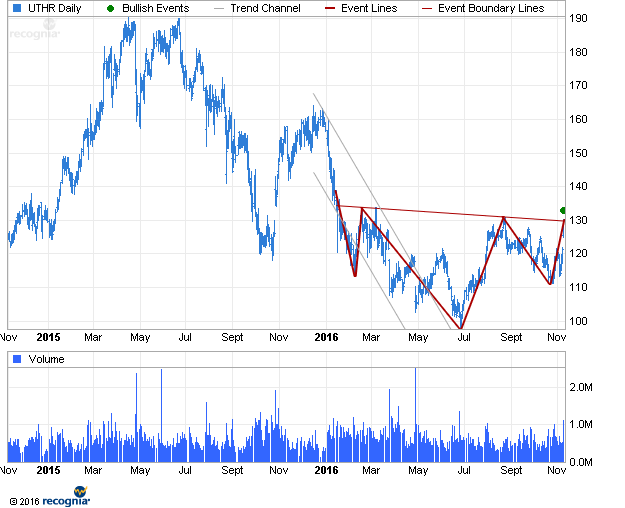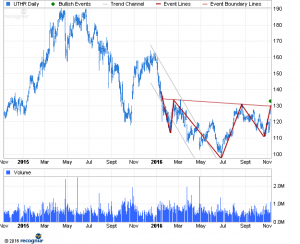 This pattern is one of the most popular in technical analysis and consists of three successive declines: the lowest low is the "head," flanked by two higher lows around the same level (the "shoulders").
Volume is the highest during the first two declines, then tapers off. When the stock breaks above its "neckline" on a volume surge, that's confirmation of a new uptrend.
From here, Profit Scanner expects UTHR to reach $161 to $168 in about 10 months.
Biotech Stocks to Buy: Juno Therapeutics (JUNO)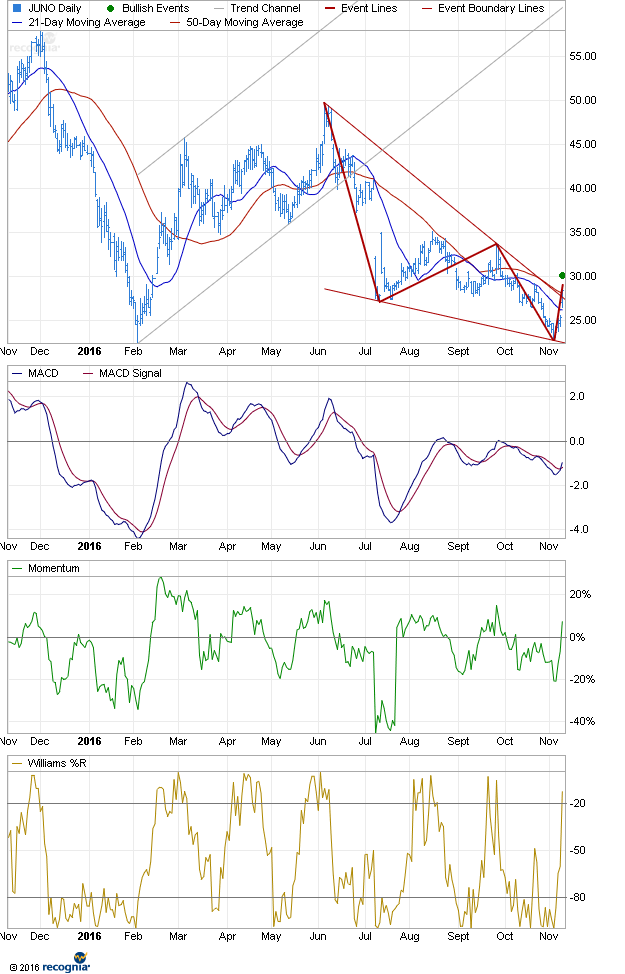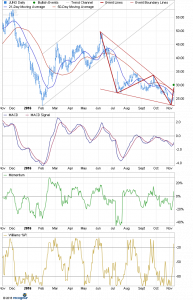 Juno Therapeutics Inc (NASDAQ:JUNO) is looking all bullish after the election. The stock not only crossed above its 21-day and 50-day moving averages, but its Williams %R, MACD and momentum indicator all turned short-term bullish as well.
As far as a price target, Profit Scanner is looking for JUNO to reach $52 to $57 in roughly five-and-a-half months. The basis is its completion of a bullish continuation wedge; in other words, the prior weakness turned out to be just a temporary interlude within a greater uptrend.
Having dallied between two converging trendlines, the stock then shoots above the upper trendline. This event signals that JUNO bulls have finally overtaken the bears, and the stock's finally ready to go higher.