4 Triple-Digit Winners in Biotech
This article was originally published on this site
The overall biotech sector continues to be locked in a tight trading range, especially for such a high beta sector of the market. First quarter earnings reports for some of the major names in the industry are on the horizon. However, until we see a pickup in M&A activity and some small and midcap concerns get gobbled up by bigger players at nice buyout premiums, there might continue to be lackluster trading in the sector.
Deals abounded in the first five weeks of 2017, with one $30 billion deal and two in the $5 billion to $10 billion range. Since then, it has been mostly crickets. The need for large biotech and pharma giants to replenish their pipelines still remains, and they certainly have the balance sheets and free cash flow to do so. However, one can only speculate when the "animal spirits" will come back into M&A.
Small and midcap names are therefore more likely to be driven by milestones such as key trial results or FDA approvals in the months ahead. Here are a few names I like in the space that do have upcoming potential catalysts.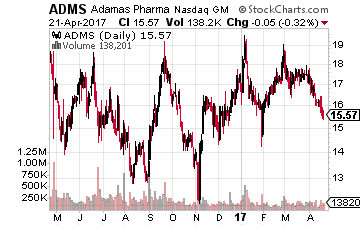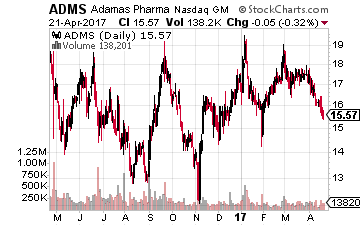 Adamas Pharmaceuticals (NASDAQ: ADMS) is trading in the middle of its 52-week range and currently sports an approximate $350 million market capitalization. The company has a late August PDUFA date with the FDA looking for approval of its compound ADS-5102.
This would be the first and only approved medication indicated for levodopa-induced dyskinesia known as LID. The compound is also in mid-stage development for use as a treatment for Multiple Sclerosis walking impairment.
In addition to ADS-5102, the company has two compounds on the market that are marketed and distributed by Allergan (NYSE: AGN). Adamas received significant upfront payments as part of these collaboration deals and also will start to receive royalties on sales starting in 2018 and 2020, respectfully.
The company ended 2016 with over $125 million in cash on hand. However, a secondary offering after approval of ADS-5102 seems likely to fund the rollout of this wholly owned drug. The median analyst price target on ADMS is $26.00 a share. The stock currently trades below $16.00 a share.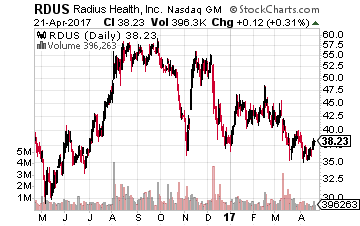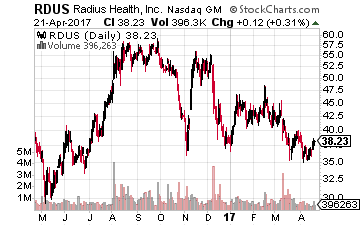 Next up is Radius Health (NASDAQ: RDUS). Its primary drug compound is Abaloparatide which is a subcutaneous investigational injectable therapy that is being tested for the treatment of postmenopausal women with osteoporosis.
The same drug candidate is also in mid-stage testing in a patch form. This is an increasingly crowded field but also a $7 billion market that can support multiple players. Abaloparatide in trial reduced major osteoporotic fractures by 55% versus Forteo, the only other anabolic compound on the market treating this indication. Anabolics can reverse the course of osteoporosis compared to other drugs on the market.
The stock took a 30% dive earlier in the year when its PDUFA date was delayed by some three months to late June as the FDA requested some additional data that seems unlikely to affect the compound's approval chances, which still remain high. A beneficial owner of the shares bought some $6 million in additional shares on the recent dip, a strong vote of confidence that Abaloparatide will be approved and successful in the marketplace.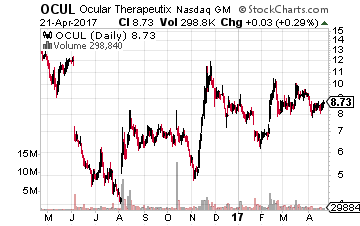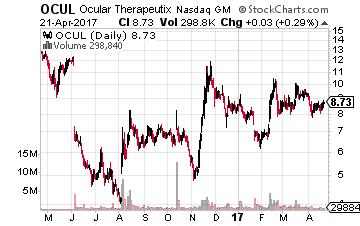 Next up is Ocular Therapeutix (NASDAQ: OCUL) whose PDUFA date was delayed six months, not because of the drug itself but due to its manufacturing process which has been addressed. The new PDUFA date is mid-July for DEXTENZA which is aimed at the pain and inflammation following cataract surgery.
There are some three million cataract surgeries in the United States annually and the compound should be priced around $400 a pop. This is another name that saw significant insider buying by the CEO after the FDA delayed its original PDUFA date. With a market capitalization of just $250 million, the stock seems significantly undervalued given the potential of DEXTENZA.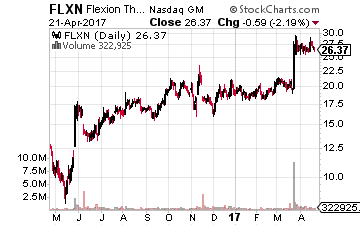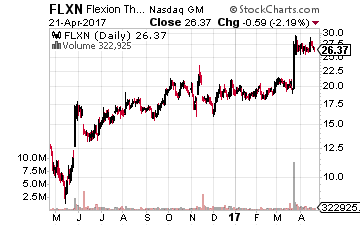 Finally, we have Flexion Therapeutics (NASDAQ: FLXN). This company has an early October PDUFA date for its primary drug candidate, Zilretta. It is targeted at the treatment of osteoarthritis of the knee.
This compound has blockbuster potential given the prevalence of osteoarthritis in an aging population. A key Phase 3 trial demonstrated that Zilretta was able to deliver durable and clinically meaningful pain relief against the placebo in patients with moderate to severe osteoarthritis knee pain.
The compound also demonstrated a markedly lower rise in blood glucose in patients than current treatments, which is important as 20% of patients that have osteoarthritis of the knee also have diabetes. Finally, this is a non-opioid which means it's abuse deterrent which has been become a hot topic in recent years due to huge rise in opioid related abuse and deaths across the country.
The company has an approximate $850 million market capitalization and ended 2016 with over $200 million in cash. Flexion has been a frequent target of buyout rumors, with the most logical and mentioned suitor being French drug giant Sanofi (NYSE: SNY).
Don't stop reading, this information could be the key to what you have been looking for but unable to find regarding your biotech stock portfolio. It's completely possible to turn your string of misses into a consistent stream of winners with just a simple change that takes only an hour a month. The reward of your work and investment is an income far greater than you can earn on your own.
Let me send you a stream of the market's highest probability winners in biotech every month. Just click the link below to find out how.
Click here to take back control of your financial future.
Positions: Long ADMS, AGN FLXN, OCUL, and RDUS