This 1 Chart Pattern Suggests Gold Prices Ready to Soar
This article was originally published on this site
Gold prices have been performing well since the beginning of 2017. The yellow precious metal is up roughly 7.30% year-to-date. Will gold prices go higher from here, or they are bound to go lower? If you look at gold prices from a technical analysis perspective, it's projecting a bullish outlook.
Look at the chart below. Since 2011, the yellow precious metal prices have been in a downward channel (the blue lines in the chart). The mid-point of this channel is the most interest to note.
In late 2016, something interesting happened. Instead of dropping to the bottom of the channel, a level below $1,050, gold prices bounced higher midway.
Why is this significant? There are two things to keep in mind here.
First, and the most obvious, it says that gold prices are gaining strength and there are buyers.
Don't Miss: The DATE Gold Could Soar to $5,000
Second, it's looking as if there's an emergence of a new trend in gold prices that's pointing upward. Since the lows of late 2015, we have seen one higher high and one higher low. To get confirmation of an uptrend, at least one further higher high and one higher low is needed.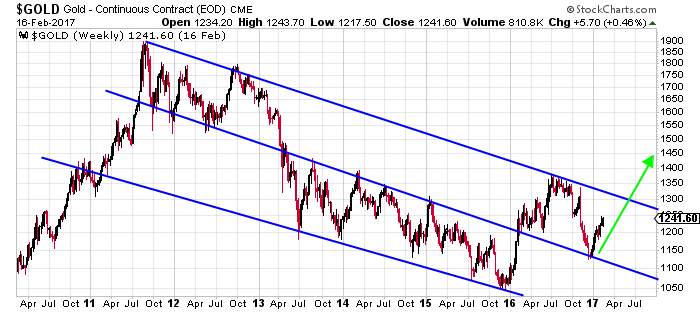 Chart courtesy of StockCharts.com
It would be interesting to see what happens once the price hits the top of the channel. If it breaks, then we could see resistance at around $1,367. If gold prices are able to move beyond this level, then we could see $1,550 without much resistance.
Worse-Case Scenario on Gold Prices
If the price of gold doesn't break above the channel, and just touches the top of the channel, we could be seeing a move downward. Support could fall on the mid-point of the channel. If that level breaks, we could be looking at a much lower gold price. A price as low as $1,000 wouldn't be out of the question.
Don't Miss: The DATE Gold Could Soar to $5,000
Fundamentals Remain in Favor of Higher Gold
From a fundamental perspective; there are bullish developments that shouldn't go unnoticed. There three things that investors need to keep in mind:
The demand for the yellow metal remains strong. We continue to see major buyers remaining in the market. For instance, in 2016, central banks bought gold for their reserves for seven consecutive quarters. (Source: "Gold Demand Trends Full Year 2016," World Gold Council, February 3, 2017.)
Looking at the key stock indices, it may look like everything is great. Don't be fooled. The problems on the global level remain in play. There's still a significant amount of uncertainty present. It looks as if the European financial crisis is starting to surface again, and growth in major economic regions remains dismal. Remember, gold does great in times of uncertainty.
Major central banks around the world continue to do things that devalue money. They have been keeping their interest rates low and printing money. Saying the least, this is great for gold prices.
Gold Prices Outlook Is Bullish: Gold Stocks Setting Up to Soar
As it stands, odds are in favor of higher gold prices ahead. Just like in 2016, it wouldn't be shocking to see 2017 be another year when the price of precious metals rise.
Don't Miss: The DATE Gold Could Soar to $5,000
As it has been repeatedly mentioned in Lombardi Letter, pay attention to gold mining companies. They are selling their stocks for pennies on the dollar, given the current value of gold. As the precious metal soars in price, gold stocks could skyrocket and provide leveraged returns.