5 Stocks That Prove Water is a Growth Investment
This article was originally published on this site
Consider this, fresh water is not only one of the most scarce resources on earth, but it is also necessary for the global economy to function and to keep human beings alive. And with demand for clean water expected to surge by over 85% by 2035, you're looking at a phenomenal investing opportunity. Here are five stocks that are critical to making sure you have clean drinking water. 
Water is seemingly everywhere, covering about 70% of our planet. Yet, fresh water is scarce – accounting for a mere 3% of the world's supply. Of that amount, the vast majority is either locked up in glaciers or resides in inaccessible subterranean pockets.
And of the amount of fresh water that is available, roughly 70% of that goes to agriculture to feed the world's population.
The scarcity of fresh water is the most serious problem globally in terms of economic, security and environmental risks, according to the World Economic Forum.
Sadly, it looks set to get even worse according to several very respected sources. . . . .
The International Food Policy Research Institute predicts a 40% gap between water demand and water supplies over the next 15 years.
Global water consumption is forecast to rise by 85% by 2035, according to a forecast by the International Energy Agency.
The United Nations forecasts that, by 2025, two-thirds of the world's population will live in water-stressed areas.
It's bad enough already. Let me give you some insight into the severity of the problem currently.
In human terms, severe water stress currently affects approximately three billion people worldwide.
Consider these very distressing facts courtesy of The Water Project.org:
About 1 in 9 people around the globe do not have access to clean, safe water.
50% of the world's hospital beds are filled with people suffering from water-related disease.
Every minute around the world, a child dies from some water-related disease.
This makes water a multi-dimensional dilemma.
First, the actual availability of freshwater. Second, as headline-grabbing Flint, Michigan highlighted (starting in 2014) – the safety of drinking water. And there's the lack of infrastructure also to get the water to where it is needed.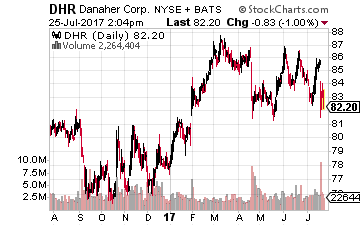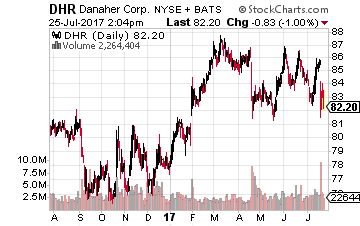 Water is a Growth Sector
Although this may sound controversial to some, access to fresh, clean water has become a major investment opportunity of the 21st century. According to the consultancy McKinsey, between now and 2030, there will need to be $7.5 trillion worth of investments needed in the sector to keep pace with the projected increased demand for fresh water.
Part of that investment will have to be into the advancement of water-related technologies and the companies that provide the much-needed solutions. These type of technologies are among those I am researching for you as part of a major research project to find for you the very best investment opportunities. (You can click here to be on the list for updates and get my first three picks to profit in 2017 and beyond.)
Water is now and will continue to be a high-growth sector. According to Bank of America, Merrill Lynch, the Pictet Water Fund and others, this already $600 billion market will grow by 5% to 7% annually for the foreseeable future. Based on the severity of the problem, my own estimate is for double-digit annual growth in this market.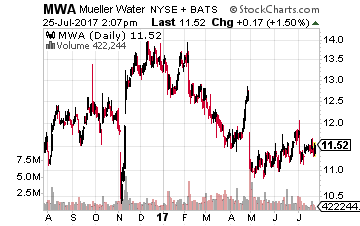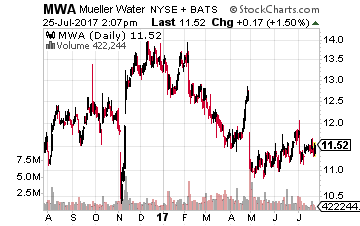 Water Investments
There a number ways to approach the global water problem and therefore a lot of investable companies in the sector.
One approach is the improvement of water quality. There is an estimated two million metric tons of human waste sent into water sources daily, according to the World Water Assessment Program.
That is a vast opportunity for a company like the technology conglomerate Danaher (NYSE: DHR), which is involved in water testing and water purification.
Then there is the infrastructure. A report from the World Bank said, "Some cities. . .lose more water through leaking pipes than they deliver to households."
That is music to the ears of Mueller Water Products (NYSE: MWA). The company offers a number of products related to water piping and infrastructure. Its water leak detection business, Echologics, provides actionable data for water utilities on underground water pipe leaks.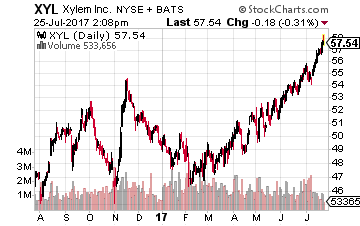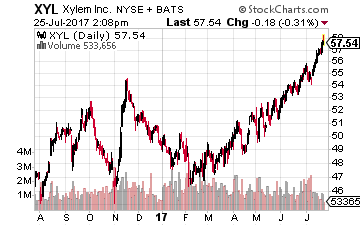 A company very well-positioned is the water technology firm Xylem (NYSE: XYL), which was spun off from ITT Corporation in 2011. Its five "growth centers" – transport, treatment, dewatering, analytics and applied water systems – cover every stage of the water cycle.
Emerging markets – where much of the water stress lies – make up over 20% of its business. It is involved in the world's largest water reclamation and reuse installation, located in Kuwait. And in Shanghai, a water treatment plant is disinfecting the water using ultra-violet light technology from the company's Wedeco unit. A similar system has also been installed in New York and Chicago.
Xylem also provides membrane-based desalination technology and components and has done so since 1975. And for about 25 years, the company has provided pre-treatment systems to improve the performance of reverse-osmosis membranes.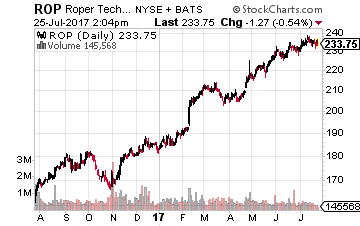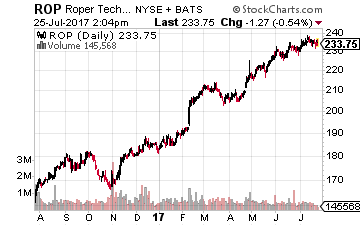 Another two diversified companies worth a look are Pentair PLC (NYSE: PNR) and Roper Technologies (NYSE: ROP). Pentair is involved in water pumps and systems, advanced water filtration and desalination, and flood water and wastewater systems. Roper has divisions in fluid handling and data collection/metering technology.
Famed international and commodities investor Jim Rogers said in an interview with marketing agency Sinclair & Co., "Water is the single most important determination of civilization." He's right. History shows that without water, no civilization – no matter how advanced – can survive for long.
Stay tuned in the months ahead as I work on finding the best opportunity in this most crucial sector.