7 Tech Stocks That Will Crush the Market for Years
This article was originally published on this site
They say that anyone who bought tech stocks right before the dot-com bust is well-familiar with the perils of diving into technology. But you don't have to have roots that far back to understand the potential for pain.
Investors are sure to remember the hype behind Zynga Inc (NASDAQ:ZNGA) and Groupon Inc (NASDAQ:GRPN) several years back, only to be followed by disappointment. Companies like Fitbit Inc (NYSE:FIT) and GoPro Inc (NASDAQ:GPRO) were the darlings of Wall Street in just the past couple years, but now, they're educating investors fresh and experienced alike on the potential for pain in the sector.
So, how do you determine what tech stocks will outperform the market, not just for a few months on a momentum swing, but for many years to come?
A good starting point: Look at the addressable market.
Any company that's going to grow needs to have a market it can grow into. What's the point of coming up with, say, the next great tablet for people with 11 fingers? You want to make sure there's a market opportunity (usually in the billions of dollars), and you want to make sure there are catalysts that can help new players get an outsize piece of the action.
You also need to get a sense of the technology itself. That doesn't mean you have to know whether it works — but if you can determine whether the company uses the latest approaches and excels in a field with inherent barriers to entry, you have yourself a winner!
These things are tough to gauge, but I'm here to guide you.
Today, we'll look at seven tech stocks that have many of the qualities listed above. This list has a number of stocks you probably haven't heard of or paid much attention to, but it also includes a couple of companies that many long-term investors would avoid, (incorrectly) thinking the easy money is well behind. All of these picks, though, should lead to juicy, market-beating gains in 2017, 2018, 2019 and beyond.
Tech Stocks to Buy: Benefitfocus (BNFT)
The U.S. healthcare system is flux. Is it the Affordable Care Act (aka Obamacare) from here on out? Will it be repealed?
The whiplash has taken its toll on Benefitfocus, Inc. (NASDAQ:BNFT), which is a top provider of cloud-based benefits software for consumers, employers and insurance companies. BNFT shares are off by about a third since October.
Consider this a good entry point in a great tech stock.
Employees will continue to need better IT systems for their healthcare plans as they deal with rising costs, complexities and plan options. Benefitfocus already has a top-notch platform with an intuitive user interface for enrollment, a scalable platform that has processed more than $47 billion in insurance premiums and 99.9%-plus uptime. BNFT also has a sophisticated analytics system that provides deeper insights into behavior, which in turn helps experts craft more effective healthcare programs.
Best of all, BNFT is in the early stages of the opportunity. Benefitfocus brought in $233 million in revenues last year (+26% year-over-year, and a record), but the company estimates the market size at a hefty $23 billion. Some key tailwinds should help BNFT continue to snag customers, such as the transition to the cloud, the consumerization and personalization of benefits, and the constant changes in healthcare regulations.
Tech Stocks to Buy: ServiceNow (NOW)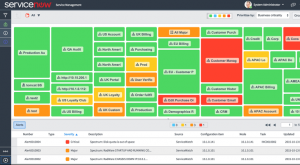 ServiceNow Inc (NYSE:NOW) is a top player in the cloud computing market that doesn't get much attention or fanfare … but should.
Founded in 2003, NOW specializes in help desk services within the IT industry — a category that ironically enough had long been sluggish in terms of innovation. But the main players in the market saw the IT services category as a nice source of recurring cash flows, and not much else.
ServiceNow saw the disruption opportunity and wasted little time in taking advantage. From fiscal 2012 to 2017, the company boosted revenues from $244 million to more than $1.8 billion. NOW currently boasts 735 customers from the Forbes Global 2000, and an average spend of about $1 million per year.
The platform has proven very versatile, with the company leveraging it into areas including human resources, security, customer service, field service operations and even app development.
ServiceNow is really an operating system for the enterprise, which should drive growth for the long run. The opportunity? In the near-term, Gartner forecasts the market to expand by 18% to $246.8 billion this year, and to $383 billion by 2020.
ADVERTISEMENT
Tech Stocks to Buy: PayPal (PYPL)
You think payment technology is everywhere, and that cash is a thing of the past, right?
Wrong.
Despite the advances in mobile technologies, 70% to 80% of global transactions are still paid in cash. That's great news for Paypal Holdings Inc (NASDAQ:PYPL), which is the pioneer of the online payments industry.
Yes, PayPal has been around for a while, but that's more advantageous than detrimental. The company has a ubiquitous global brand that's hard to replicate, a massive user base of 197 million and a sophisticated infrastructure.
The company also has been savvy with dealmaking, and as a result, PayPal is much more than PayPal. For example, there's Braintree, a platform that allows companies (such as Uber and Airbnb) to manage digital payments. The growth in this space is torrid, with Braintree peer Stripe recently raising venture capital at a valuation of $9 billion.
There's also Xoom, which is a service that allows consumers to make cross-border payments. That market size is a $600 billion.
But perhaps the most valuable asset is Venmo, a payments app that leverages social media features like posting messages about purchases. Venmo has become the must-have for the millennial generation, and in the latest quarter, the transaction volume for the app more than doubled to $5.6 billion.
PayPal has yet to monetize this, but it expects to soon — and when it does, Venmo should spur some serious growth in the coming years.
Tech Stocks to Buy: Red Hat (RHT)
Even though Red Hat Inc (NYSE:RHT) is an old dog among tech stocks, kicking around since the early 1990s, the company still appears to be in the early phases of its core market: open-source software.
Open-source software is technology that's free, and based off the efforts of developers who are willing to make contributions. It might seem unwieldy, but this approach has led to the creation of hundreds of standout technologies for servers, app platforms, machine learning, software containers and even enterprise-level systems.
So … how does Red Hat make money off this?
The company offers value-added services that typically are charged on a subscription basis. That model has proven lucrative, with the company boasting a 16% improvement in revenues to $629 million, as well as operating cash flows of $318 million (up 27% YoY).
A key to the RHT story has been the company's focus on mission-critical technologies, such as hybrid cloud implementations, virtualization and even the internet of things. Red Hat is becoming much more strategic, which should mean larger commitments from customers. We're seeing some of this now, such as a 30% fourth-quarter increase in the number of deals greater than $1 million, as well as a record number of deals over $20 million, including one that hit nine digits.
Tech Stocks to Buy: Apptio (APTI)
My work has put me in contact with Sunny Gupta — co-founder and CEO of Apptio Inc (NASDAQ:APTI) — several times over the years. And one of my favorite stories is about how he started the company by simply asking companies what their problems were.
And I've learned this much: If Sunny says he'll accomplish something, he will.
Apptio is focused on technology business management (TBM), which involves involves leveraging cloud technology to help companies manage their digital assets.
Much of this is about keeping costs down, but TBM also provides some other critical benefits. Sunny has added modules to provide for better insights, such as optimizing the use of an IT system, improving security risk management and governance, and allowing for data-driven decisions.
APTI has roughly 360 customers at present, and the company's target is the Global 2000, with an addressable market of about $6 billion. Apptio boasts just $160 million in 2016 revenues, so there's tons of room to the upside.
Tech Stocks to Buy: Workday (WDAY)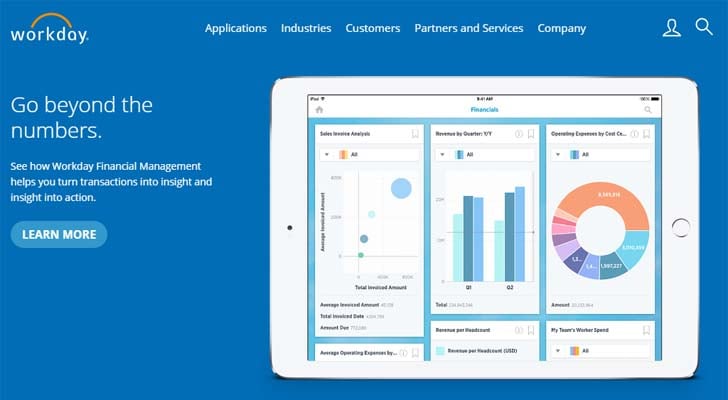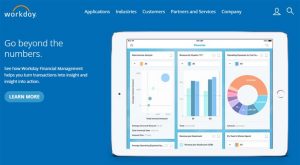 An enterprise resource planning (ERP) system is mission-critical for a company, as the applications deal with things like payroll, HR and back-office function.
It should be no surprise, then, that the mega-players in this industry — like Oracle Corporation (NYSE:ORCL) and SAP SE (ADR) (NYSE:SAP) – have been able to produce reliable profits for decades.
But along with the secular transition in the cloud, a crack in the ERP market has formed. The main cause? Workday Inc (NYSE:WDAY), which has pushed the field with innovative efforts, including offering sophisticated analytics.
Interestingly enough, the knock against cloud-based ERP is that large customers are skeptical of the security and reliability. Why take the chance? But the concerns are overblown, and Workday is winning over customers such as Wal-Mart Stores Inc (NYSE:WMT), Amazon.com, Inc. (NASDAQ:AMZN), Dow Chemical Co (NYSE:DOW) and BP plc (ADR) (NYSE:BP).
The financial results have been standout, including a recent 35% gain in revenues to $1.57 billion for its fourth quarter, as well as operating cash flows of $348.7 million.
This is a testament to Workday's technology, which should continue to lure more mega-deals, driving growth in the years ahead.
Tech Stocks to Buy: Facebook (FB)
Facebook Inc (NASDAQ:FB) has been one of the best tech stocks of the past few years, and it also should be one of the best tech stocks to buy going forward.
Facebook generates eye-popping numbers left and right. Facebook — a $400 billion-plus company — saw revenues spike 54% last year (to $27.6 billion). It boasts 1.23 billion daily active users (DAUs), and 1.15 billion mobile DAUs.
The growth ramp will start to slow at some point, maybe as soon as this year, but we shouldn't expect a material dropoff.
In the meanwhile, Facebook has a variety of levers it can pull to pump up revenues. Instagram is in the early phases of monetization, and WhatsApp may not start its own efforts until a couple years from now. Facebook seems to understand how to plan a revenue path.
There's also online video to consider. This has become a big-time priority for FB as smartphone have quickly become multimedia devices. In fact, online video may be the way for the company to get a chunk of the massive budgets for traditional TV. Based on research eMarketer, spending on digital video ads is forecast to jump from $9.84 billion in 2016 to $16.69 billion by 2020.
Facebook CEO Market Zuckerberg recently had a pretty good description of the opportunity:
"I've said before that I see video as a megatrend on the same order as mobile. That's why we're going to keep putting video first across our family of apps and making it easier for people to capture and share video in new ways."
Facebook does have Snap Inc (NYSE:SNAP) to contend with, but so far, it appears to be doing pretty well, playing an unmatched game of copycat that's keeping its smaller rival frustrated.
Tom Taulli runs the InvestorPlace blog IPO Playbook and is the author of various books, including Taxes 2017: Saving A Bundle. Follow him on Twitter at @ttaulli. As of this writing, he did not hold a position in any of the aforementioned securities.