Biotech Breakout: 2 Stocks to Ride the Rally
This article was originally published on this site
Climbing almost 10% in one week alone, it looks like the biotech sector is back in business. If you're looking to gain some exposure to the rally but don't want to invest in small, risky pot-shots, take a look at these two stocks. They're the only two that Growth Stock Advisor Tony Daltorio would buy right now.
Move over technology, here comes the latest hot stock market sector – biotechnology and pharmaceutical stocks.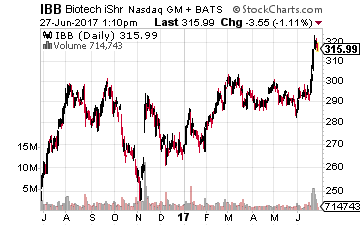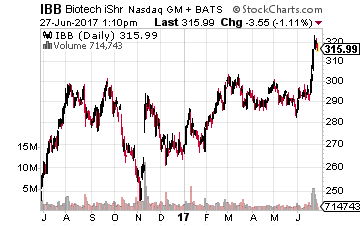 The evidence of this is clear – the iShares Nasdaq Biotechnology Index ETF (Nasdaq: IBB) is now up nearly 21% year-to-date. IBB soared almost 10% just in the trading week from June 19 to June 23. Inflows into this ETF were at the highest level since the aftermath of the November election.
This rally, according to Bloomberg, has erased the entire performance gap between healthcare stocks and the broader stock market.
The interesting thing for investors to note is that nothing has really changed fundamentally. The stocks traded higher on the rumor that an anticipated executive order from President Trump will be industry-friendly.
Leaks say the executive order will focus on reducing the out-of-pocket expense for patients and tout "value-based" pricing models that reimburse drugmakers based on how well their products work.
In other words, investors are banking on the Trump Administration and Congress to do little to rein in rising drug prices.
Assuming Too Much
Does this move make sense?
On the plus side, there are good things already happening in the biotech and pharma sectors.
For instance, it looks like the Food and Drug Administration is definitely open for business. The FDA has already approved 23 drugs this year. That is more than in all of 2016.
But it looks to me as if investors are assuming too much, it looks just like how the market baked in all the good things President Trump could do regarding taxes and spending before becoming disillusioned about the pace of reform.
Wagering on future outcomes in the political swamp that is Washington, D.C. seems risky to me.
The "doomsday" scenarios – a cap on drug prices, allowing imports of drugs from overseas, and allowing government agencies to negotiate prices on drugs still lurk, just out of sight.
No one should lose sight of the fact that more and more Americans require financial assistance to help pay for the cost of the medicines they need. Patient Assistance Programs (PAPs) from the pharmaceutical companies have become commonplace.
And if Congress passes some sort of reform of Obamacare, the almost certain result will be more people without health insurance. That only raises the pressure for more assistance regarding the prices of needed medicines.
In other words, the pressure to restrain drug prices is not going away anytime soon.
Global Pharma Sales Projection Lowered
That was also the conclusion of the latest projection from EvaluatePharma, the respected market intelligence leader in the analysis of the life science industry.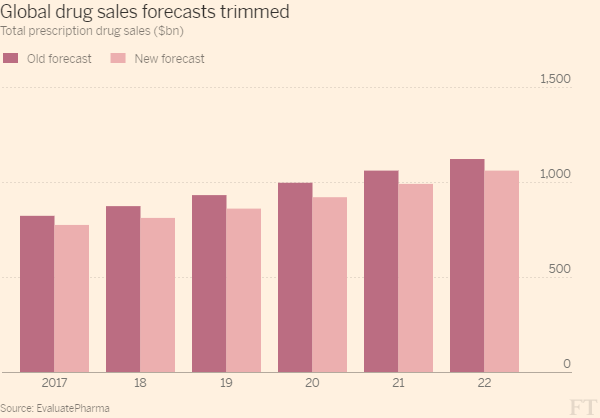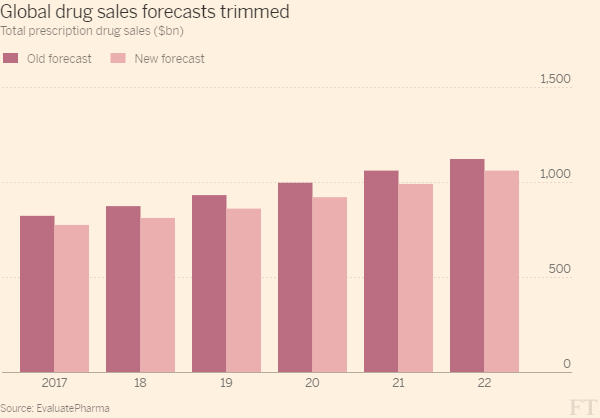 For the first time in a decade, it lowered its global revenue forecast for drugmakers. EvaluatePharma now projects $1.06 trillion in drug sales in 2022. That is down from $1.16 in its prior forecast.
Overall, it expects a loss in sales of about $390 billion for the industry between 2017 and 2022.
The head of forecasting at EvaluatePharma, Antonio Iervolino, said in the report "The continued political and public scrutiny over pricing of both the industry's old and new drugs is not going to go away and we are starting to feel the impact now."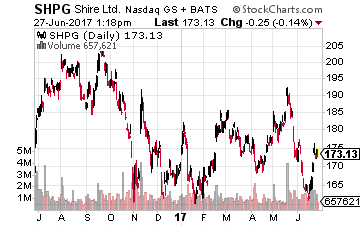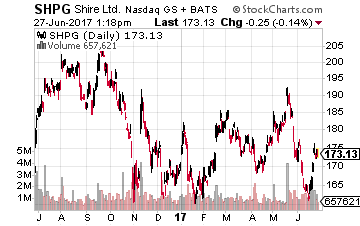 The latest report from EvaluatePharma specifically cited the examples of novel heart medications – Praluent from Sanofi SA (NYSE: SNY), Entrstro from Novartis (NYSE: NVS) and Repatha from Amgen (Nasdaq: AMGN) – as having very poor sales.
The report was however positive on cancer immunotherapies including Keytruda by Merck (NYSE: MRK).
Some pharmaceutical firms have already pledged to limit annual prices increases. These include the likes of Sanofi, Allergan (NYSE: AGN), Abbvie (NYSE: ABBV) and Novo Nordisk A/S (NYSE: NVO).
I expect public pressure to continue to build and force more pharma and even biotech companies to pledge to restrain their drug prices even if the political pressure in the U.S. is perceived to be off the boil at the moment.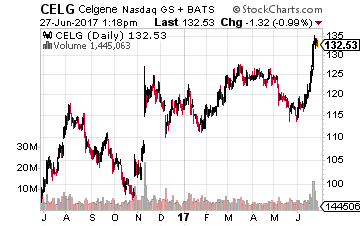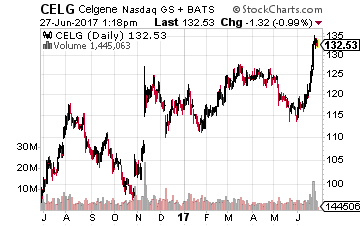 That means I would avoid ETFs such as IBB.
If I had to own a stock in the sector, I would look toward those companies with the highest sales growth projections out to 2022.
Two such stocks are Shire PLC (Nasdaq; SHPG) with a projected 10% compounded annual growth rate and Growth Stock Advisor portfolio recommendation Celgene (Nasdaq: CELG) with a 15% CAGR.
I'm giving out 30 day free trials to the Growth Stock Advisor newsletter, and you can get yours by clicking here.
Our July issue comes out this week, and you will gain immediate access to my newest recommendation on a great long-term growth opportunity that will help you put your savings in a safe place that will gain value over time.
Click here to start your 30 day free trial of Growth Stock Advisor.