'Boring' Wal-Mart Could Soar 41% Over the Next Year
This article was originally published on this site
It's a crazy claim…
Could Wal-Mart (WMT) – a boring retailer – really soar 41% over the next year?
History says, "Yes!"
You see, the world's largest retailer has been on a hot streak…
Wal-Mart recently moved higher for 11 consecutive days. That's a rare feat. And history says it tends to lead to massive returns.
Since 1973, Wal-Mart has increased an incredible 41% a year after similar instances. And it could happen again, starting now.
Let me explain…
From its birth in the early 1960s, Wal-Mart has expanded from one small store in Arkansas to more than 5,000 stores all over the United States.
By 1991, the company made more profits than retail kings like K-mart and Sears.
Today, Wal-Mart has become the undisputed ruler of retail by sales. It's even closing the gap on e-commerce giant Amazon (AMZN) in online sales… Wal-Mart recently reported that it grew online sales 67% by volume in the second quarter.
This strong growth in online sales likely helped the company's share price move higher 11 days in a row. The chart below shows the recent uptrend. Take a look…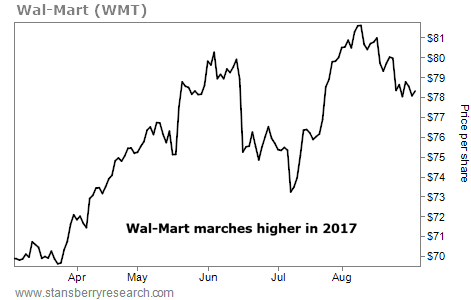 The uptrend is fully in place. Wal-Mart is up around 13% this year, thanks in part to this rare string of "up" days.
This has only happened 13 times in the past 44 years. And similar instances say the gains will continue…
Since 1973, when Wal-Mart's stock moved higher for 11 straight days, it has typically gone on to rally an average of 41% over the next year. Take a look…
These are fantastic return figures.
Obviously, Wal-Mart has been a winner since 1973 – returning 17.2% a year. But the stock crushed normal returns after instances like the one we saw recently.
Similar strings of "up" days led to 11% gains in three months… 37% gains in six months… and massive 41% gains over the next year.
I know it's a bold claim. It sounds crazy to say it…
But history says Wal-Mart has a legitimate shot at huge gains over the next year. And 41% gains are in no way out of the question.
If you've been thinking about buying this blue-chip stock, now could be the perfect time.
Good investing,
Brett Eversole