Breakout Alert: 3 Surprisingly Strong Retail Stocks
This article was originally published on this site
The busy holiday shopping season is giving a boost to more of the market's so-called "dead" retail stocks.
We kicked off December trading by showing you how brick and mortar retailers that have successfully built out their online shopping options are standing strong against the Amazon juggernaut. The outperforming names in this group are even helping to dig the SPDR S&P Retail ETF (NYSE:XRT) out of its 2017 funk. As of this week, XRT's newfound momentum has pushed the ETF toward its 2017 highs.
Now we're seeing the hot money flow into even more of these "busted" retail names. Most of these stocks couldn't catch a bid during the first and second quarters. Now they're leading the market's higher during the final trading weeks of the year.
Here are some of retail's best bets heading into the final push of 2017:
First up is Lululemon Athletica (NASDAQ:LULU). LULU makes high-end yoga gear and other athletic apparel.
Of course, workout clothes aren't just for the gym anymore. The athleisure segment has exploded over the past ten years. The sports apparel and footwear market has grown 42% since 2009 to $270 billion, according to Morgan Stanley. Analysts are guessing it will grow another 30% before the decade is over.
Lululemon is a company that's done everything wrong over the past few years. Every six months, management finds itself in some sort of public relations debacle. Remember the yoga pants scandal? The company's unlikable CEO said fat people shouldn't wear Lululemon tights when confronted with complaints that some customers found the fabric too transparent. And just last year, a Twitter jab at Beyoncé's new athleisure line turned into an all-out brawl with the singer's fans.
As you've probably guessed, investing in LULU stock has been dead money walking for years. Shares had gone nowhere since 2011. Until now…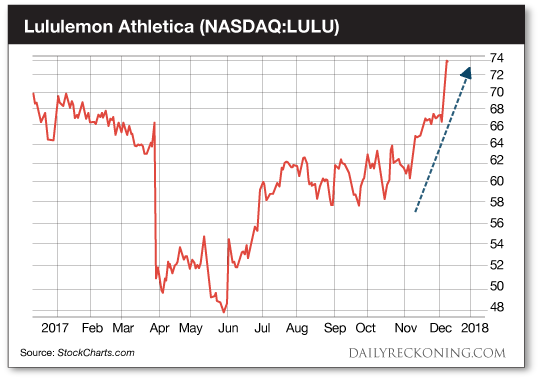 Lululemon stock made a strong move off its November lows and then did something investors weren't expecting: Shares gapped higher in reaction to an unusually strong earnings report. Thanks to this powerful rally, LULU is up 20% off its November lows.
Back in January, we learned Amazon was jumping on the athleisure trend with its own brand of athletic apparel. Most investors assumed the move would crush Lulu's prospects. That clearly hasn't been the case. Now we're witnessing a stealth rally that could finally propel shares to new highs.
Next up is Fitbit (NYSE:FIT), maker of fitness tracking smartwatches. You've probably know the company best for those little vibrating bracelets people wear to tell them how many steps they've taken every day.  But there are a bunch of different Fitbit products at various price points that can help users track their health and fitness goals.
Wearable tech was once an exciting idea. But many analysts have been skeptical of Fitbit's offerings. They couldn't see how FIT could compete with the Apple Watch. The story stuck. At its lowest point this summer, the stock was down 90% from its 2015 highs.
But FIT shares eventually hit rock bottom earlier this year. Shares screamed higher by nearly 50% of their August lows by September, shooting the stock back above its 200-day moving average for the first time since October 2016. After a brief October slide, FIT is now back to the races, streaking toward its 2017 highs.
So much for Apple eating its lunch…
Finally, we have the ultimate old-school retail play: Best Buy (NYSE:BBY).
If you had asked me five years ago which major retailers were most vulnerable to a full-frontal assault from Amazon, Best Buy would be near the top of my list.
The electronics retailer was dealing with a problem called showrooming. That means potential customers were only coming to Best Buy to view and try out products. When it was time to buy, these same folks would just go to Amazon and buy what they were looking for at a discount.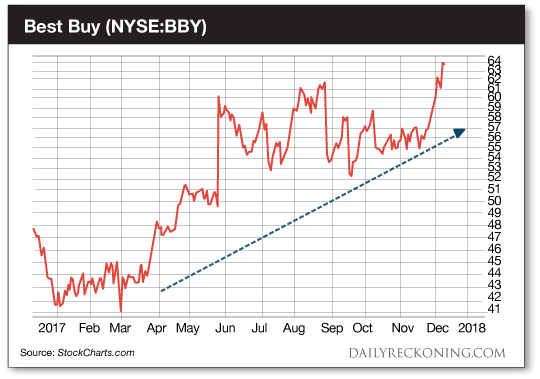 But all is not lost for Best Buy. The company started to gets it act together a couple of years ago by improving the e-commerce side of its business, honoring a price-matching guarantee and renewing its focus on mobile phone sales.
Since these improvements, Best Buy has surprised analysts with key earnings beats that have helped ignite an unexpected comeback rally this year. Best Buy is silencing its critics with strong sales—at least for now. The stock is up an astonishing 52% this year, nearly matching the performance of market leaders Amazon and Facebook.
Sincerely,