Buy These 3 Hot Semiconductor Stocks for Long-Term Profits
This article was originally published on this site
If you've been watching NVIDIA stock shoot up over the last year and felt a mixture of regret and sadness that you weren't able to participate in the rally, you definitely want to check out these three stocks. Each has the same potential to hand you profit just like NVIDIA did over the last 52 weeks. As noted in previous columns, 2017 has certainly been the year for technology stocks. As of this writing, the tech-heavy Nasdaq Composite index is up nearly 17% year-to-date.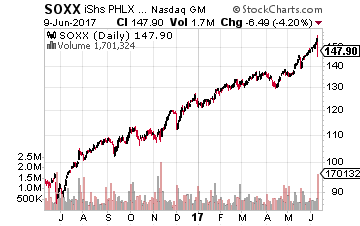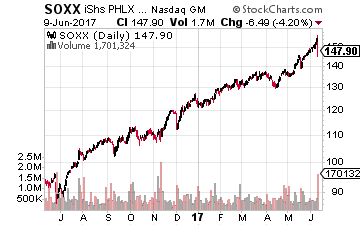 That index though has been outpaced in 2017 by the PHLX Semiconductor index, which has soared about 22.5% so far in 2017. This index of the major semiconductor companies can easily be tracked and owned through an ETF – the iShares PHLX Semiconductor ETF (Nasdaq: SOXX).
However, I think you and I would be better served to play the industry through individual stocks rather than an index.
The reason for that was brought up in a recent Wall Street Journal article on how the chip rally has re-arranged the top tier of semiconductor stocks.
Change at the Top
One change reflects how semiconductors are now a very global industry.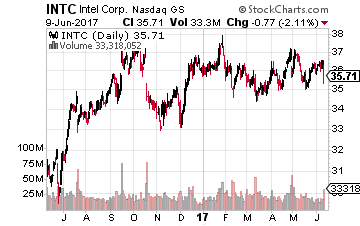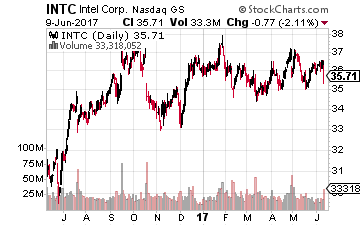 The long-time semiconductor champ, Intel (Nasdaq: INTC), is no longer number one as measured by market capitalization.
That honor now goes to Taiwan Semiconductor Manufacturing (NYSE: TSM), which is often called TSMC.
The semiconductor foundry giant is well worth owning, even though it's stock has risen 27%  year-to-date and 42% over the past year.
That's because it's still growing. Total sales revenue last year hit a record at $29.43 billion. And its gross margins are in the 50% to 53% range.
TSMC benefits greatly from the continued popularity of mobile phones and the quickly growing demand for graphic processors. Two tech trends that are unlikely to change anytime soon.
Other Changes at the Top
There are other changes in the top five of the semiconductor standings too.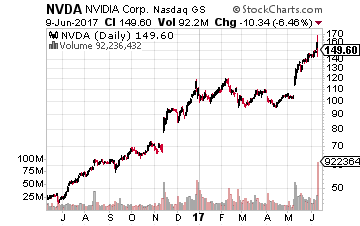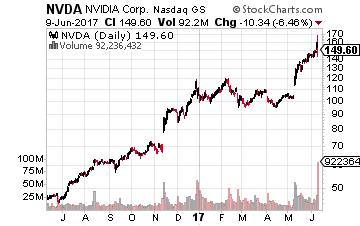 New entrants include both the red-hot Nvidia (Nasdaq: NVDA) and Broadcom (Nasdaq: AVGO).
Nvidia is up 38% year-to-date and 217% over the past year. Broadcom is up 43% year-to-date, but only 56% over the past 52 weeks.
That 52-week relative underperformance should have us looking more at Broadcom instead of Nvidia – and its 48 times forward earnings – as a relative bargain.
And so does this…
The company is in final stages of talks to purchase the prized flash memory division of troubled 142-year old Japanese conglomerate, Toshiba (OTC: TOSYY). It emerged as the winner of a long bidding war between a number of companies (at least 10) for the unit.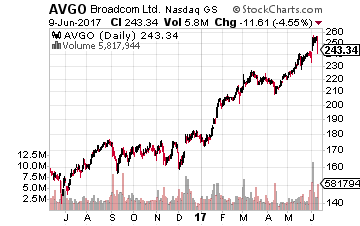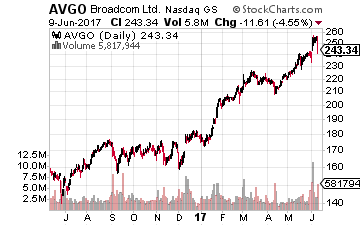 Toshiba's unit is the second-largest producer of NAND flash memory, behind only Samsung. This market is expected to grow to $39 billion by 2022, enjoying a compounded annual growth rate of 33.7% from 2016 to 2022.
It's always tough to get a deal done in Japan if you're a foreign company. But somehow, Broadcom has managed to gain the backing of Japan's three largest banks for financing the proposed deal. These banks are: Mizuho Financial, Sumitomo Mitsui Financial and Mitsubishi UFJ Financial.
To me, that means the implicit okay from the Japanese government for a deal with Broadcom. If the deal does indeed go through, it's a definite plus for Broadcom to become the owner of a big player in such a fast-growing sector.
IoT Chips
Another segment of the semiconductor industry I'm interested in is anything connected with the Internet of Things. IoT is one growth sector I'm focused on as the editor of Investors Alley's Growth Stock Advisor.
To be a semiconductor company focused on IoT, it has to amass a broad portfolio across many of the necessary pieces – sensors, analog semiconductors, microcontrollers, and communications chips.
That brought me to a company that on its website says, "We aren't your average semiconductor company." The company is Silicon Laboratories (Nasdaq: SLAB).
Its Internet of Things-related products now account for about 50% of its revenues. The remaining 50% is spread across other industries including infrastructure, broadcast (autos) and access.
The company's IoT year-on-year revenue growth over the past three quarters came in at an impressive 24%, 26%, and 25%.
Silicon Labs strength in IoT comes from its positioning across a range of wireless/connectivity options and in mesh networking. Many of its offerings are aimed at IoT in the home (temperature control, lighting, appliances, security, etc.).
Silicon Labs still flies somewhat under-the-radar, which should appeal to you as an investor. Its stock is up "only" 15.5% year-to-date and 48.25% over the past year.
There are, of course, a number of other semiconductor companies involved in IoT. No doubt I will be discussing some of these in future issues of Growth Stock Advisor.
Right now I am still offering up a 30-day free trial to the Growth Stock Advisor service. You can join today for free and immediately access the June and May issues. Both feature exciting growth stocks that are right on the forefront of where technology is meeting industry.
This trends has huge potential for long-term profits as this will become a multi trillion dollar industry over the next decade. Click the link below to start your 30-day free trial.