Don't Buy Apple – Double-Digit Losses Are on the Way
This article was originally published on this site
The world's biggest company is getting bigger…
Apple (AAPL) is up 18.4% since the beginning of 2017. To put that another way… Apple has added $98 billion in market cap in less than two months.
That's the equivalent of adding the entire combined value of Ford Motor and FedEx in just eight weeks.
This has sent Apple into a serious uptrend… But the rally may have gone too far, too fast.
You see, Apple recently hit its highest overbought level in history. And that means we could see double-digit losses over the next year.
Let me explain…
We always like to buy ignored investments… things no one else is interested in owning.
Instead of following the hot trends, we make contrarian bets. That's how we pocket our largest gains.
Buying Apple is not a contrarian bet right now… It's the exact opposite.
Apple is currently at an extremely overbought level based on its relative strength index (RSI).
The RSI is a measure of a stock's recent gains and losses. It tells us when a stock is overbought or oversold. Oversold stocks tend to rally… And overbought stocks tend to correct.
An RSI reading of 70 or higher means a correction is likely. And the recent rally in Apple has moved its RSI to crazy levels. Take a look…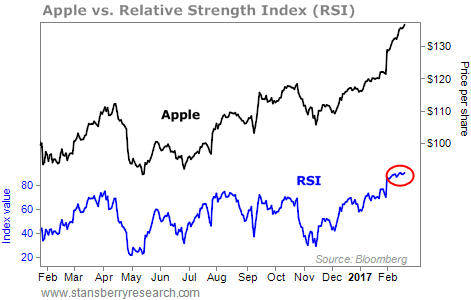 Apple reported fantastic earnings at the end of January… The company beat estimates for revenue and earnings. And the stock soared 6.1% the next day as a result.
This pushed Apple to overbought levels. And the stock and its RSI have moved higher since.
Last week, Apple hit an RSI extreme of 90. That's the highest RSI in Apple's history… And it's a warning sign for investors.
You see, Apple's RSI has only broken above and fallen back below 85 five other times in the last decade. And these were not good times to buy. Take a look…
| | | |
| --- | --- | --- |
| | 3-Month | 1-Year |
| | | |
| | | |
You don't become the world's largest company without massive stock market gains. Over the past 10 years, Apple's shares have typically gained 6.1% over three months and 26.9% annually.
With numbers like these, it would have been hard to lose money investing in Apple over the last 10 years… But buying its shares at a high RSI level would have been a good way to do it…
Over the past decade, similar overbought RSI levels led to small, 1.2% gains in three months… and 10.2% losses over the next year.
That's nearly a 37-percentage-point underperformance compared with Apple's typical annual return!
I'm not telling you to short Apple. And I'm not saying its business is in trouble.
But Apple's RSI tells us the market has moved too far, too fast. And history says losses of 10% over the next year are a likely result.
That makes Apple a company to avoid until that changes.