Driverless Cars: 2 Top Stocks to Own
This article was originally published on this site
Elon Musk's Tesla (NASDAQ: TSLA) is at the forefront when it comes to building electric vehicles. But just as electric vehicles are gaining traction, most companies are already looking beyond that to driverless cars.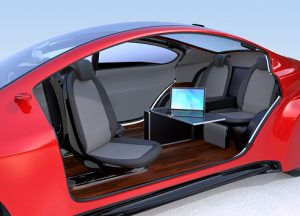 Uber, the ride-sharing company, is already testing out driverless cars for ushering people around. Tesla's cars come with a form of driverless technology dubbed "Autopilot."
Also, Apple (NASDAQ: AAPL) might finally be back into building something "great." The company changed the electronics game by introducing the iPod, iPhone and iPad, but has been relatively quiet of late. But more recently, Apple secured a permit for autonomous vehicle testing in California.
Apple still has some catching up to do: Google's (NASDAQ: GOOGL) driverless car operation has put in more than 2.5 million miles on public roads.
Tesla? Apple? Uber? Google? It's still early to tell who will be the definitive winner in driverless cars, or who will even be first to market.
So instead of trying to guess which large technology company will the race, the best bet is to look for those companies that will win regardless of who is ahead.
That means the companies that make components for driverless cars.
I talked about Borgwarner (NYSE: BWA) and Delphi (NASDAQ: DLPH) earlier this year. Neither makes driverless cars, but both of which are auto components makers. Last year, one of the companies I focused on in the flying and driverless market was Lear (NYSE: LEA), a major player in the car seating market. Shares of Lear are up over 20% since then.
Everyone is quickly realizing the potential of driverless cars. Mobileye is being bought out by Intel (NASDAQ: INTC) for $15 billion. Mobileye has partnerships with 25 automakers to install its Advanced Driver Assist System in their vehicles. But given the size and scope of Intel, it's tough to call Intel a "driverless car investment opportunity" for investors. Instead, there are better opportunities. Here are two companies that will be the biggest winners from the driverless car revolution:
Driverless Cars: Qualcomm (NASDAQ: QCOM)
Qualcomm is a major smartphone chipmaker that is in a battle with Apple (NASDAQ: AAPL), which might be creating an opportunity. Qualcomm's stock is down more than 20% from its 52-week high.
Qualcomm is buying up NXP Semiconductors (NASDAQ: NXPI), which puts it in the driverless car race. NXP is the largest automotive process supplier in the world. This is a different from the Intel-Mobileye combination. In contrast, NXP has the potential to have a big impact on Qualcomm. NXP generates nearly $10 billion in sales, which can materially impact Qualcomm's business. Qualcomm generates $20 billion in annual revenues.
The move also helps diversify Qualcomm's business away from the increasingly competitive smartphone chip market. NXP has a driverless car system that includes sensors, cameras and processors. Qualcomm Makes its own processors for driverless-car systems, and has partnerships with TomTom and OnStar.
Qualcomm stock is cheap as well, perhaps the cheapest potential play on the driverless market. The stock trades at 13.5 times next year's earnings estimates. Qualcomm also pays a 4% dividend yield.
Driverless Cars: NVIDIA (NASDAQ: NVDA)
NVIDIA is an auto chip maker for the driverless market. Granted, its stock has soared in the last year, up 240%, it's still a growth machine. Shares, despite trading at 50 times earnings, are actually cheaper than Mobileye from a valuation perspective. NVIDIA is expected to grow earnings by 140% this year, over double the growth Mobileye is expecting.
NVIDIA's advantage in the driverless car market includes an automotive AI computing platform called Drive PX 2. Over 80 automakers are using the Drive PX systems, including Tesla, and it has a first-mover advantage here. It has also partnered with commercial truck maker PACCAR, which could be an even bigger market than self-driving cars.
In the end, no matter who really wins the driverless car battle, whether it is Uber, Tesla or Apple, there are ways for investors to get more of a guaranteed win. That is, by investing in companies that provide the technology for all driverless cars. The two companies above are great places to start.