Forget Tesla, Buy These 3 Electric Vehicle Stocks Instead
This article was originally published on this site
I almost feel sorry for the hype machine known as Elon Musk and Tesla. First, the electric car field is becoming crowded with more and more players, making it tougher to stay ahead in the race to an electric future.
Then, Musk boasted about the 75-megawatt lithium-ion battery Tesla built within 100 days in Australia to help with their power shortage. That glory will fade quickly as Korea's Hyundai's Electric & Energy Systems Co. is building one twice as big – 150-megawatts, that will go live in about three months on the country's southeast coast.
Finally, he rolled out Tesla's e-Truck with much fanfare. However, more established players in the field have already beaten Musk to the punch with their version of an electric battery-powered truck. But before I delve into those companies, let me tell you about Tesla's electric truck.
Tesla's e-Truck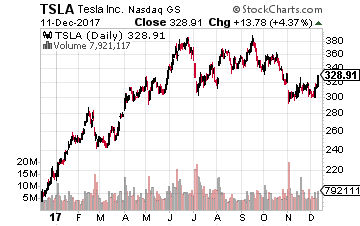 Elon Musk unveiled Tesla's electric truck last month that has been in development for over a year. It is supposed to have a range of about 500 miles and, according to Musk, will be "impossible" to jackknife. He said that it would go into production in late 2019.
While the range is too short for long-haul drivers, the truck will still have a ready market. That's because 80% of routes driven by truckers are less than 250 miles. Already, a number of large companies have placed orders for Tesla's electric truck. These firms include: Walmart (15 trucks), Anheuser-Busch (40 trucks), Sysco (50 trucks) and JB Hunt (40 trucks) along with a host of other companies that placed smaller orders.
Tesla's truck does have some nice features. It will use the same sensors as its smaller vehicles for its autopilot system. At the moment that means safety features such as automatic lane control and braking, but it eventually will allow full autonomy. The truck uses cameras instead of wing mirrors, helping its aerodynamic look.
However, Musk claimed that the charge for these trucks would only take 30 minutes using a solar-powered "megacharger" that Tesla hasn't invented yet. It is supposed to be 10 times more powerful than the current supercharger for Tesla's electric cars.
Doubts and No Doubts
Some scientists have questioned Musk's claims about the megacharger, saying it's science that hasn't happened yet. The fastest chargers today can support 450 kilowatts of charging compared to the roughly 1,500+ for Musk's megacharger.
A U.K. consultancy called Aurora Energy Research, set up by scientists from Oxford University, estimated that the power required to charge a battery in that short a time frame would be 1,600 kilowatts. Questions arise then about the electric grid's ability to handle that load since the scientists' claim that's the equivalent of providing power for several thousand homes.
While there doubts on the science side, if that is solved I have no doubt that production can be ramped up quickly.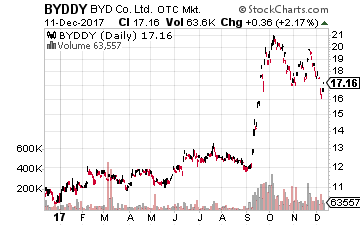 Just look at China and e-buses.  Just a few years ago, China only produced about 10,000 electric buses. But in 2016, output exceeded 100,000 buses. Market leader BYD (OTC: BYDDY) has also begun to churn out a good number of electric garbage trucks. The company, 8.5% owned by Warren Buffett, has been assembling them for two years at a California plant and is opening another facility in Ontario, Canada next year.
The question with electric trucks is whether Tesla will be the winner or will more established players in trucking and engines triumph. Here's look at three of them.
Electric Truck Company #1 – Cummins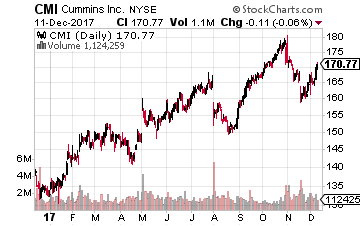 The first company is Cummins (NYSE: CMI), which will not build electric trucks. But it will supply a fully-integrated battery electronics system (with the batteries coming from an unnamed supplier. It is a leading maker of diesel and natural gas engines for commercial trucks.
Without any of the fanfare of the Tesla unveiling, this summer saw a big e-trucking announcement from Cummins. It revealed a Class 7 heavy-duty truck cab (the cab was built by Rousch Enterprises) that featured an advanced 140 kilowatt battery pack, which is capable of hauling a 22-ton trailer. Cummins said it would begin selling the 18,000 pound cab (named AEOS) to bus operators and commercial trucking fleets beginning in 2019.
The battery has about a 100-mile range, so Cummins is targeting urban delivery vehicles (like a beer truck or food delivery truck) as well as other short haul trips. It can be recharged in about an hour at a 140 kWh charging station, and the company's goal is to get that down to 20 minutes by 2020. Cummins added that current battery technology doesn't yet make sense for a Class 8 semi tractor-trailer (an 18-wheeler).
Cummins is also offering an extended range version (available in 2020) of the AEOS. It uses an efficient diesel engine as an on-board generator, which allows for up to possibly 500 miles between charges and 50% fuel savings compared to today's diesel hybrids with zero emissions.
You may wonder if this is the right move for Cummins and if it can remain competitive when the trend is clearly toward electric vehicles.
The history of this 98-year old company suggests the answer is yes. It was at the forefront of environmental shifts, embracing stricter clean air standards while other manufacturers dragged their heels. It also led the shift from 2-stroke to 4-stroke diesel engines and was a leader in developing after-treatment systems for nitrous oxide particulates.
With its work on electric powertrains and fuel cells for about a decade, I think it will succeed again. That means more gains for its stock on top of the 25% gain year-to-date.
The next two companies offer more direct competition to Tesla.
Electric Truck Company #2 – Daimler
Daimler AG (OTC: DDAIY) is the world's largest manufacturer of commercial vehicles and a former Tesla shareholder. So as you can imagine, it is taking the challenge from Tesla quite seriously. To that end, it has already started initial production of its Fuso eCanter urban delivery trucks. And it expects such vehicles to be competitive with traditional diesel vehicles cost-wise within two years.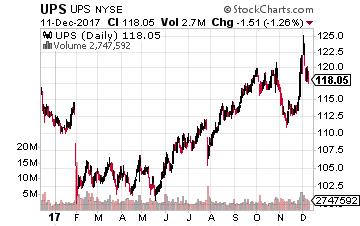 Daimler introduced the light-duty eCanter haulers in New York in September, supplying a fleet to several New York City non-profits as well as signing United Parcel Service (NYSE: UPS) as its first commercial customer in the U.S. The truck has a range of 60 to 80 miles between charges and is coming to market as customers insist on cleaner vehicles better-suited to rising delivery demand (e-commerce) in cities.
The company will start mass production of these vehicles at its Tramagal plant in Portugal either late in 2018 or early in 2019. About 10,000 of the light-duty eCanter were produced at this plant in 2017.
Daimler is also taking Tesla's challenge in heavy-duty trucks trucks seriously. It beat Tesla to the punch when it unveiled the E-Fuso Vision One in late October. This truck can carry 11 tons of cargo up to 220 miles before recharging. Its load is two tons less than a comparable diesel model in order to accommodate the weight of the 300-kilowatt battery packs.
It will be interesting whether these moves will boost Daimler's ADR in 2018. It is almost unchanged so far in 2017.
Electric Truck Company #3 – Volvo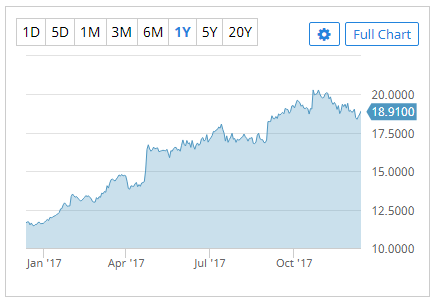 Another European company that Tesla should worry about is Volvo AB (OTC: VLVLY).
You may not be familiar with Volvo – it is one of the world's leading manufacturers of trucks, buses, construction equipment, industrial and marine engines. The car division was first bought by Ford, which in turn sold it to the parent of Geely Automotive in China.
Volvo is one of the biggest providers of electric buses and hybrid-electric buses in the world. And it is a major producer of electric construction equipment and autonomous mining equipment. This being at the forefront of electric and autonomous vehicle design is a reason why I believe the stock is up 57% year-to-date.
It is testing in Sweden an autonomous garbage truck that uses sensor to continuously monitor its path and stops immediately if an obstacle appears in front of it. It drives itself from stop to stop with the driver walking in front of it to pick up the trash.
Volvo is also working other futuristic technology including charging pads and electrified highways that will themselves charge electric vehicles. And with 600,000 connected vehicles (200,000 in the U.S.), Volvo is collecting lots of data to further improve its vehicles.
Specifically with trucks. Volvo is testing a hybrid powertrain for long-haul heavy-duty trucks that is all part of its Super Truck project working in conjunction with the U.S. Department of Energy. Here are some of its features:
It recovers energy when driving downhill on slopes steeper than 1%, or when braking. The recovered energy is stored in the vehicle's batteries and used to power the truck in electric mode on flat roads or low gradients.It has an enhanced version of Volvo Trucks' driver support system I-See, which has been developed specially for the hybrid powertrain, which analyses the upcoming topography using information from GPS and the electronic map.
For long hauls, it is estimated that the hybrid powertrain will allow the combustion engine to be shut off for up to 30% of driving time.
Bottom line for you — a new age in trucking is right around the next bend in the road and there are a lot of other purer-play companies besides Tesla for you to profit from in this sector.