Here's Why These Markets Won't Go Down… Yet
This article was originally published on this site
The Nasdaq winning streak we broke on Thursday, July 20 – 10 straight "up" days – was the longest streak in more than two years. It was the 20th time the Nasdaq had pulled such a feat since 1980.
Over those 20 instances, after one month, the index was up 80% of time with an average gain of 2.6%.
What this is, is more potent fuel for the "market that just won't go down" theme.
Lots of forces have come together to provide us with the grinding bull market. And one characteristic of this market has been that pullbacks have been very small.
For all of 2017, now more than half over with, the biggest pullback we've had in the S&P 500 has been a miniscule 2.8%.
While there's still a lot of time left in this year, an intra-year drawdown this small is almost unprecedented.
In 1995, as that long-term bull market was hitting its stride, the intra-year drawdown was 2.5%.
Dating back to 1928, there has only been one other year with a sub-4% drop.
That was 1964 with a 3.5% drawdown.
And that brings us to another important streak.
This Puts the Rally in Context… and It's Striking
The folks over at Pension Partners put together a chart showing the longest streaks that the S&P 500 has had without having so much as a -5% drawdown.
We're currently at 269 trading days and counting – which means we've gone over a calendar year without a 5% pullback.
That's the longest streak since 1996: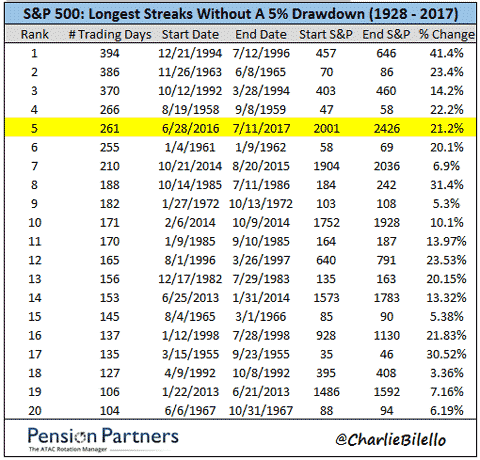 Low volatility
Small pullback
Short-term strength in the Nasdaq
Indexes at or near all-time highs
These are all characteristics of what happens when markets are going to grind higher.
The bottom line – with slow upward moves expected over the intermediate term, we still have to pick our spots in Stealth Profits Trader, but there's nothing to do but keep our bullish bias.
Here's Why the Market Is Still So Strong (It's Not All Trump)
The "Trump Bump" and attendant growth narrative has admittedly been losing steam, to be sure, but it's still not been knocked off its pedestal.
But the truth is the White House and Republican Congress have given traders and investors precious little to get excited about in recent weeks.
So what's keeping the market propped up?
More than that, what keeps it hitting all-time highs?
Here's my very "old school" answer: The market is fueled by good ol'-fashioned earnings growth.
After $3.5 trillion dollars of monetary injection by the U.S. Federal Reserve (and similarly staggering amounts by the European Central Bank, Bank of Japan, etc.), corporate earnings are finally getting a sustained boost.
Here's some supporting data from LPL Financial showing how we've rebounded from an "earnings recession."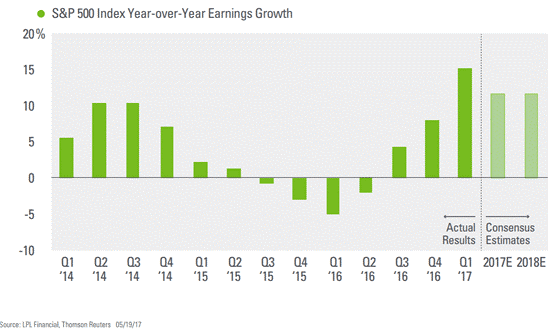 The "Trump Bump" for the equities markets may be on its last legs, but it seems that markets are buoyed by a new force: corporate earnings. Netflix Inc. (Nasdaq: NFLX), for instance, just blew out new subscriber estimates and upped its earnings projections for the year.
The smart move here is to watch out, keep your eyes peeled, and see if the other FANGMA stocks – Facebook Inc. (Nasdaq: FB), Amazon.com Inc. (Nasdaq: AMZN), Netflix, Google/Alphabet Inc. (Nasdaq: GOOGL), Microsoft Corp. (Nasdaq: MSFT), and Apple Inc. (Nasdaq: AAPL) – can follow suit. That'll be great for other stocks, of course, but it will really lend some good confirmation to the thesis that earnings are once again driving the markets.