How to Profit from Solving the World's Water Shortage
This article was originally published on this site
Water is seemingly everywhere, covering about 70% of our planet. Yet, fresh water is extremely scarce – accounting for a mere 3% of the world's supply. Of that amount, the vast majority is either locked up in glaciers or reside in inaccessible subterranean pockets.
And the fresh water that is accessible is not evenly distributed around the planet. For example, there is plenty of water in Siberia. But few people live there.
Of the amount of fresh water that is available, roughly 70% of that goes to agriculture to feed the world's population. The enormous amount of water needed to grow the crops and livestock needed to feed and clothe the world's growing population is creating a dire global situation.
The U.S. media tends to ignore events in the rest of the world, but there is a scary situation developing in South Africa's second-largest city, Cape Town, with its four million residents.
Countdown to Day Zero
Cape Town is best known as a tourist haven and the center of South Africa's wine industry. But now population growth and a record drought in the region have combined to push the city to the brink – to being very close to 'Day Zero' when its water reservoirs run dry.
Historically, despite the arid climate, Cape Town's Table Mountain had trapped onshore breezes coming from warm ocean waters, creating rain locally that powered rivers and filled underground aquifers. But that has not happened the past two years thanks to unusually low rainfall – only 153.5mm (about 6 inches) of rainfall was recorded at Cape Town's airport in 2017. That compared to more than 500mm in 2014. Climatologists say that another year of drought cannot be ruled out.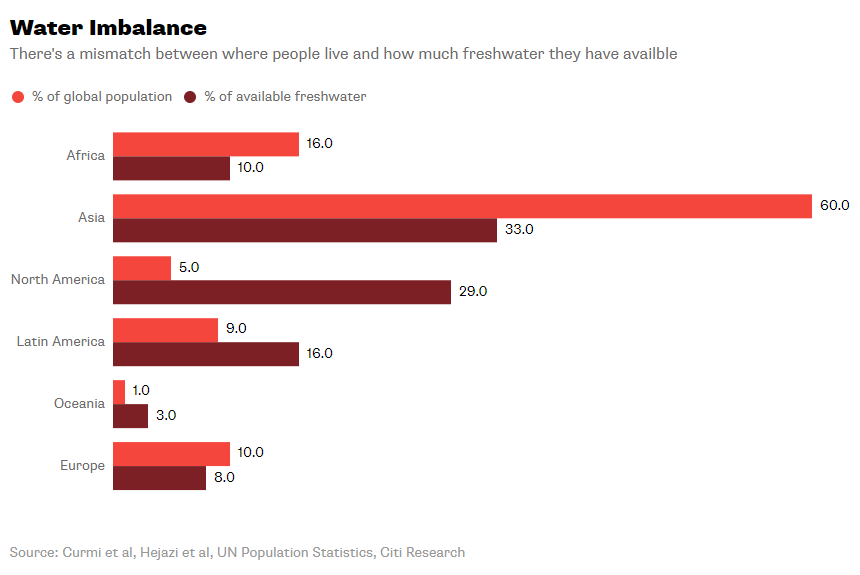 Of course, people acting stupid are to blame also. The well-to-do suburbs with water-hungry lawns and swimming pools are not conserving water despite pleas from local government officials. City officials asked residents to consume only 50 liters (about 13 gallons) a day of water, which is less than one-sixth what a typical American family uses.
And it's not like city officials were sitting on their hands doing nothing… they were proactive. Over the last 20 years, the city made strides in reducing water use from its six major reservoirs, which hold up to 230 billion gallons of water. Per capita consumption declined, the city reduced leaks from water pipes, it forced large users to pay more, and generally promoted water efficiency. Cape Town even won several international water management awards. And currently, they are building their first water desalination plants.
But those efforts have not been enough. In 2014, its six dams were full. But then came three straight years of drought—the worst in more than a century. Now, according to data from NASA satellites, the reservoirs stand at 26% of capacity, with the single largest reservoir (it provides half the city's water) in the worst shape. City officials plan to cut off the taps when the reservoirs hit 13.5%, which is known as 'Day Zero'.
Residents of Cape Town are finding out the truth contained in this quote from Benjamin Franklin: "When the well is dry, we know the worth of water."
Other Major Cities at Risk Too
Up until now, a shutdown of such a major metropolitan city would have been unthinkable. But as over-development, population growth and climate change have changed the balance between water supply and demand, urban centers all over the world may face the threat of severe water shortages.
In other words, other of humankind's major cities are also at risk of severe water shortages.
Already, many of the 21 million residents of Mexico City only have running water part of the day, while one in five get just a few hours from their taps each week. Several major cities in India don't have enough as poorer regions cut off the water flowing downstream to the 'rich' cities. Water managers in Melbourne, Australia, reported last summer that they could run out of water in about a decade. And Jakarta is actually running so dry that the city is literally sinking as residents suck up groundwater from below the surface.
In 2015, Sao Paolo Brazil faced a crisis similar to Cape Town with only 20 days' worth of water left in its reservoirs. They were so low that pipes drew in mud instead of water, emergency water trucks were looted and homes only had access to water for a few hours twice a week. Only last-minute rains salvaged the situation there.
In Barcelona, Spain in 2008 tankers full of fresh water from France had to be imported into the city.
The bottom line is that 14 of the world's 20 megacities are now experiencing water scarcity. And as many as 4 billion people (half of which are located in India and China) are living in areas where there is water stress for at least one month a year, according to a 2016 study in the journal Science Advances.
The Water Investment Opportunity
The current water crisis is driven both by climate and poor water infrastructure. In Jakarta Indonesia, for instance, water management is very poor with unsanitary water, lots of leaky pipes, heavy metals pollution and an inadequate number of pipes.
Even from an economic perspective, water is critical. As Pictet fund manager Arnaud Bisschop told Bloomberg, "There is a 100% correlation between water availability and GDP growth. If there's no water, there's no growth."
That means there needs to be trillions of dollars spent on water and water infrastructure projects around the world in the coming decades. Even here in the U.S., estimates are than a trillion dollars needs to be spent over the next two decades to upgrade our deteriorating water infrastructure.
Water is emerging as an investment class. So much so that the CEO of the French water services firm Suez (OTC: SZEVY), Jean-Louis Chaussade, says it will be more valuable than oil someday. Even if that doesn't happen, water should be a must-own part of your portfolio.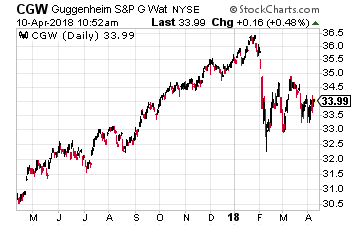 So how can you invest in water? The broadest way is through an exchange traded fund. There are five such ETFs that are available to you. The one I like the most is the former Guggenheim S&P Global Water Index ETF, which is now controlled by Invesco and is called the PowerShares S&P Global Water Index Portfolio (NYSE: CGW).
This is nicely balanced geographically with about 43% in the U.S. and the rest overseas. However, Wall Street is apparently still unaware of the water problem because this fund gained only 11.5% over the past year.
Its top five positions are all well-known names: American Water Works (NYSE: AWK), Xylem (NYSE: XYL), Danaher (NYSE: DHR), Veolia Environnement SA (OTC: VEOEY) and Pentair PLC (NYSE: PNR). One of these stocks is my top water recommendation and is available to subscribers of my Growth Stock Advisor newsletter. It is up more than 10% since the November 29 recommendation date despite the turbulent stock market we've had in 2018. And I expect much more upside in the years ahead due to the water situation globally.