It's Been 50 Years Since This Sector Looked So Good
This article was originally published on this site
It's plain and simple: Commodities are back.
The most cyclical, and sometimes most volatile, sector is back in full "bull" mode.
The market has definitely turned: Volatility is back in stocks in a big way, the dollar is anemic – in outright free fall – fears of inflation are on the rise, and destructive, expensive trade wars loom.
On the other hand, after hitting its lowest levels in more than 20 years back in January 2016, the widely followed Commodity Research Bureau (CRB) Index is now up about 28%.
You don't have to take the numbers on their own: Some of the world's most accomplished and highly respected money managers have lately come out in favor of commodities, saying resources are the place to be in 2018 and beyond.
There's a confluence of factors making the case that we're in the very early innings of a monster commodities bull market.
Let me prove it to you – and show you my favorite way to cash in on the developing supercycle…
This Powerful Rally Has Been Heating Up by the Day
On Feb. 14 – Valentine's Day, no less – just over a month ago, it was commodities investors who got the most lovin'.
That's when the latest data showed that inflation was back. Initially, stocks sold off, but soon reversed to post strong gains.
It was enough to push some of the best inflation hedges, like precious metals and commodities, distinctly higher.
As you'd expect, the U.S. dollar tanked, losing 100 basis points on that day alone. The CRB Index, a broad measure of commodities prices, jumped by 1.34%.
I think it's a sign of a lot more to come.
Individual commodities have been rallying in stealth mode, flying way under most radars.
Since late 2016, corn prices are up 13%. Aluminum and copper have jumped by 54% and 56%, respectively, since January 2016. Spot zinc is up 130% in that same time. Gasoline prices have doubled.
And they're all about to soar even higher.
You see, imposing tariffs on imports, like Trump's decided to do, leads to trade wars. And trade wars stoke inflation because, when you limit competition for domestic providers of goods and services (by taxing imports), you give them "carte blanche" to increase prices.
It's only natural.
If you combine that with a weakening currency, you get the right mix for more inflation.
The Dollar Is in Fast Free Fall
After peaking at 103 at the very start of 2017, the U.S. Dollar Index has already lost nearly 13%.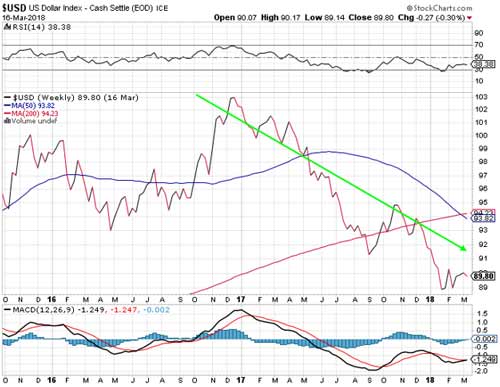 And it's likely to fall further from here, which means more fuel for commodities.
According to "Bond God" Jeffrey Gundlach, CEO of fund manager DoubleLine Capital, there's "quite a lot of high-octane [gas] in the commodities versus stocks tank."
Back in December, Gundlach told CNBC's "Halftime Report" that his preferred investment for 2018 was commodities. He believes commodities are set to outperform stocks in the coming years, as these asset classes tend to work through defined cycles.
It's not hard to see why.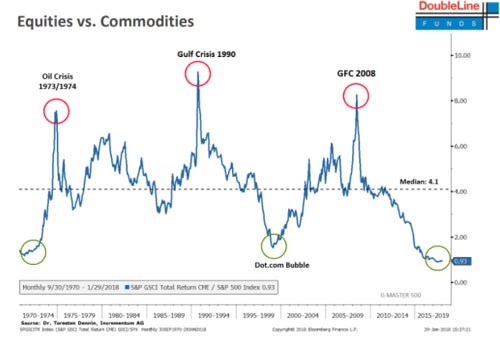 According to this chart, commodities are at their cheapest relative to stocks in the last 50 years.
Now, Gundlach said, global growth has been stoking demand for resources, while the weaker dollar has been boosting prices. What's more, he went on to say, "Usually when you get a bad year in the dollar, it's followed by one or two more bad years."
And he's not alone.
In a recent interview with Goldman Sachs Group Inc. (NYSE: GS), legendary hedge fund manager Paul Tudor Jones said thanks to U.S. deficit spending, "we are setting the stage for accelerating inflation, just as we did in the late '60s." As a result, Tudor Jones says, "I want to own commodities, hard assets, and cash."
Trump's List of "Winners" Is Getting Longer
Adding fuel to the fire is a recent draft list of critical minerals, which follows on the heels of a December executive order issued by Trump calling for a "federal strategy to ensure secure and reliable supplies of critical minerals."
The list includes aluminum, platinum group metals, rare earth elements, titanium, and uranium, amongst others.
It's the most substantive review of this topic since the early 70s.
Back then, there were 23 minerals on the list. The most recent report by the U.S. Geological Survey (USGS) has compiled a new list, this one containing 35 critical minerals.
Given Trump's recent action on tariffs for steel and aluminum, odds are good that many of the minerals on this USGS list will see some sort of government protection or aid, as supply disruptions are seen as a risk to America's security and prosperity.
For me, that spells a bolstered case for higher commodities prices.
And here's how you can play it.
The Market's Smartest Buy Right Now
The PowerShares DB Commodity Tracking ETF (NYSE: DBC) is a great way to play the upside of the resource sector.
This ETF seeks to track changes in a portfolio of exchange-traded futures. These include West Texas Intermediate light sweet crude oil (WTI), heating oil, reformulated blendstock for oxygen blending gasoline, natural gas, Brent crude, gold, silver, aluminum, zinc, copper grade A, corn, wheat, soybeans, and sugar.
In my view, this is an unbeatable cross section of energy, base and precious metals, and agricultural commodities, providing investors with good diversification across the resource space.
DBC sports a large $2.6 billion market cap and trades on average about 3.75 million shares daily. Since January 2016, the PowerShares DB Commodity Tracking ETF is up 33.8%, providing but a small sample of what's in store.
When commodities bull markets get going, they really get going and take on a life of their own. Right now, you can still own a piece of this action at a bargain price. And remember, some of the most successful money managers agree this is the place to be in 2018 and into the next few years.
Now's the time to claim your stake in the coming resource riches.