Marijuana Penny Stock Investing Just Got Easier with These 2 Tips
This article was originally published on this site
If you're anxious about getting involved in marijuana penny stock investing, we have two tips that can help you avoid potentially dangerous companies.
Don't get us wrong, marijuana stockscan be profitable investments for people who can afford a bit of risk. For instance, Vapir Enterprises Inc. (OTCMKTS: VAPI) – which makes vaporizers used to smoke cannabis oil – has climbed 200%, from $0.01 to $0.03, in September. That means it's tripled its value in just one month.
But marijuana penny stocks are typically risky since they trade over the counter. This means they're listed on the pink sheets, or over-the-counter (OTC) exchanges, which aren't as strictly monitored by the SEC as the Nasdaq or New York Stock Exchange. That means they're capable of scamming investors without appearing on the federal government's radar.
In fact, one specific cannabis stock is under investigation by the SEC for lying to its shareholders. If this company is found guilty, investors are at risk of losing their money…
This Marijuana Penny Stock Scandal Could Lose Shareholders Money
One of the most notable penny stock scandals this past summer involved CV Sciences Inc. (OTCMKTS: CVSI), also known as CannaVest. The SEC charged the firm with fraud back in June, stating CannaVest allegedly reported false information in one of its 2013 financial filings.
You see, CVSI was one of the top marijuana penny stocks of 2013. It soared 700%, from $5 per share in January 2013 to $40 by December 2013. Shares eventually hit an all-time high of $69.90 by January 2014.
But CV Sciences stock has crashed 99.6% since that record high. As of today (Friday, Sept. 29), the stock trades at just $0.27 per share.
And the stock is down 10% since June after it was found that CannaVest CEO Michael Mona, Jr., reported the value of the firm's assets was higher than it actually is…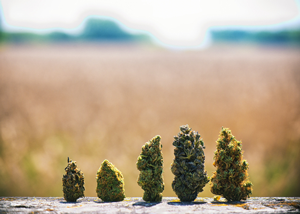 According to filings submitted to the SEC in the first half of 2013, CV Sciences acquired a hemp-based biotech called PhytoSPHERE Systems for $35 million. However, the SEC alleges Mona knew the acquisition price was much lower than $35 million.
In fact, the firm's Q3 2013 filing reported the PhytoSPHERE acquisition cost CV Sciences a mere $8 million. That was a stark 77.1% reduction from the originally reported $35 million. When the SEC noticed this, the agency found that Mona didn't acknowledge how the $35 million price tag was overstated in the first two quarters of 2013.
The SEC formally filed charges against Mona and CannaVest on June 16, saying this false recording was intentional and therefore grounds for fraud. Although the SEC hasn't yet suspended trading on CVSI yet, it likely will if the firm is found guilty.
NEW: Plot your course to a seven-figure weed windfall with the top pot stocks from every ecosystem – growers, edibles, dispensaries, and more. Read more…
Investors have clearly already lost all confidence in the business, and any more negative news could ruin the company. Corporate scandals are usually deadly for a company's stock price. For example, Valeant Pharmaceuticals International Inc. (NYSE: VRX) has crashed 94.4%, from $257.53 per share in July 2015 to $14.38 today. This downfall came after Valeant received several allegations of accounting fraud and drug price gouging.
These scandals can be even worse for penny stocks since they trade for less than $5 per share. With CVSI stock costing just $0.27, a quick rise in selling behavior could easily send the share price to $0. This would force CV Sciences to file for Chapter 11 bankruptcy and cause any remaining shareholders to lose their money.
While marijuana stock frauds like CV Sciences can entice you to avoid the cannabis industry altogether, investors who do so risk missing out on profit opportunities. There are simple ways to find out if a pot stock is safe enough for your money.
Here at Money Morning, we want to make sure you know how to invest in marijuana penny stocks safely. Today, we're going to show you these two easy ways to identify safe pot stocks to buy…
Follow These Tips for Safe Marijuana Penny Stock Investing
Our first marijuana investing tip is to beware of companies that frequently change their name.
According to the Financial Industry Regulatory Authority (FINRA), these companies are usually involved with fraud or manipulation.
And CannaVest, or CV Sciences, is perfect evidence of FINRA's claim. The firm was originally named CannaVest during the stock's peak performance in 2013. However, the name was eventually changed to CV Sciences after shares of the stock began to plummet in 2015 and 2016.
Although FINRA doesn't disclose the names of companies that do this, it provided one anonymous example that changed its name four times in the last decade. Oftentimes, these firms change their names to alter their image when their stocks perform poorly.
To seek out these name changes, FINRA advises digging through press releases and quarterly reports. These can be found in the SEC's EDGAR extensive filing database.
The second tip is to understand the risks of over-the-counter (OTC) exchanges…
Because marijuana is still illegal under federal rules, it's considered a fringe market, meaning most of these companies don't meet the requirements needed to list on the Nasdaq or the New York Stock Exchange (NYSE). That's why most of them trade on OTC exchanges.
FINRA states that there are hardly any minimum requirements for being listed on OTC exchanges. This is a major reason why the majority of penny stocks trading for mere cents are listed on them.
However, marijuana penny stocks trading over the counter can be volatile. That's because their trading volume is lower than traditional stocks, meaning an investor may be tempted to quickly buy or sell a stock if he or she sees a spike in volume.
Since they're so volatile, investors should only buy these OTC marijuana penny stocks if they can afford some risk. According to Money Morning Chief Investment Strategist Keith Fitz-Gerald, penny stocks in general should never make up more than 2% of your portfolio.