One of 2018's Hottest Buy Recommendations
This article was originally published on this site
I confess: I'd always hated IBM Corp. (NYSE: IBM); never could stand Big Blue. The company was always too unfocused for my taste.
Its boardroom underwhelmed, too, allowing Microsoft Corp. (Nasdaq: MSFT) and Amazon.com Inc. (Nasdaq: AMZN) to outmaneuver and shut it out of the outrageously lucrative cloud.
IBM's hardware is low margin, and its software doesn't do much better.
That's why I've never suggested owning IBM. It was a non-starter. A losing bet.
Until now…
What I saw at a conference near my Bay Area home has me convinced that IBM has transformed from a "dog" into a scorching, ground-floor opportunity.
I know how that sounds: How could a 107-year-old tech company with fading fortunes turn on a dime to become one of 2018's hottest buy recommendations?
Well, let me explain – and show you what it showed me…
IBM Must Make This Turnaround – I Believe It Will
I've never let personal feelings influence my investing one way or another. That's a surefire way to lose money.
Instead, you have to coldly and rationally consider the facts – and the facts say, "IBM was a losing bet."
But today, those facts suggest that IBM has become, or will very soon become, nothing less than a market leader in blockchain technology.
Big Blue currently has 400 blockchain projects underway and about 1,500 employees dedicated to them.
I believe the folks in its research labs will make this work. Because they need it to if IBM is to remain a crucial tech company going forward.
And I feel that way now more than ever after seeing for myself IBM's most important blockchain insiders in action at the recent Blockchain West conference in San Francisco.
After seeing the insiders' workshops and talking to some of them one on one, here's the conclusion I've come to: IBM wants to become the "network of moving money."
Here's what I mean by that…
If you've ever traveled to another country or have relatives living abroad, you know how expensive and time-consuming making a payment across international borders can be. A "classic" Western Union money transfer of $1,000, for instance, paid for with a credit or debit card and sent to the United Kingdom for in-person pickup in sterling, will cost the user around $81.
Blockchain technology has a solution for all of that hassle and expense.
Specifically, IBM has a solution for that.
This Will Likely Upend the $1.8 Trillion Payments Industry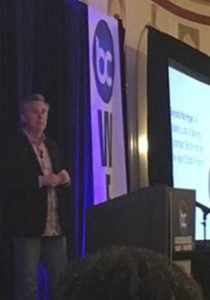 Jesse Lund (pictured at right), vice president of Blockchain and Cryptocurrencies at IBM, tells me that his company is working with Jed McCaleb on a blockchain solution that would create an Internet-level platform for global payments.
That's a big deal, with the potential to be a major disruptor.
Little wonder why, when you look at the people involved.
McCaleb is a legend. He founded the Bitcoin exchange Mt. Gox, the Ripple cryptocurrency, and also Stellar, the startup behind the Lumens (XLM) e-currency.
In short, IBM's global payments project uses Lumens as a bridge between fiat currencies.
"[Stellar] enables financial access and connection to level the playing field of economic activity," McCaleb tells me. "So this is pretty powerful."
The goal is to get transactions – from, say, U.S. dollars to euros, or Mexican pesos to Japanese yen – to happen in just a few seconds, at the lowest possible exchange rate. So your money is recorded on the blockchain as credit that's issued by banks or payment processors.
It's all accomplished over a network of connected servers that records payment transactions on the shared ledger. The ledger is "shared" in the sense that it can be viewed by companies and customers alike, and the entire record of transactions is always stored with each Stellar server.
This distribution of the data through a network, which is one of the valuable benefits of blockchain tech, also makes it difficult and cost-prohibitive to hack.
As Lund tells me, a project like Stellar becomes even more compelling when both the data that's stored on the blockchain and the value of that data that's stored in the Lumens can live together on a network.
We're talking about an absolutely massive market in cross-border payments here – $1.8 trillion as of 2015. By 2020, McKinsey expects the market will reach $2.2 trillion.
And that's just transactions within the formal banking system. According to Lund, there are about 1 billion "unbanked" customers around the world with mobile devices. These are also the folks who carry out about $8 trillion per year in trade without a bank.
Of course, cross-border payments among individuals are just a start.
Look for IBM to offer services to global companies with supply lines cross multiple international borders. Instead of dealing with dozens of currencies and middlemen, IBM's blockchain solutions could remove all that, saving its clients time and money and reducing human error.
First-movers like IBM and Stellar have an overwhelming advantage here, and buying IBM at these levels right now is going to look like a very smart move when its blockchain solutions begin to impact the market.
— Michael A. Robinson