One of the Most Surprising Tech Stocks to Buy Now for Double-Digit Profits
This article was originally published on this site
By ALEX MCGUIRE, Associate Editor, Money Morning • @AlexMcGuire92
Investors often associate the best tech stocks to buy with big-name blue chips like FANG stocks. These are Facebook Inc. (Nasdaq: FB), Amazon.com Inc. (Nasdaq: AMZN), Netflix Inc. (Nasdaq: NFLX), and Alphabet Inc. (Nasdaq: GOOGL), which are viewed as the best high-growth tech stocks on the market. All four have gained a combined 21% so far this year.
But some of the best tech stocks can be traditional, "old school" companies making the leap into the tech space.
Don't Miss: The $6 trillion Internet of Things (IoT) is quickly becoming a profit gold mine. And we found five stocks that will be the best way to get a piece of those profits…
Money Morning Executive Editor Bill Patalon just recommended one such company that's quickly becoming one of the biggest players in Silicon Valley. Its stock is poised for double-digit gains in the next 12 months as the firm makes a big push into "smart" technology.
First, here's why the tech sector has rallied this year – and why it's in a state of transition right now…
The Best Tech Stocks to Buy Reached a Watershed Moment This Month
After hitting a 16-month low earlier this year, tech stocks have seen a massive rebound. From the start of the year to Feb. 11, the tech-centric Nasdaq index fell 14.8% to its lowest level since October 2014. Since then, it's rocketed 22.6% as of Aug. 11.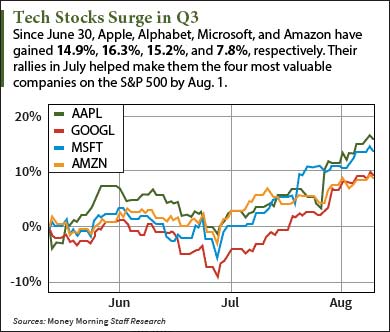 But even more impressive is what happened to four blue-chip tech stocks earlier this month…By market close on Aug. 1, Apple Inc. (Nasdaq: AAPL), Alphabet, Microsoft Corp. (Nasdaq: MSFT), and Amazon were the four most valuable S&P 500 companies, respectively. Senior index analyst Howard Silverblatt told The New York Times it was the first time that four tech firms took the top four spots.
These rankings show the tech sector's growing dominance over the stock market. Since many tech firms boast the biggest market caps in the S&P 500, any rise or drop in share price has a huge effect on the broader market.
For example, Apple makes up 7.4% of the S&P 500's $7.8 trillion market cap. According to MarketWatch, that means the S&P 500 moves roughly 0.65 points for every $1 movement in Apple stock.
Despite their stock market influence, many tech companies are having less of an impact on technology itself. That's because companies from other sectors are moving into the tech space with new products or new investments. On Aug. 5,CleanTechnica reported oil giant Exxon Mobil Corp. (NYSE: XOM) will invest $15 million into the University of Texas' tech development program. The program focuses on using tech to boost renewable energy generation.
Editor's Note: We're closely following five private companies this year. That's because they could become some of the biggest IPOs in history. Here's why…
In other words, every company can become a tech company nowadays. It just requires fast growth in a niche area of the tech sector.
That's why Patalon – a senior research analyst with more than 22 years of experience in the finance industry – is recommending one of the best tech stocks to buy in 2016. This company is one of America's most traditional brands, but its embrace of a new type of technology will yield long-term profits.
Here's his stock pick and why he sees double-digit gains in the next year…
This Is One of the Best Tech Stocks to Buy in 2016 – and It's Not a Tech Firm
One of the best stocks to buy this year is Ford Motor Co. (NYSE: F).
Last March, Patalon told readers about the iconic auto company's launch of Ford Smart Mobility. This is Ford's standalone tech company that will develop ride-sharing capabilities and driverless cars, among other things. The firm will work with its parent company's research and development center in Silicon Valley and be monitored by Ford CEO Mark Fields.
According to Patalon, Ford Smart Mobility's direct involvement with Fields and Silicon Valley show it's a high priority.
"These are the single-biggest signs you can find that this is viewed as a critical venture," he told Money Morning readers on July 11. "Ford Smart Mobility will be a difference-maker: It'll drive change inside the parent company. And it will drive change across the auto sector."
Ford is quickly turning these tech innovations into realities. In fact, it recently announced a huge addition to its entire 2017 line…
On July 15, Ford Smart Mobility said all 2017 model-year cars, trucks, and other vehicles will be compatible with Apple CarPlay and Android Auto. Both sync drivers' smartphones to their cars so they can make calls, play music, and receive messages. Users can perform these tasks through touchscreen and voice commands.
This new compatibility is just one of many tech additions the firm is making to its cars. Other additions include FordPass – a smartphone app that offers ride-sharing features to Ford owners – and over-the-air streaming technology.
"All of these new materials and new technologies roll into Ford's overall corporate strategy," Patalon said. "Ford is positioning itself – as a winner."
In the last six months, the Ford stock price is up 10.1% to $12.31 a share. Analysts surveyed by FactSet Research Systems Inc. (NYSE: FDS) give F stock an average one-year price target of $13.84. That's up 12.4% from its current price.
Plus, the stock's solid fundamentals ensure it's a safe long-term investment. It trades at a low price-to-earnings ratio of 5.48, which means it's not overvalued at all. F stock also boasts a generous 4.9% dividend yield. That means you'll receive passive profits no matter how the stock moves.
Stay tuned to Money Morning for more updates on Ford stock in 2016.
Up Next: The Single Best Gold Stock to Buy Is 2016's "Market MVP"
Alex McGuire is a writer and editor for Money Morning. Follow him on Twitter at@AlexMcGuire92.