Powering Up Your Portfolio: 2 Utility Stocks Worth Investing in Today
Most investment portfolios should have at least some exposure to Utility stocks. They offer steady and assured earnings because consumers have limited options for switching from their services. This translates into low volatility returns and regular dividend payment for investors.
Two top ranked utility stocks that have caught my attention on the Zacks Rank are Vistra (VST – Free Report)  and Consolidated Water (CWCO – Free Report) . Both have outperformed the industry over the last five years, have strongly upward trending earnings revisions, and are experiencing some powerful price momentum pushing them to all-time highs.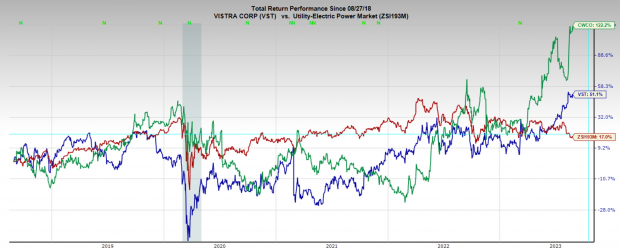 Image Source: Zacks Investment Research
Vistra
Vistra is a leading integrated power company that operates across the energy value chain. With a diverse portfolio, it offers electricity generation, wholesale energy sales, and retail services to residential and commercial customers. The company focuses on sustainable and efficient energy solutions while managing a range of energy sources, including natural gas, coal, and renewables.
While I wouldn't normally expect a utility stock to trade like a momentum stock, VST has a compelling technical setup, nonetheless. VST stock has been on a tear since breaking out in early July, continuing to form bull flags and break out.
If the price can breakout above the $30.50 level, it should initiate another bull run, pushing new all-time highs. However, if Vistra can't hold above the $29.50 level of support, the setup is invalid and investors may want to look for opportunities elsewhere.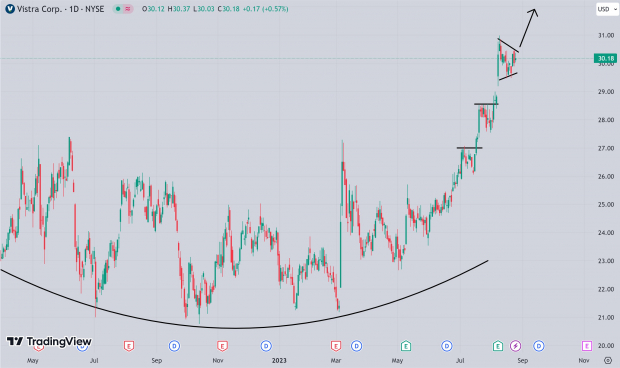 Image Source: TradingView
Although Vistra saw some downgrades to its current quarter earnings estimates, all other timeframes have been revised higher. Next quarter earnings estimates have been boosted by 775% and are projected to grow 203% YoY to $3.11 per share. FY23 earnings estimates have been revised higher by 12.3% and are forecast to grow 38.3% YoY to $4.30 per share.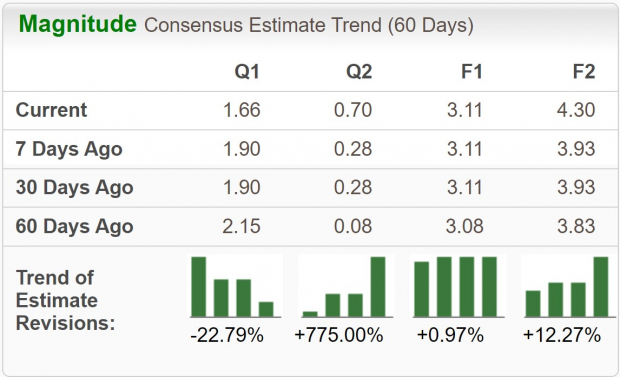 Image Source: Zacks Investment Research
Vistra is trading at a reasonable valuation of 9.7x one year forward earnings, which is below the industry average of 14.5x, and below its five-year median of 11.5x. Furthermore, VST offers a dividend yield of 2.75% and has raised the payment by an average of 13.2% annually over the last five years.
Consolidated Water
Consolidated Water is a water solutions company that engages in the development and operation of seawater desalination plants and water distribution systems. Headquartered in the Cayman Islands, the company provides fresh water through its desalination facilities to various locations, particularly in the Caribbean region. Consolidated Water focuses on sustainable water supply solutions, addressing water scarcity challenges in areas with limited access to fresh water sources.
Earnings estimates have gone vertical in the last month as analysts have unanimously upgraded CWCO stock. Current quarter earnings estimates have been increased by 56.5%, next quarter by 26%, FY23 up 47.4% and FY24 21%, all in the span of just two months.
Consolidated Water stock sits right at its all-time high, and it enjoys a Zacks Rank #1 (Strong Buy) rating.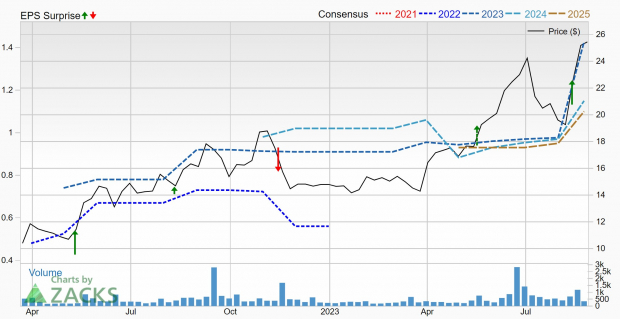 Image Source: Zacks Investment Research
Consolidated Water is trading at a one year forward earnings multiple of 19.3x, which is below the market average of 20.5x, and below its 10-year median of 21.4x. Additionally, the company pays a dividend yield of 1.3%.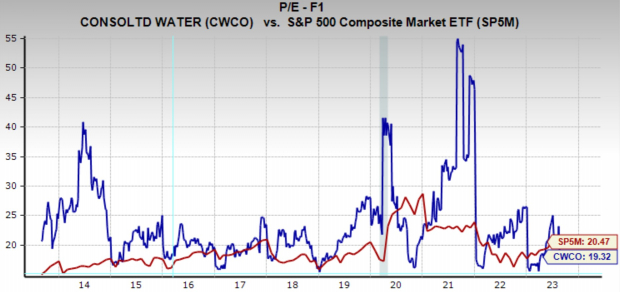 Image Source: Zacks Investment Research
Bottom Line
It is hard to go wrong adding utility stocks to your portfolio, even better if they have top Zacks Ranks. While they may not offer the sky-high returns of tech, you can be assured that these stocks will be around for a long time and will provide steady returns.
This article was originally published on this site