The Best 5 Small Cap AI Companies to Buy Now
Artificial intelligence stocks are all the rage. Investors are constantly searching for the next big winner in artificial intelligence. While most large-cap artificial intelligence stocks have been discovered and priced, there may be many more stocks and opportunities in the small-cap segment. 
If you're willing to accept and manage the risk, small-cap AI stocks can provide an outsized return compared to large caps, often because they are priced lower with more room to grow. We'll uncover those prospects with the six best small-cap AI stocks to buy now.   
Overview of the Best Small Cap AI Stocks
Investors that have been tracking artificial intelligence stocks are familiar with large-cap leaders like Microsoft Co. NASDAQ: MSFT, Alphabet Inc. NASDAQ: GOOGL and NVIDIA Co. NASDAQ: NVDA. 
They have already risen on the AI trend and are not new ideas. Small-cap AI stocks may be a fit for investors willing to take on more risk for more potential rewards. They are cheaper than large-cap blue chip stocks but less speculative than penny stocks. These companies are by no means safe investments, as they can have a high level of volatility. They may have fundamental shortcomings and flaws that investors must be aware of. 
The market prices risk to be proportionate to reward. Risk-tolerant investors looking to ride the artificial intelligence trend for larger gains and willing to absorb larger losses may consider AI small-cap stocks. 
Why Invest in Small Cap AI Stocks?
Stocks with market capitalizations between $200 million and $2 billion are considered small caps. You can calculate market capitalization by multiplying a stock's price by its outstanding shares. Small caps tend to be young companies experiencing hyper-growth in emerging industries of niche segments. 
They may even include startups. Small caps have inherently more volatility and less liquidity than mid-cap and large-cap stocks. Floats tend to be smaller with small caps, which can lead to more slippage and wider bid and ask spreads. Unusual volume can propel these stocks since their average daily trading volume is relatively light. Don't panic in or out of a position with small-cap stocks. The thinner liquidity can prove costly when in a panic. 
Small caps are the underdogs of the major stock markets, hoping to grow into medium and large-cap stocks eventually. 
5 Best Small Cap AI Stocks 
Here are the five best small-cap AI stocks for risk-tolerant investors. 
| | | | |
| --- | --- | --- | --- |
| Name | Ticker | Market Cap | Industry |
| Recursion Pharmaceuticals | RXRX | $1.8 billion | AI Drug Discovery |
| SoundHound | SOUN | $496 million | Voice AI Products |
| Duos Technologies | DUOT | $33.8 million | AI Transportation Services Detection |
| Dario Health | DRIO | $82 million | AI Digital Health |
| CXApp | CXAI | $61.2 million | Workplace Experience App |
1. Recursion Pharmaceuticals Inc.
It costs an average of $2.5 billion and takes 10 to 15 years to bring a drug to market. The time and costs of creating drugs are an expensive and arduous process. The initial stage of drug discovery is an especially complicated and slow process, working through various billions of combinations of chemical and biological inferences. Recursion Pharmaceuticals Inc. NASDAQ: RXRX is a pharma-tech company that helps expedite the drug discovery process using artificial intelligence and machine learning algorithms that power its Recursion Operating System (ROS) platform. Its proprietary Recursion Data Universe has a whopping 23 petabytes of biological and chemical data, enabling hundreds of billions of inferences used for millions of weekly wet lab experiments.
A wet lab uses chemical, biological, liquid and fluid samples for testing, DNA sequencing, protein purification and gene expression analysis. Its AI platform ROS can analyze oceans of data from wet labs to identify relationships and patterns that would be impossible and difficult at best using traditional methods. ROS can identify potential drug targets, select lead compounds, design clinical trials and expedite the drug discovery process. 
Recursion made headlines in 2023 after receiving a $50 million investment from AI chip maker NVIDIA Co. NASDAQ: NVDA. This further validated the company and its technology. It has partnerships and collaborations with many of the big pharmaceutical companies, including Pfizer Inc. NYSE: PFE, Biogen Inc. NYSE: BIIB, Sanofi NASDAQ: SNY and GSK plc NYSE: GSK, along with many academic institutions.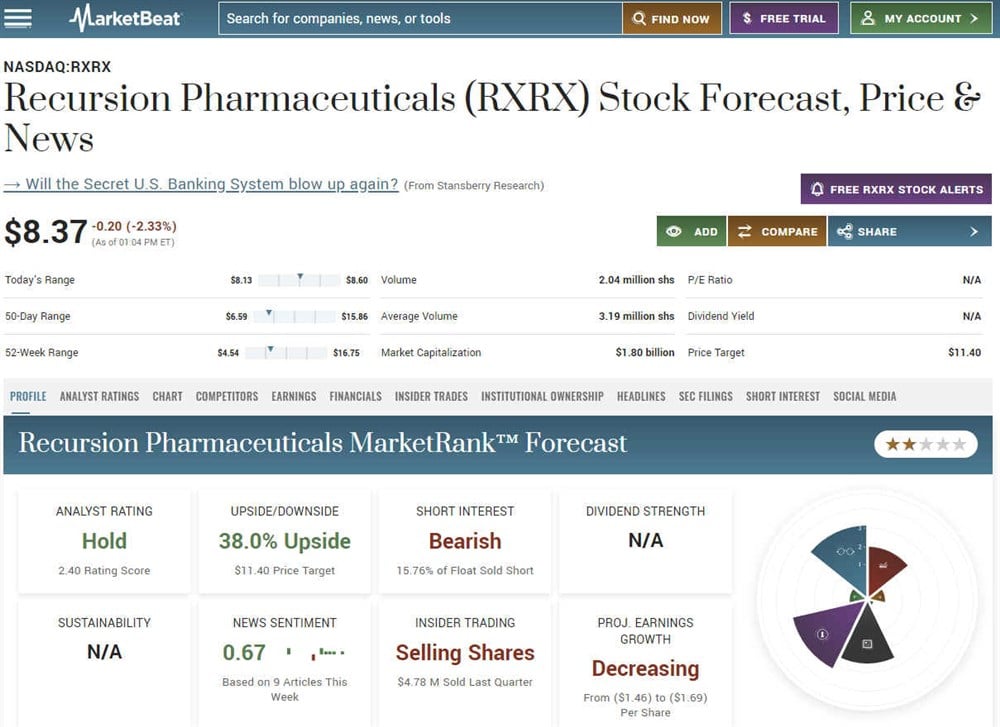 You can find Recursion Pharmaceuticals analyst ratings and price targets on MarketBeat.
2. SoundHound AI Inc.
SoundHound AI Inc. NASDAQ: SOUN provides artificial intelligence solutions for voice-enabled applications and devices as a voice AI company. Its AI voice assistant fields 100% of your calls 24/7 with applications for restaurants, automotive, hospitality and smart devices. It uses artificial intelligence to recognize, understand and respond to human speech and sounds. SoundHound AI can recognize sounds from music and animals to the environment. It can identify a song just from "listening" to it briefly. It can even identify a song if someone hums it. It's arguably better than Shazam, the largest song identification app.   
SoundHound AI can understand natural language, enabling conversational search and generating natural language conversation. As with machine learning algorithms, it gets better with more usage and time. Its voice AI-powered millions of apps, TVs, cars and IoT devices that generated billions of user interactions over the years. The company has garnered strategic investments from NVIDIA, Samsung, Tencent, Hyundai, VIZIO and many more organizations. The company launched SoundHound Chat AI for automotive, combining voice AI with generated AI. Some of its clients include BMW, Samsung and Toyota. The company will roll out its voice AI drive-thru service for White Castle to more than 100 lanes by the end of 2024. SOUN stock was inducted into the Russell 2000 and Russell 3000 indexes.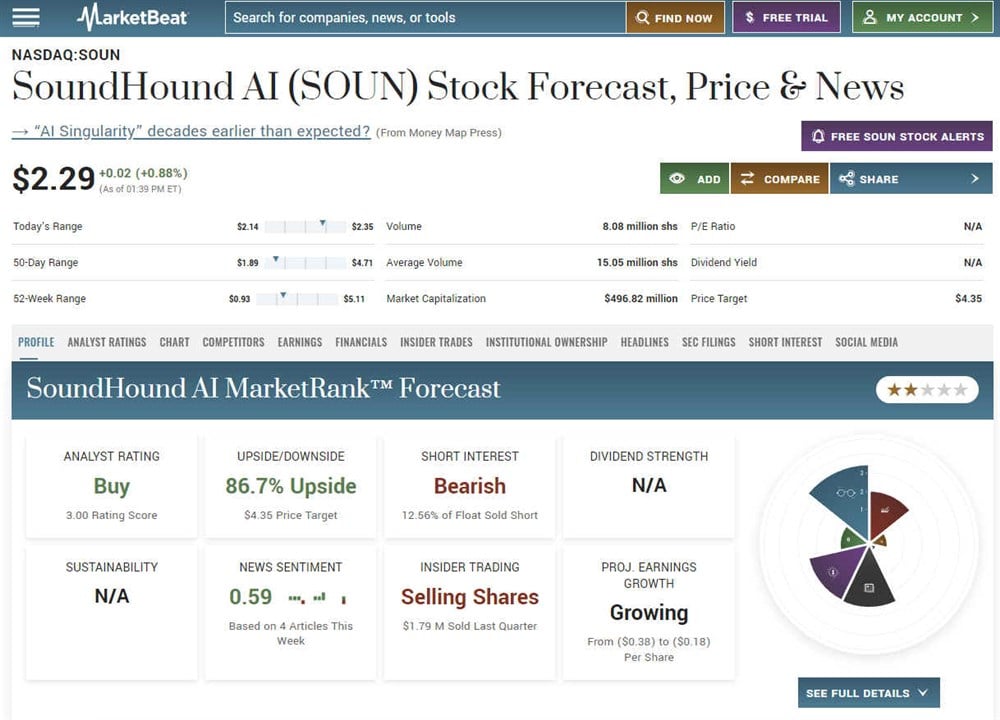 Look for SoundHound analyst ratings and price targets on MarketBeat.
3. Duos Technologies Group Inc.
Duos Technologies Group Inc. NASDAQ: DOUT is an engineering technology firm that develops AI-powered technology solutions for rail, transit and transportation systems. Its products help to improve the safety and efficiency of transportation systems. Its flagship product is a railroad inspection portal (RIP). 
It utilizes machine vision and AI to identify potential problems and develop predictive maintenance models for rail systems to prevent train derailments and other calamities. Its systems have performed over 1.7 million comprehensive railcar scans of more than 238,000 railcars, 15% of North America's total freight core population. 
The company has a competitive advantage from controlling all four control knobs (hardware, software, IT and AI) required to produce and deploy AI correctly in-house. Competitors may have three and send them out to a third party. This enables Duos to inspect railcars traveling up to 125 miles per hour, up from 40 miles per hour.   
The company collects revenues from many AI models, Duos Zone portals with a subscription model and consulting. The company expects rising recurring revenues to boost its margins beyond 20%, which can lower the breakeven point. The company had $9.4 million in backlog comprised of 40% service and 6% project revenues. The company is looking to expand RIPS to truck fleets.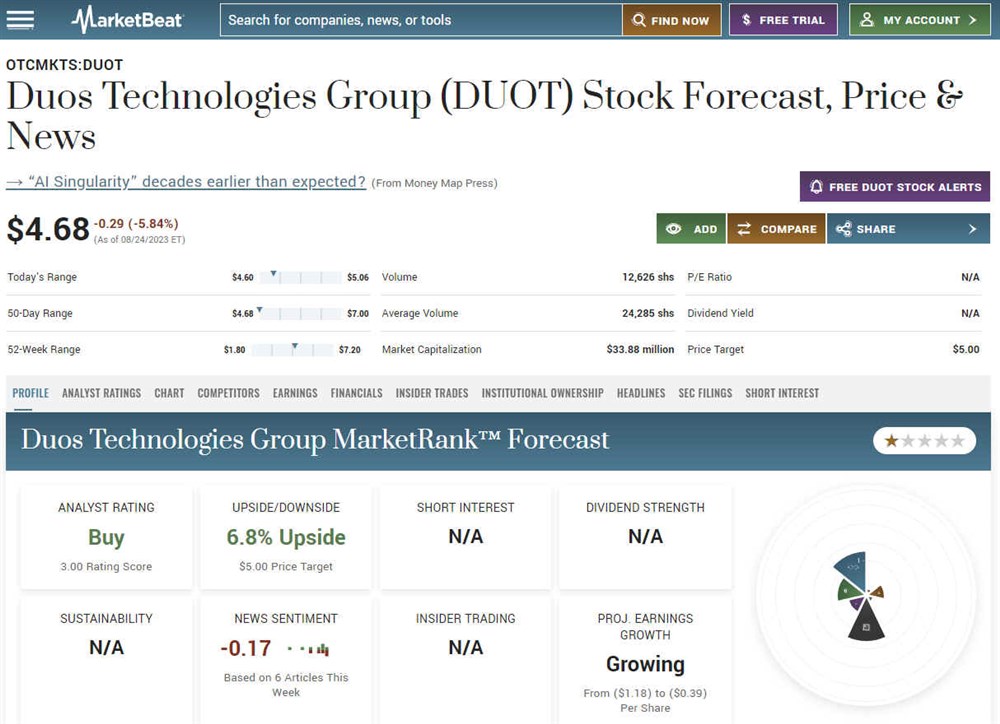 Look for Duos Technology Group analyst ratings and price targets on MarketBeat.
4. DarioHealth Co.
Digital healthcare continues to gain traction due to its convenience and access. DarioHealth Co. NASDAQ: DRIO is a digital health company providing monitoring and management solutions for chronic illness. Its AI-powered platform creates personalized treatment plans for chronic disease management. For diabetes, it offers the FDA-cleared and European CE-approved Dario Glucose Meter, which users can connect to their smartphone and Dario App to monitor their blood glucose levels. The artificial intelligence platform can identify problems and provide real-time feedback and solutions. Dario currently offers metabolic, musculoskeletal and behavioral health solutions. 
Its behavioral solutions provide AI-driven assessments, support from certified behavioral health coaches and provide self-guided cognitive behavioral therapy (CBT) programs. Its data indicates that 48% of its users had an anxiety reduction, and 59% had a reduction in depression, with 82% of respondents feeling better afterward. 
Look for DarioHealth analyst ratings and price targets on MarketBeat.
5. CXApp Inc.
The customer experience analytics and improvement segment has been gaining interest among enterprises. CXApp Inc. NASDAQ: CXAI focuses on the other end of the spectrum, employee experience. AI powers the CXApp Workplace SuperApp, which collects millions of data points with AI models built on a full-stack solution, providing contextual awareness utilizing on-device positioning and indoor mapping for spatial intelligence, helping to personalize the workplace experience. The app provides over 250 workplace features, from desktop and room booking to internal communications, amenities and office mapping. 
The workplace experience seems like a niche segment, but CXApp has contracts with some large, well-known enterprises, including AT&T Inc. NYSE: T, Cisco Systems Inc. NASDAQ: CSCO, Walmart Inc. NYSE: WMT and Oracle Co. NASDAQ: ORCL. The company experienced a 55% year-over-year (YoY) booking growth in its second quarter of 2023. The company has filed 37 patents for its state-of-the-art platform, of which 17 were granted. It generates revenues on a recurring subscription SaaS model. Revenues for the second quarter of 2023 were $1.9 million, with net losses of $14.77 million. 

Look for CXApp analyst ratings and price targets on MarketBeat.
Manage Your Risk Exposure
As with any investment in the stock market, risk is proportionate to reward. Therefore, it is imperative to spread out the risk in a portfolio. Small cap stocks offer potentially more upside but also potentially more downside. With this in mind, keep the exposure to a smaller percentage to limit the downside effects on the rest of your portfolio — never go all in on any single position or even a handful of positions. 
Sounds like basic advice, but when FOMO gets involved, investors and traders tend to make exceptions, which can cost them in more ways than one. 
Methodology
We applied many filters and qualifications to assemble the list of the five best small-cap AI stocks 2023. These had to be small-cap stocks with market capitalization maxing out at $2 billion. 
The lower range requirement of a $200 million minimum market cap wasn't applied since that would have left out some strong potential movers. Each stock must include artificial intelligence in its business model, products, services or operations. The stocks were also required to be diverse and from different industries and market segments to give readers a wider selection of non-correlated stocks. 
The best small cap AI companies to invest in is purely subjective. Small-cap stocks are risky, and the five stocks are no exception. They are down from their highs and rely on positive catalysts to move back higher, either with the underlying company, industry or AI theme. 
This article was originally published on this site