The Best Keystone Pipeline Stocks to Buy in 2017
This article was originally published on this site
The best Keystone pipeline stocks to buy aren't necessarily the ones you'd think of first.
The Keystone XL pipeline officially rose from the dead on Friday (March 24) after President Donald Trump issued a presidential permit that reverses President Barack Obama's 2015 decision to kill the project.
The 1,179-mile Keystone pipeline would carry more than 800,000 barrels of heavy crude from the Athabasca oil sands in Alberta, Canada, to refineries on the U.S. Gulf Coast.
To be sure, the company behind the Keystone XL pipeline, TransCanada Corp. (NYSE: TRP), is a major winner from this decision. TRP first applied for a permit from the U.S. State Department in 2008. The stock is up 6.67% since Trump was elected.
But the approval of the Keystone pipeline has investment ramifications far beyond just that one oil pipeline….
Investing in Keystone Pipeline Stocks Takes a Media Detour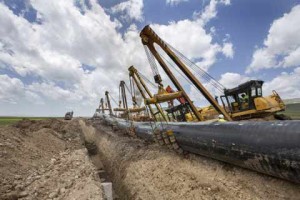 The sudden revival of the Keystone pipeline symbolizes a sea of change in White House policy from the Obama administration. For the foreseeable future, "Keystone pipeline stocks" will benefit from the Trump administration's favorable stance on oil and natural gas pipelines.
For example, last month President Trump ordered the final permit to enable completion of another high-profile project, the Dakota Access pipeline (DAPL), be granted. This Energy Transfer Partners LP (NYSE: ETP) pipeline will carry Bakken oil to Patoka, Ill., where existing pipelines will transport it to refineries.
But investors looking for Keystone pipeline stock plays beyond the headlines have been sent down a few blind alleys by the financial media.
When President Trump initiated the process in January of getting both the Keystone XL and Dakota Access pipelines approved, he also said new pipelines would be required to use U.S. steel.
That triggered a wave of financial news stories suggesting that buying steelmaker stocks would be a good way to play the Keystone pipeline construction.
What they failed to point out was that TransCanada had bought and stockpiled the steel for the Keystone pipeline long ago. Very little U.S.-made steel will be used.
And even if TransCanada did need to buy a lot of steel for the Keystone XL pipeline, it would have a tough time getting what it needed from U.S. suppliers.
You see, U.S. steelmakers don't have the facilities to manufacture pipe that meets the requirements of the Keystone pipeline – most of those steelmakers that do are in India and Russia.
Other major projects may face the same issue, which will make President Trump's order difficult to enforce – and U.S. steelmakers a flawed way to play the new pipeline-friendly environment.
But while the U.S. steelmakers may not be the best Keystone pipeline stocks to buy, another sector will reap major benefits from President Trump's pro-pipeline stance.
That makes these three companies the top Keystone pipeline stocks for 2017…
The Best Keystone Pipeline Stocks for 2017
Enbridge Energy Partners LP (NYSE: EEP)
Enbridge Energy Partners is the master limited partnership (MLP) subsidiary of Enbridge Inc. (NYSE: ENB). It operates oil and natural gas pipelines in the United States and Canada.
EEP units are down 29% year to date. The main reason for the drop was the Jan. 27 announcement that the company was acquiring subsidiary Midcoast Energy Partners LP (NYSE: MEP). The move was prompted by the parent company's impending merger with Sempra Energy Corp. (NYSE: SE), which has its own MLP, DCP Midstream LP (NYSE: DCP).
That foreshadows some major restructuring after the Enbridge-Sempra merger completes, suggesting short-term disruption but long-term efficiencies. And the newer, larger EEP will be better structured to profit from the new pipeline opportunities it will have under the Trump administration.
EEP is also under a strategic review that will likely chop its dividend by as much as 40%. That may sound harsh, but the current dividend of nearly 13% is unsustainable, given the payout ratio of 466%.
This uncertainty means you will likely be able to get EEP units even cheaper by waiting for the news of the exact amount of the dividend cut.
EEP units are about $18 now. If the price drops to $17 on the dividend reduction news, you'll be in position for a 20% gain over the next year (using the Yahoo Finance consensus one-year price target of $20.50).
As for the dividend, a 40% cut puts it at $1.40 per year. Buying at $17 means you'll still earn an impressive yield of 8% on top of your capital appreciation.
Kinder Morgan Inc. (NYSE: KMI)
Kinder Morgan is further along its road to recovery than EEP, having bottomed out in early 2016. But even at $21.30, KMI is down more than 50% from its 2015 peak.
But the company has learned its lessons and now is in a great position to benefit from a more pipeline-friendly environment. For one thing, it long ago slashed its dividend (current yield 2.35%) but now has a comfortable payout ratio of 73.5%.
Kinder Morgan is putting the capital it's not paying out to good use. Last week it announced plans for a major new project, the Gulf Coast Express pipeline. This pipeline will carry natural gas from West Texas to the Gulf Coast.
Now the company also has a $12 billion five-year project backlog that will need permits in just the right political climate. Those projects are expected to boost earnings by 22% by 2021.
The increasing cash flow means KMI will be able to start raising its dividend again, with the first hike expected next year. The consensus one-year price target is $25.63, representing a 20% gain.
Williams Partners LP (NYSE: WPZ)
Williams Partners is an MLP subsidy of Williams Companies Inc. (NYSE: WMB).
Williams units have actually doubled since bottoming out at $13.26 in February of last year. The company has been very pro-active in reacting to lower energy prices by restructuring debt and selling off nonstrategic assets.
Williams Partners also is chopping the annual dividend from $3.40 to $2.40 to address the unsustainable payout ratio of 241%.
But now it's primed and ready for the Trump era.
One of its premier planned projects, the $3 billion Atlantic Sunrise shale gas pipeline, received approval last month. It's part of WPZ's Transco system, which supplies natural gas to the Eastern United States. Extensive plans for further expansion of the Transco system will benefit from having Donald Trump in the White House.
The Atlantic-Gulf segment shows much promise, having enjoyed 15.1% year-over-year growth in EBITDA in Q4 2016. As new projects are built and come on line, income will continue to rise, pushing both the unit price and the dividend higher.
The promise of future increases makes the current dividend cut a bit easier to swallow (the yield is dropping from 8.5% to 6%). And the capital appreciation should make up for it — the one-year price target of $55 suggests gains of 38% on WPZ units from the current price of $39.75.