The Best Solar Stock to Buy to Profit on 500% Industry Growth
This article was originally published on this site
Solar stocks are quickly becoming the most lucrative investment in the energy sector, which is why we're giving our readers one of the best solar stocks to buy right now.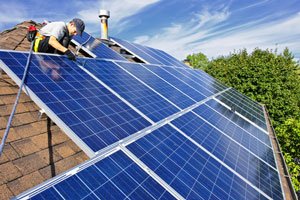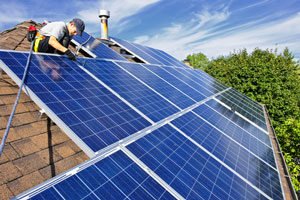 According to the U.S. Energy Information Administration (EIA), renewable energy production will soar over 100% by 2025, and the biggest driver of this growth will be solar energy. The EIA forecasts electricity generated by solar power will jump over 60% by the end of next year and skyrocket 500% by 2040. But China's renewable energy sector could see 700% growth by 2035.
That means investing in solar energy stocks is like getting in on a great opportunity on the ground-floor. Here's why investing in solar energy right nowcould bring you life-changing profits, plus the one solar stock you need to own…
There's No Better Time for Solar Energy Investing
The price of solar energy has fallen dramatically, making it competitive with traditional fuel sources. Since the 1970s, the cost of solar energy has dropped to 1/150th of its 1970s level, and the costs are continuing to fall. In 2016 alone, solar energy costs fell by 10%. Falling costs are essential to solar energy's growth.
Because solar energy is clean and limitless, once it's cheaper than traditional energy sources its growth will soar.
Money Morning Global Energy Strategist Dr. Kent Moors says solar power has now reached "grid parity" with fossil fuels. Grid parity is the key reason solar will be the fastest-growing energy sector through 2040, increasing by more than triple the growth of wind energy, the second fastest-growing sector.
"Solar and wind have become far cheaper to produce than even their strongest adherents had expected," Moors said. "That means they have both reached and exceeded 'grid parity' – their generating costs being equal to or lower than those of natural gas and even coal."
The cost of solar photovoltaic (PV) installations has also dropped dramatically in the past eight years, leading to a massive boost in production. Between 2009 and 2016, PV cell prices fell roughly 85%, and PV installations soared 1,600%.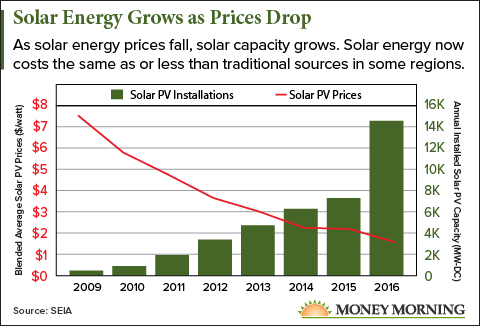 Falling costs have led to solar power reaching grid parity in 20 states already, including New York and California.
And the growth of solar energy isn't just limited to the United States. In fact, the United States is no longer even the world's dominant consumer of renewable energy.
Over the last decade, China's renewable energy production made it the world's biggest renewable energy producer, soaring past the United States. Bloomberg reports China's solar capacity surged 79% last year, giving the country 78 gigawatts of capacity, more than five times the United States' capacity. Now, China accounts for 40% of global growth in renewable energy production.
Plus, China's demand for renewable energy will only continue to grow.
China is the world's biggest consumer of energy, and it's also the biggest consumer of coal in the world. But starting in 2014, China's coal production began to fall. China is now trying to contain pollution in the country, and it's shifting to renewable energies like solar to do it.
"The Chinese hunger for energy is being tempered by moves to a more sustainable growth pathway and the rapid expansion of renewables," Jonathan Marshall, from the Energy and Climate Intelligence Unit, told Bloomberg on June 13.
China's push toward renewable energy could help boost China's solar power generation 700% by 2035, according to a report from Wood Mackenzie. And China's own "Five-Year Plan" calls for the country to triple its solar power capacity every year until the next "Five-Year Plan" begins in 2020.
These triple-digit growth forecasts make investing in solar the most lucrative of all energy sectors right now. But not all solar stocks are equal, and the technical nature of the industry requires insider knowledge.
That's why Moors, a 30-year veteran of the energy industry, has done the research for you. And the solar stock he's recommending will profit from solar's growth in both the United States and China…
One of the Best Solar Stocks to Buy in 2017
 Our pick today is
 JinkoSolar Holding Co. Ltd. 
(NYSE: 
JKS
).
JinkoSolar is a China-based solar company, selling PV cells and other solar products across the world, including in the United States, Japan, Germany, Brazil, and the United Kingdom, among many others.
JinkoSolar's global reach means it's well-positioned to profit from the growth of solar energy in both the United States and China.
That's a key reason why Money Morning Global Energy Strategist Dr. Kent Moors recommends JinkoSolar, too.
"This is the premier solar company in the world," said Moors. "With global operation and good relations with the Chinese government, Jinko is perfectly positioned to continue growing."
Jinko's global reach is why it's the third-largest supplier of solar capacity in the world.
Last Monday (June 19), Jinko became the first PV module manufacturer to ship over 2 gigawatts of modules in one quarter. And they're expecting to grow that number by 30% next quarter, breaking their own record.
That's why analysts are projecting Jinko's stock price to grow by up to 33% in 2017 alone. FactSet is reporting analysts have set price targets up to $27 a share.
Jinko currently trades at $20.87 a share.