The Bull Market Is Far From Over
This article was originally published on this site
The CFA Society of Detroit hosted Nuveen Asset Management Senior Portfolio Manager Bob Doll as their distinguished guest speaker last Thursday afternoon. He talked about the current state of the stock market and whether or not the next U.S. recession is imminent. According to Doll, there are plenty of reasons to be optimistic about stocks heading into 2017.
Doll believes the U.S. earnings recession is now over and stocks are poised to thrive in the current environment. Among the positives Doll mentions are friendly central bank policies, strong consumers and relatively skeptical sentiment.
However, bears also have several legitimate arguments as well. Economic growth has been lackluster, the Brexit vote has created uncertainty in the eurozone, a number of geopolitical risks remain around the world and fiscal policy and regulation has created significant headwinds for some sectors.
Doll included the chart below as the primary argument that the bull market is far from over. Nuveen is projecting that earnings growth will continue to accelerate after bottoming in Q1.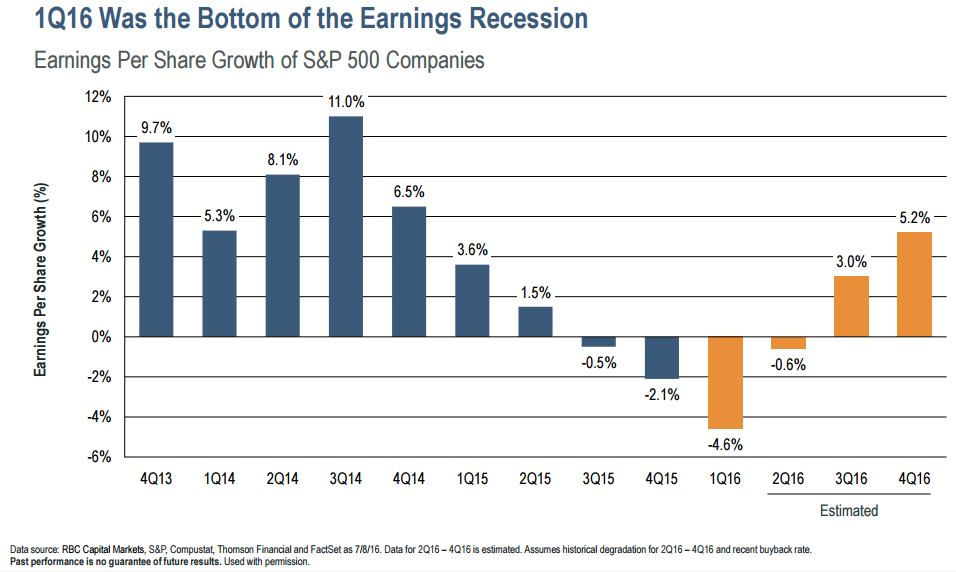 Finally, when it comes to the election, Doll points out that the performance of the S&P 500 in the three months prior to the election has predicted the winner in 19 of the past 22 elections. If the S&P 500 is up, the incumbent almost always wins.
Since August 1, the SPDR S&P 500 ETF Trust SPY 0.52% is down 0.1 percent, suggesting that the next few weeks of trading could be a very important indicator of the election's outcome.
© 2016 Benzinga.com. Benzinga does not provide investment advice. All rights reserved.