The Only Travel Stock You Need to Buy this Summer
This article was originally published on this site
The online travel business is one of what I call the 'original disruptors'. Companies like Expedia (Nasdaq: EXPE) and Priceline Group (Nasdaq: PCLN) turned the travel sector upside down as they allowed people to book their travel arrangements themselves online.
But today, these companies are themselves at risk of being disrupted by the likes of companies such as Airbnb, who are changing the way people take a vacation. Firms like Expedia and Priceline are being forced to change their business model from that of purely being online bookings providers to offering services throughout the entire travel experience.
It's adapt or perish for the top three online travel agencies (OTAs) in the world: Expedia, Priceline and China's Ctrip.com International (Nasdaq: CTRP).
While it may surprise you that Ctrip is number three, it should not. The Asia-Pacific region has become the hot spot for leisure travel. More on that in a moment, but first I want to focus on a company that is a model stock for my Growth Stock Advisor portfolio, Expedia.
Expedia's Growth Still Moving Skyward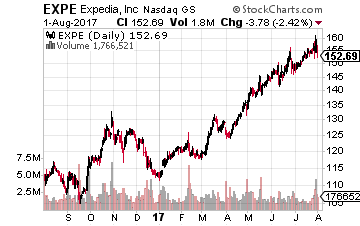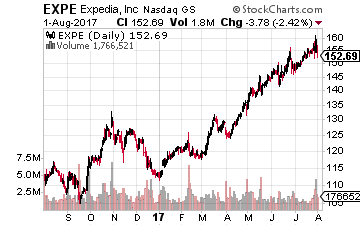 This company, as I stated earlier, was one of the 'original disruptors' that was born in the dotcom bubble (by a small division of Microsoft) during the late 1990s.
It was a successful disruptor, today becoming the world's largest online travel agency with such well-known brands as Expedia itself, Hotels.com, Trivago, Orbitz, Travelocity, Hotwire and HomeAway. A look at the numbers should be sufficient to convince you that Expedia is a success. It now runs over 200 travel-booking websites in over 75 countries. It offers 385,000 accommodation options and access to nearly 500 airlines.
In 2016, Expedia controlled 35% of the global OTA market in terms of bookings. That translated nicely to the financial side, with revenues totaling more than $9 billion over the past year, up 26% from the previous year. The total number of rooms booked in the first quarter of 2017 rose 12%, reaching 64 million.
Expedia is under pressure from the likes of this generation's disruptor, Airbnb, and others. In addition to offering short-term lodgings, Airbnb is ambitiously looking to add car bookings, ticket purchasing, and concierge services to its app.
Expedia's main OTA competitor Priceline (owner of Booking.com and OpenTable) controls 33% of the worldwide OTA market. It isn't sitting idly by either. It is using Big Data to gather data on its customers in order to offer them more personalized experiences.
That means Expedia has to continue to innovate in order to stay on top. In addition to buying HomeAway two years ago, Expedia is moving toward full implementing of voice search. That's where consumers can set-up their entire vacation (hotels, car rentals, etc.) just by using the Expedia app on Amazon's Alexa and other similar devices. And of course, Expedia too plans to use its vast amounts of data on travelers in order to offer them better experiences.
Perhaps more important than all of these innovations is the company's turn to focus on Asia.
The Battle for Asia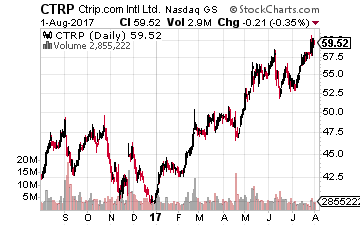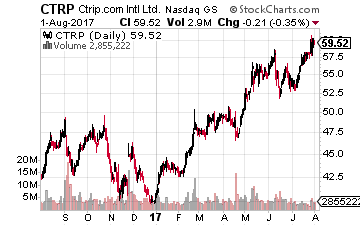 Expedia has largely been a U.S.-focused company, with about two-thirds of the company's business conducted here.
But now that is changing. The CEO of Expedia, Dara Khosrowshahi, told the Nikkei Asian Review "The U.S. used to be the driver of our global strategy and other areas would follow. But Asia is now driving our strategy."
That is absolutely the right strategy – to go where the growth in travel and e-commerce are.
Its rival Priceline actually owns 9% of China's Ctrip and leads Expedia in Asia's emerging markets of Indonesia, Vietnam, Thailand and the Philippines, while Expedia leads in the travel markets of Japan, Singapore and Malaysia.
When you look at the digital space, the Asia-Pacific region is tops. The number of mobile subscribers in the region is expected to top 2.7 billion this year, over half the global total.
The travel picture looks equally promising. According to the United Nations World Tourism Organization, the number of outbound Chinese travelers alone rose 6% in 2016 and the amount they spent increased by 12% to $261 billion. That was the twelfth consecutive year of double-digit growth.
Even better spending numbers came from other Asian countries: Indian travelers spent 16% more, travelers from Vietnam spent 28% more, while voyagers from Thailand spent 11% more.  
That leads us directly to a 2016 study co-authored by Google, which looked at Southeast Asia's 600 million people. The study forecast that the region's internet economy would soar 6.5 times to $197 billion in 2025 from $31 billion in 2015.
Expedia's Pivot to Asia
I'm sure Expedia noticed, and so should you, that travel is estimated to account for 45% of that number. Importantly for Expedia, no company in Southeast Asia controls more than 23% of the market, unlike the case in China.
Expedia is already invested heavily into the region, with its branded websites in 14 Asia-Pacific markets. But it is really just ramping up its presence there.
In July, the company announced it was investing $350 million in Traveloka, which is one of the largest online travel sites in Indonesia. Recall that Indonesia is the world's fourth most populous nation with a population of over 261 million people.
At the moment, Expedia only accounts for about 5% of the Asia-Pacific online travel market. The company expects that share to double to 10% over the next five years. If that happens – and I expect it will – the region will then account for over a third of Expedia's overall bookings and non-U.S. business would total roughly two-thirds of the company's bookings.
Expedia's pivot to Asia will help it remain at the top of the industry and not become a footnote in financial history as a disruptor who was in turn disrupted. For more solid investment ideas with disruptors be sure to check out my new free report on the top tech ETFs. Click here for your free report.