The Safest Way to Own Bitcoin
This article was originally published on this site
If you're in the financial markets at all, it's something you can no longer ignore. Even CNBC gave it extensive coverage last week.
I'm speaking about the cryptocurrency, Bitcoin. It grabbed headlines as the digital currency soared past the $4,000 mark for the first time in its nine year history.
Its rise has been remarkable, more than quadrupling in value in 2017. Its valuation is now in the $68 billion range, nearly doubling in the past month alone.
That makes Bitcoin the king of the cryptocurrencies. All together, the total value of the 750 or so digital currencies is approaching $150 billion. Of course, that still makes them a minnow in the world of currencies where about $5 trillion is traded daily.
So why has Bitcoin gone parabolic lately?
One reason is the same one as why people buy gold – it's a safe haven. In places where there is turmoil like Venezuela, or places where you can't get your money out like China, Bitcoin offers an outlet for people with money.
An even more important reason may well be the growing optimism that faster transaction times will hasten the spread of Bitcoin. A plan to speed up trade executions by moving some data off the main network was put into place during the first week of August.
This solution – SegWit2x – was so contentious that a version called Bitcoin Cash came into being in early August. Most thought this split would spell the end for Bitcoin. But as usual in financial markets lately, it paid to be a contrarian as the subsequent spike in the Bitcoin price proved.
Another reason is simple supply and demand. The supply of bitcoins is capped at 21 million. To date, there have been about 16.5 million Bitcoins "mined". Meanwhile, demand is set to increase a lot. One example is the digital currency exchange Coinbase announcing it had recently received a $100 million investment. A scenario with lots of money chasing a limited supply of Bitcoins is beginning to unfold.
Investing in Bitcoin
But as with any other asset class, things don't move up in a straight line without interruption. The recent parabolic move up has me thinking that a correction may be in order, down to the mid-$3,000s.
Let's say you wanted to put a little money into Bitcoin, but don't yet trust the exchanges such as the aforementioned Coinbase.
ETFs – Van Eck Vectors among others have filed for registration – have yet to be approved by the SEC. And options on Bitcoins will not be available until this fall at the earliest.
No worries. . .I've found a more "conservative" way for you to own some Bitcoin. . . . .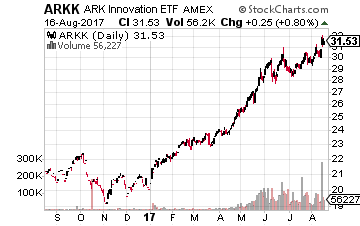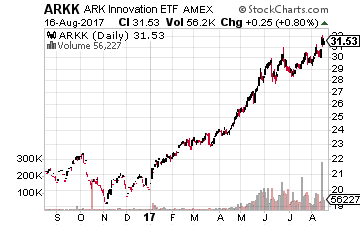 It is through an exchange traded fund – the Ark Innovation ETF (NYSE: ARKK). The goal of this fund is to provide investors like you with exposure to innovation across a broad range of sectors. This is much like what I do as editor of Growth Stock Advisor and what my Singularity research project is all about.
This ETF owns a position in the Bitcoin Investment Trust (OTC: GBTC), from a company called Grayscale, and which does own some Bitcoins. However, I do not recommend you buy the Bitcoin Investment Trust directly.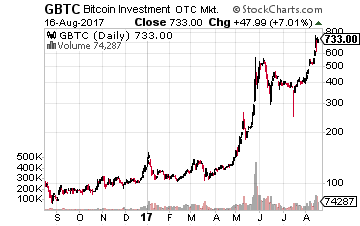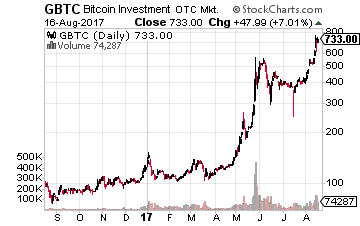 Since it is the only publicly-traded investment vehicle that owns Bitcoin, it trades at a huge premium to net asset value. That premium will disappear as Bitcoin ETFs and other instruments become available.
However, it makes up only 8.95% of the overall ARKK investment portfolio, so any selloff won't devastate the fund. It is currently the number one position in ARKK, no doubt due to Bitcoin's meteoric rise this month.
I strongly suspect that when ETFs become available, the fund managers will flip the position in GBTC into a Bitcoin ETF, maintaining a solid position in this digital currency.
The Ark Innovation ETF is a lot more than Bitcoin though.
Its other holdings are spread across sectors that Ark calls the Genomic Revolution, Web x.0 and Industrial Innovation. Some of the other large holdings in the ETF include Tesla Motors (Nasdaq: TSLA), Amazon.com (Nasdaq: AMZN), Athenahealth (Nasdaq: ATHN), Illumina (Nasdaq: ILMN) and Nvidia (Nasdaq: NVDA).
Despite the light average daily volume traded, ARKK seems to be a nice way to gain exposure to the macro themes that are playing out in our world of rapidly changing technology. And to get a jump start on investment ideas in technology, other than the (in)famous FANG stocks, be sure to request your own copy of my new report, Top 3 Tech ETFs to Crush the S&P 500, today. It's free for a limited time. Click Here.