These 3 Companies Can Survive the Amazon Apocalypse
This article was originally published on this site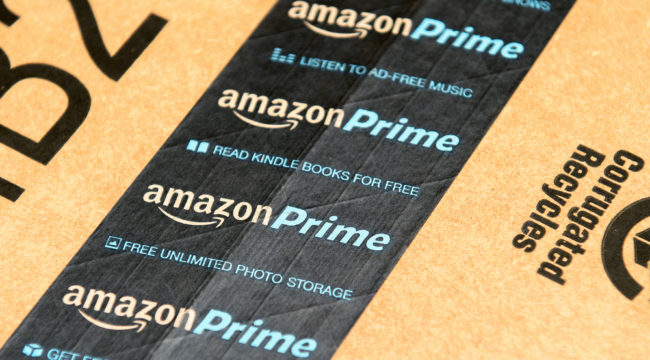 The brick and mortar retail apocalypse is getting worse.
Malls are crumbling. Shelves are bare. The kids aren't hanging out at the neighborhood J.C. Penney anymore…
After all, your local shopping center is no place for a family. Why expose your children to the unwashed masses at Walmart when Amazon Prime offers free same-day delivery? As more Americans opt to order their goods via smartphone, the Amazon apocalypse rages on at an alarming rate.
But there are a few survivors buried in the retail rubble. In fact, we've uncovered three strong performers that have developed distinct strategies to survive Amazon's e-commerce onslaught.
Before we get to these opportunities, you need to see just how quickly retailers have turned lower in 2017.
I'm sure you've seen the stories about failing retailers litter the pages of the morning paper for the past couple of years. But the trend is accelerating. A quick glance at the stock market proves that the tipping point has arrived for traditional brick and mortar retailers.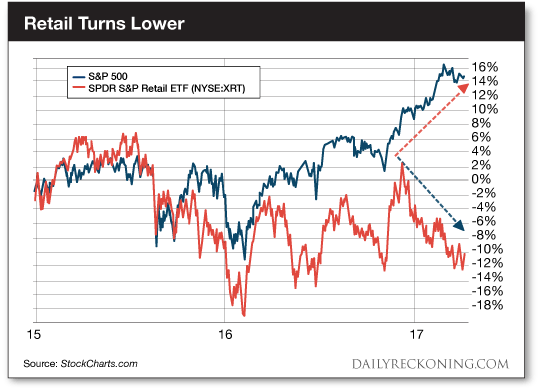 The retail sector is crumbling at an alarming rate. Public executions of traditional retailers are becoming commonplace in town squares across the nation. Store closings litter the once-thriving strip malls. No business is safe.
As recently as 2015, the retail sector closely mirrored the performance of the major averages. We're constantly reminded that the U.S. is a consumer based economy – so this relationship makes perfect sense.
But the relationship started to break down in 2016. That breakdown is accelerating this year. The SPDR S&P Retail ETF (NYSE:XRT) is down almost 5% year-to-date. Meanwhile, the S&P 500 is up more than 5%.
While the retail sector continues to crumble, a few bright spots remain. Some traditional retailers have even managed to grow in the age of Amazon. In fact, my research has identified three specific companies that have carved out profitable niches that are keeping Amazon at arm's length.
Let's get to it…
1.  Best Buy (NYSE:BBY)
If you had asked me five years ago which major retailers were most vulnerable to a full-frontal assault from Amazon, Best Buy would be near the top of my list.
The electronics retailer was dealing with a problem called showrooming. That means potential customers were only coming to Best Buy to view and try out products. When it was time to buy, these same folks would just go to Amazon and buy what they were looking for at a discount.
But all was not lost for Best Buy. The company started to gets it act together a couple of years ago by improving the e-commerce side of its business, honoring a price-matching guarantee and renewing its focus on mobile phone sales.
Since these improvements, Best Buy has surprised analysts with key earnings beats that sent shares soaring. Best Buy is silencing its critics with strong sales—at least for now. The stock is up double-digits so far this year and is once again flirting with new all-time highs…
2. Dollar General Corp. (NYSE:DG)
Dollar stores are anything but fancy. That's why Dollar General has managed to survive in the post-retail hellscape.
Management's approach to the "cheap crap" retail segment is playing out perfectly. Instead of bogging down the balance sheet with massive stores and tons of staff, Dollar General has a minimalist approach. Good deals in small stores make it easy for shoppers to get in and out. That's why the company is actually expanding in this dismal retail environment…
"Instead of shutting down stores, Dollar General is opening hundreds more locations," Business Insider reports. "The discount chain says it plans to open 1,000 stores this year, bringing its total store count to more than 14,300."
Brick and mortar growth while Amazon is doing its part to shutter every other business on the planet – what's not to love?
3. Home Depot (NYSE:HD)
Home Depot kicked off 2017 in style by announcing a massive fourth-quarter earnings beat. Home Depot didn't just smash analyst expectations – it also raised its dividend and announced a $15 billion repurchase program.
The home improvement giant's growth isn't all smoke and mirrors, either. While many retailers are frantically building new stores to grow revenue, Home Depot posted impressive numbers without expanding its footprint. Its organic growth is coming from increasing foot traffic and contractor sales instead.
So how does Home Depot stay on top—even with Amazon swallowing up every other retailer in the country?
It's because Home Depot sells stuff that people don't buy online. Plants, mulch, and gardening equipment. Appliances. Lumber. Drywall. Circular saws. Grills. Kitchen sinks. This doesn't look like your typical Amazon cart at checkout.
Home Depot beats has avoided Amazon's wrath by ignoring online shopping carts and focusing on stuff you load into the back of a pickup. It's a solid strategy for continued success in this tough retail environment.
Sincerely,
Greg Guenthner
for The Daily Reckoning
Ed. Note: The Rude Awakening is your prime opportunity for up-to-the-minute market commentary – Sign up for the FREE e-letter, right here. Greg Guenthner, a designated Chartered Market Technician, sends out his analysis and insight weekday mornings that meticulously monitor the markets and guide you toward the most valuable trends.