This Rare Anomaly Says Stocks Can Jump 15% in Three Months
This article was originally published on this site
The "Melt Up" is here, my friend.
You can either get on board… or let the market pass you by. And right now could be the beginning of the next leg higher for the Melt Up.
You see, the tech-heavy Nasdaq Composite Index – the leader during the last Melt Up – just saw a rare anomaly.
This rare event hasn't happened since February 2015. (Before that, it hadn't happened since 2009.)
History says it'll likely lead to big returns… Gains of 15% in just the next three months are possible. It's the next leg higher in the Melt Up.
Let me explain…
We're in the late innings of a historic bull market. But the boom isn't over yet.
As my colleague Steve Sjuggerud has explained… the biggest gains come in the last few innings… when the market "Melts Up" before suffering a major "Melt Down."
We're smack in the middle of the current bull market's Melt Up. But history says it's not over yet.
One reason is a rare anomaly that happened in the Nasdaq. The index recently moved higher for 10 straight trading days.
That's a rare feat. As I mentioned, it has only occurred two other times during the current bull market.
You can see the recent run in the chart below…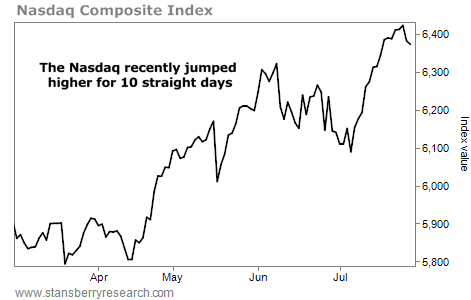 The Nasdaq moved higher every single trading day from July 7 to July 20. 
The current market uptrend is strong
.
Of course, even during a strong bull market, stocks usually have plenty of down days. The recent run is a rare anomaly… And one we should pay attention to.
In short, stocks tend to keep going up after these rare strings of consecutive up days. The table below shows what similar extremes have meant for the Nasdaq since 1971. Take a look at the returns…
Again, this is a rare anomaly. It's happened less than 1% of the time since 1971. But it's also occurred before big gains in the Nasdaq.
Specifically, buying after the Nasdaq jumps 10 days in a row has led to a 2.3% gain in one month and a staggering 14.6% gain in three months.
A gain of 15% in three months seems like a crazy prediction… But the Melt Up is in full effect… and history points to big gains after this rare anomaly.
Now isn't the time to be timid and sit on the sidelines. It's time to be bold and buy.
Get out there and do it.