This 'Stealth' Bull Market Could See Triple-Digit Gains
This article was originally published on this site
The investing public hasn't been paying attention this year…
Most folks have been too enthralled with stories about President Trump and bitcoin to notice what's going on. But gold has entered a "stealth" bull market.
The metal is soaring in 2017. And it's now on pace to outperform stocks for the first time since 2011.
Our colleague Justin Brill touched on this recently in our Weekend Edition. But the biggest news here is that this could be a major turning point for gold. We could see dramatically higher prices in the coming months, if things go anything like last time.
Let me explain…
Since bottoming last December, gold has moved consistently higher.
Last month, it broke above $1,300 an ounce for the first time in more than a year. That breakout made the headlines… But something interesting is happening "under the hood" that could be even more important to gold going forward…
You see, folks have been ignoring gold in part because of the massive rally in U.S. stocks. The U.S. stock market is having another fantastic year… up double digits as of the end of August. It's on pace to finish with its ninth straight winning year… a monumental feat.
This is where things get interesting…
Stocks may be having another fantastic year… But for the first time in a long time, gold is on pace to outperform stocks. The metal is up around 15% so far this year, versus around 13% for the S&P 500 Index.
This could be the first year gold outperforms stocks since 2011. Take a look…
This is big…
As you can see in the table, gold went on a five-year slump of underperformance from 2012 to 2016. It fell 26% during that period.
The metal is on pace to break that trend this year. And that alone could be a major sign that huge gains are possible from here.
You see, the last time gold broke out of a five-plus year slump versus the stock market was the late 1990s…
Gold underperformed stocks for six straight years from 1994 through 1999… And like today, it fell 26% during that slump.
Gold's massive bull market didn't start immediately after that… The metal still lost money in 2000.
But, in 2001, it started a 12-year streak of positive returns. Take a look…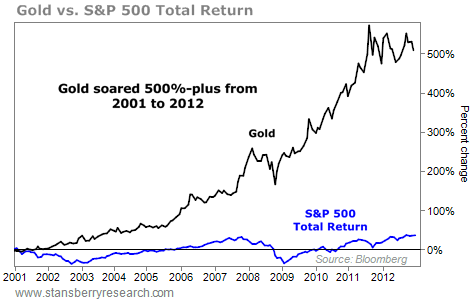 Overall, gold rose 
more than 500%
 from 2001 to 2012. (The S&P 500 increased just 36% over the same 12-year stretch.)
Today, gold is on the verge of outperforming stocks for the first time in six years. The last time we saw a similar losing streak end was the early 2000s… And that happened before a massive bull market started in gold.
We can't know if that's what's happening now… But gold hasn't looked this good in years. The metal has entered a solid uptrend. And this outperformance could be the turning point for big gains going forward.
Good investing,
Steve
Crux note: Steve just told his True Wealth Systems readers his favorite way to profit from the coming gold rally. According to him, it has hundreds of percent upside. Learn how to access this and all of Steve's top trading ideas right here.