This Stock is One of Our Top Picks For the Rest of the Year
This article was originally published on this site
Earnings season is upon us.
Once again, the world's highest profile public companies dance across the earnings minefield. One little slip – a penny missing from the balance sheet or a stray comment during the conference call – and investors will smash the sell button and move on to the next hot trade.
Strong trends are created and destroyed as shot-sighted speculators jump in and out of positions.
It's all too easy to get caught up in the soap opera.
But we shouldn't complain…
One of our core positions released second-quarter numbers yesterday.
Payments mainstay PayPal Holdings (NASDAQ:PYPL) went into last night's earnings report having beaten expectations for every quarter that it's been a public company, Barron's notes.
I'm happy to report the winning streak remains intact. Not only did PayPal beat expectations, the payments leader raised its 2017 guidance thanks to a growing user base. Shares should open at new all-time highs this morning.
PayPal remains our top play as the war on cash heats up. It's the perfect "old school" way to play the market's obsession with digital currencies right now. Even though PayPal shares are up almost 50% year-to-date, we still think this trend has a long way to go before it slows down…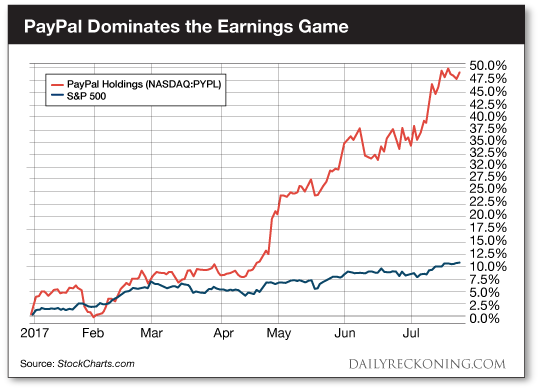 If you're looking to ditch cash but you don't have any interest in figuring out how to open a bitcoin wallet, PayPal's popular new payment app has a solution for you.
The app is called Venmo. And it's quickly becoming an everyday name in the mobile payments game.
Getting started is as easy as adding a new credit card to your Amazon account. The app automatically syncs your contacts through your phone. Then you're ready to make payments to friends, coworkers, and family.
To make a payment, all you have to do is pick up your phone. No checks, cards, or cash necessary. It's that simple. Folks are using the app for everything from buying a cup of coffee to paying rent.
Venmo's growing success makes PayPal the top dog in mobile payments. When we first jumped into PayPal earlier this year, we told you that mobile payments make up nearly 30% of PayPal's business. PayPal has also teamed up with Facebook and even Snapchat in the latest innovations for peer-to-peer payments. These partnerships should have a big impact on PayPal's growth over the next couple of years as more consumers flock to mobile payment options.
Cash is dead. Whether you like it or not, currency is going digital. The days of pulling a wad of greasy bills out of your pocket are numbered.
For the tech-savvy, cryptocurrencies are all the rage. And we're seeing more developments in the global war on cash that could act as powerful price catalysts. China's crackdown on money laundering and demonetization in India have both help increase bitcoin's popularity. It's not my area of expertise – but it's also not some fringe idea anymore.
You can fight this powerful trend. Or you can profit from it. It's as simple as that.
So far this year, you've enjoyed quite a ride as our PYPL position has launched to new highs. When it comes to explosive growth, this stock remains one of our top picks heading into the second half of the year.
Cash isn't king anymore. But that doesn't mean you can't bank gains.