Want to Buy the Dip? Check Out These 3 Top Ranked Stocks
By now, most people who follow the stock market have seen the seasonality statistics for September. On average, it's the weakest month of the year, with a performance of -0.7%. Will a poor month in the stock market come to fruition? Maybe, maybe not.
On Wednesday, the market is experiencing some volatility after a two-week rally, which has some investors feeling like they want to position their portfolios more defensively. Understandably, they are rotating into sectors like Utilities, Consumer Staples and raising cash.
However, this year the stock market isn't average. The Nasdaq 100 has rallied 34% YTD and the S&P 500 16.5%, which is well above the average. With such a strong start to the year, it is possible that stocks will move higher unperturbed by the seasonal trends, and investors should thus continue to focus on owning leading stocks.
Alternatively, if stocks do end up trading lower in September, investors can look forward to the most bullish period of the year in the final three months. Because of this setup, I think investors can look past the month-to-month expectations and focus on buying the stocks that will lead over the next several months and longer.
Amazon (AMZN – Free Report) , Synopsys (SNPS – Free Report) , and MercadoLibre (MELI – Free Report)  are all top Zacks Rank stocks, with powerful business models, and strong growth ahead of them.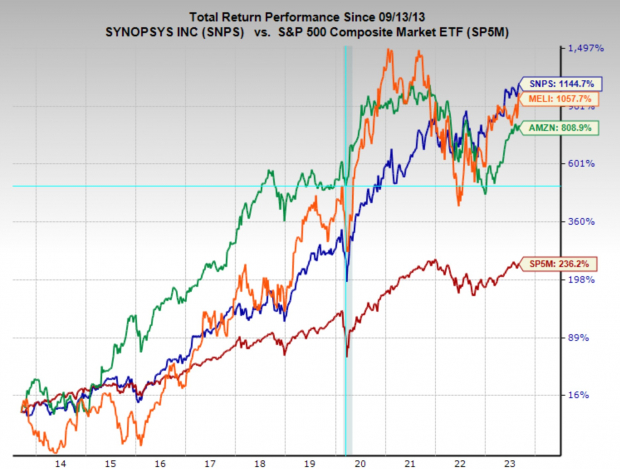 Image Source: Zacks Investment Research
Amazon
Amazon has been benefiting from strong growth in Prime, AWS, and its newest successful business segment Advertising. This along with strongly upward trending earnings revisions has been lifting its stock price all year. Amazon stock is up 64% YTD, far outperforming the broad market.
While earnings and sales forecasts are very impressive, analysts continue to revise expectations higher giving AMZN a Zacks Rank #1 (Strong Buy) rating.
Current quarter earnings estimates have increased by nearly 50% over the last two months and are projected to climb 190% YoY to $0.58 per share. FY23 earnings estimates have been revised higher by 43% and are expected to grow 214% YoY to $2.23 per share.
Additionally, FY23 sales are projected to grow 11.1% YoY to $570.8 billion and FY24 are expected to grow 12.9% YoY to $644.4 billion.


Image Source: Zacks Investment Research
Not only are expectations high for Amazon, but it is also trading at a historically discounted price. Today, AMZN is trading at a one year forward earnings multiple of 61.5x, which is above the industry average of 33.7x, and well below its 10-year median of 116x.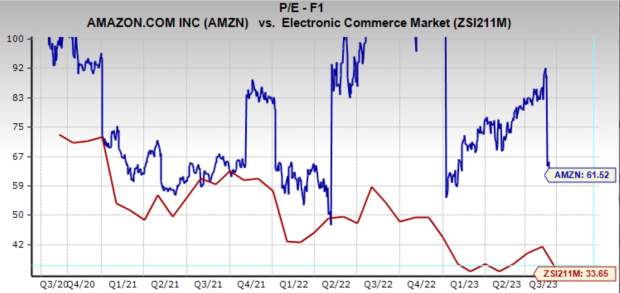 Image Source: Zacks Investment Research
Synopsys
Synopsys is an American electronic design automation (EDA) company. It specializes in providing software, tools, and services that assist semiconductor and electronics companies in designing and verifying complex integrated circuits (ICs) and systems-on-chip (SoCs).
Synopsys plays a crucial role in the semiconductor industry by enabling the development of cutting-edge electronic products through its comprehensive suite of EDA solutions, covering areas such as chip design, verification, and simulation.
Synopsys has put up very impressive sales and earnings growth over the last five years and are expected to maintain that pace. Sales are forecast to grow at a CAGR of 10.6% through 2025 and EPS are expected to grow 16.4% annually over the next 3-5 years.
Furthermore, demonstrating strong earnings estimates revisions, SNPS has a Zacks Rank #1 (Strong Buy) rating. Current quarter earnings estimates have been boosted by 4.1% over the past two months and FY23 earnings estimates have increased 2.5% over the same period.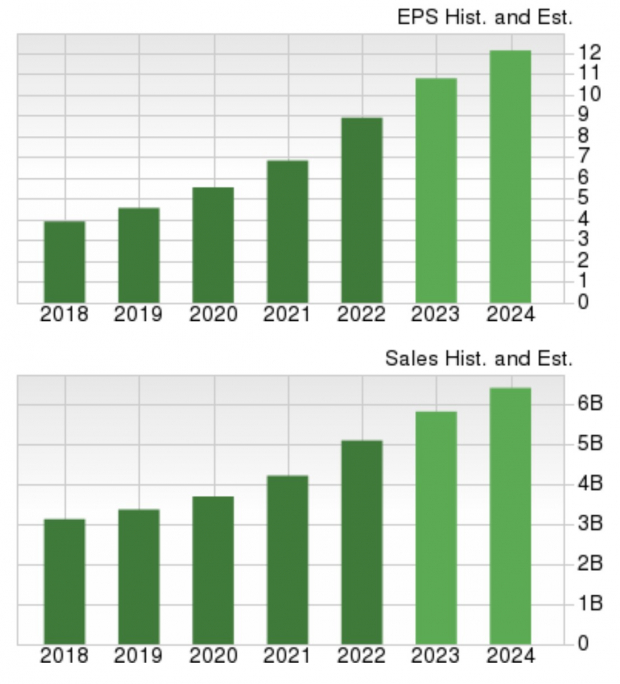 Image Source: Zacks Investment Research
Synopsys stock also just broke out from a compelling long-term technical chart pattern. After building out a bull flag over the last four months, SNPS price has pushed above the upper bound $465 level and made a new all-time high. If the stock can close above that level this week, it should continue higher.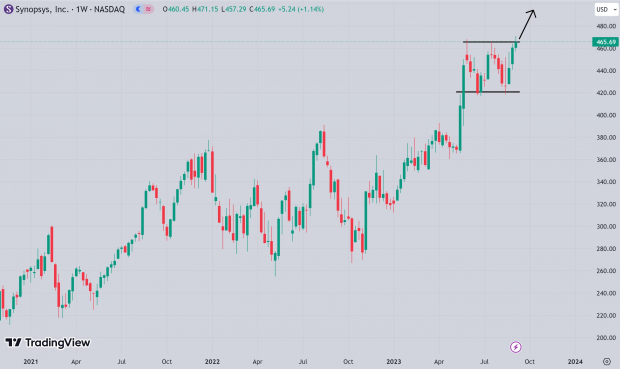 Image Source: TradingView
MercadoLibre
MercadoLibre is a prominent e-commerce and online marketplace company serving Latin America. Founded in 1999 and often referred to as the "Amazon of Latin America," MercadoLibre offers a platform for individuals and businesses to buy and sell products across various categories, including electronics, fashion, home goods, and more. Beyond e-commerce, the company also provides digital payment solutions, financial services, and advertising capabilities.
MELI has really impressive growth forecasts for both the top and bottom line. Over the next 3-5 years earnings are projected to grow 46.8% annually, while sales are expected to grow by 32% this year and 24% next year.
Reflecting its Zacks Rank #1 (Strong Buy) rating, MELI has experienced some strong earnings estimate revisions. Current quarter earnings estimate have been increased by 26% over the last two months and FY23 earnings estimates have been boosted by 21% over the same period.


Image Source: Zacks Investment Research
Just last week, MELI broke out and closed above a long-term consolidation. Now that the stock is back above the $1365 level, which has been resistance for nearly two years, the trend is clearly higher, and momentum is in its favor.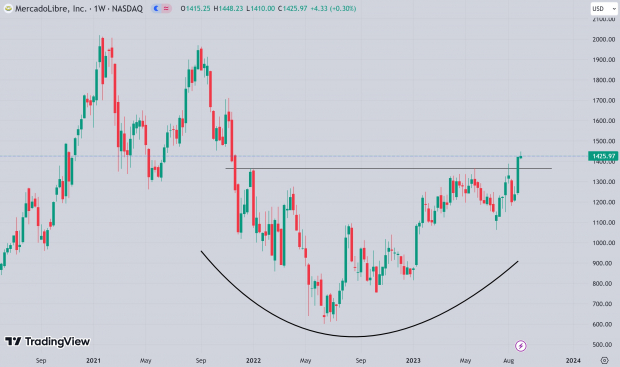 Image Source: TradingView
Bottom Line
While it is always important to focus on mitigating risk, investors should make sure not to become too myopically focused on near term stock market expectations. Investing with a long-term orientation can often bear the best success and allows investors to slow down and ignore most of the noise.
In the end, stock portfolios mostly reflect the returns of the businesses that make them up. So, if you focus on buying and owning stocks that continuously grow sales and earnings it is hard to go wrong.
This article was originally published on this site