This article was originally published on this site
There is no doubt that small caps stole the show last week. What with the Russell 2000 soaring to new all-time highs and all. But don't let a little muscle-flexing by the little guys overshadow the fact that many sectors are bullish.
Tech stocks, in particular, remain in an uptrend and made a nice comeback late last week. An aggressive bout of profit-taking had taken the tech-heavy Nasdaq below its 50-day moving average last Monday, on heavy volume to boot.
But the breakdown was a ruse.
One born of trickery by the market gods designed to shake weak hands out of the space.
And now, with the nervous-nellies regretfully sitting on the sidelines, the Nasdaq is making a comeback.
Accumulation accompanied Friday's surge suggesting institutions are diving headfirst back into the waters.
The PowerShares QQQ Trust, Series 1 (ETF) (NASDAQ:QQQ) was able to reclaim the high ground above both its 50-day and 20-day moving averages.
That leaves QQQ within striking distance of record highs once more.
With the rebound bringing fresh greenbacks into the space, there's no time like the present to target the top tech stocks that are ready to pop. Here are three such beauties ready to reward buyers:
Tech Stocks to Buy: Square Inc (SQ)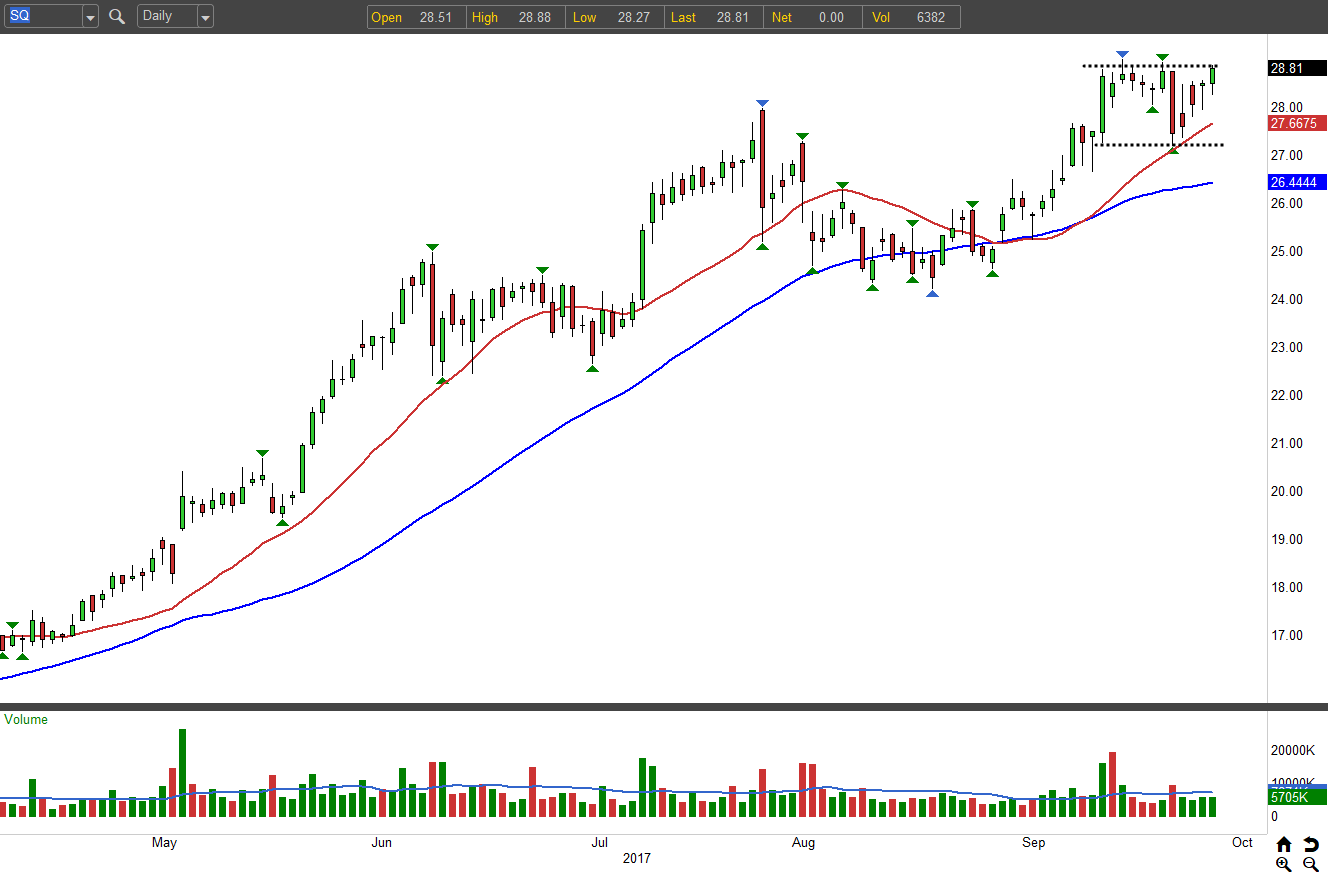 Source: OptionsAnalytix
We begin with the red-hot mobile payment company, Square Inc (NYSE:SQ). SQ is enjoying what can only be described as a banner year. The stock has more than doubled in 2017 and boasts one of the strongest uptrends on the Street. Even when it looked like sellers had finally sunk their teeth into Square last Monday, buyers returned with a vengeance.
And with Friday's pop, SQ stock now sits a stone's throw from all-time highs. The past few weeks of chopping is creating a nice base to launch from. The level to watch is $29. If buyers muster the strength to breach that zone, then watch out above!
To capitalize on the eventual breakout, sell the Nov $26 put for 80 cents. This sets up a high probability of profit that will deliver if SQ can simply remain above $26. The max reward is 80 cents. If the stock tumbles, you will be required to buy 100 shares per contract sold at a cost basis of $25.20.
Tech Stocks to Buy: PayPal Holdings Inc (PYPL)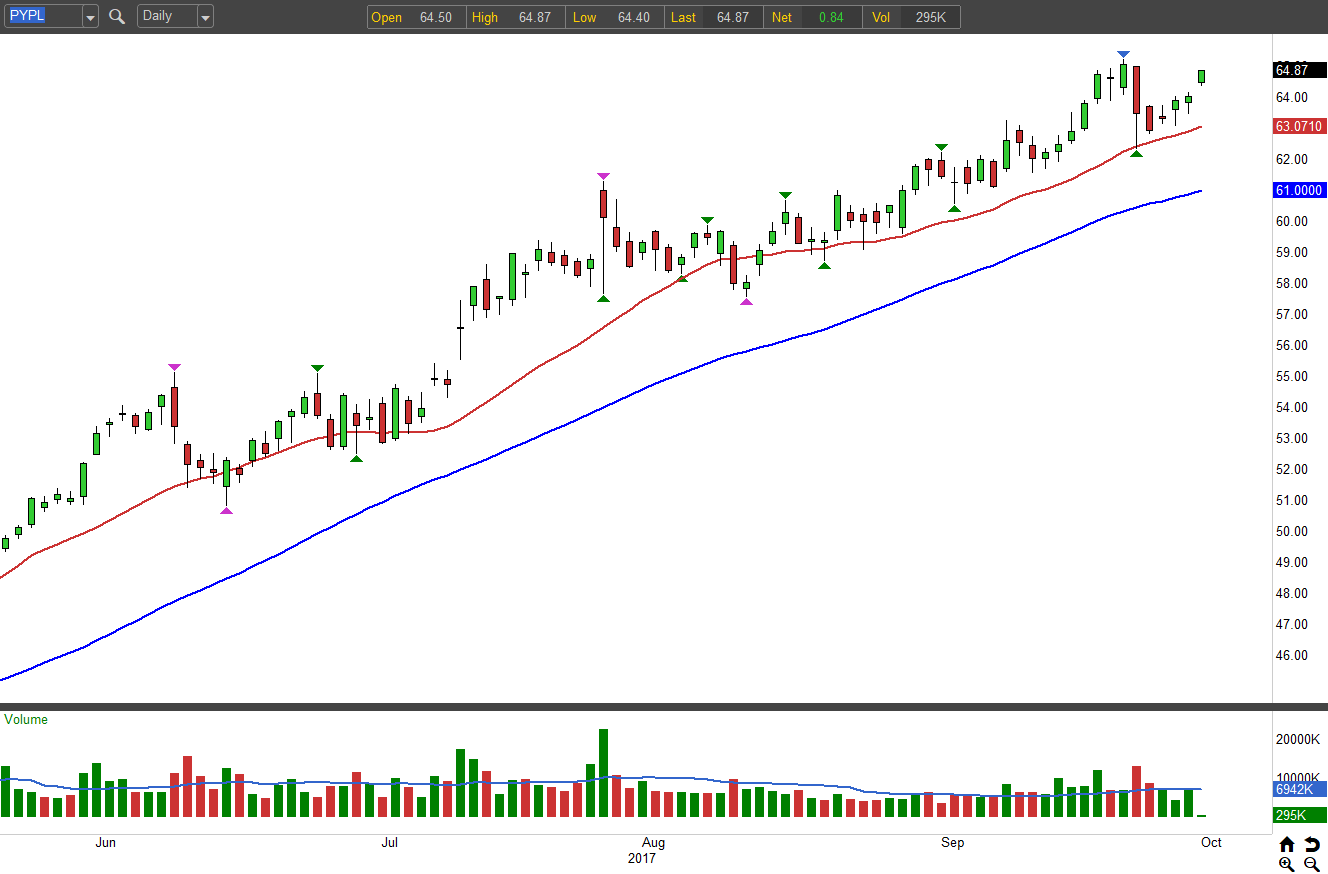 Source: OptionsAnalytix
PayPal Holdings Inc (NASDAQ:PYPL) and Square In have been birds of a like feather. Their stock prices boast a high correlation with one never straying far from the other. Like its predecessor, PYPL suffered a large distribution day last Monday which has since been gobbled up by buyers.
The rising 20-day moving average proved no match for sellers and halted their selling sortie dead in its tracks.
With the late-week recovery, it appears PayPal shares are ready to resume their uptrend. Look for the previous high near $65.24 to be tested in the coming days.
PYPL stock carries a high implied volatility rank suggesting option selling strategies are the way to go here. If you're willing to wager the stock remains above $60 by November expiration, then sell the Nov $60 put for $1.
3 Tech Stocks to Buy: Salesforce.com, Inc. (CRM)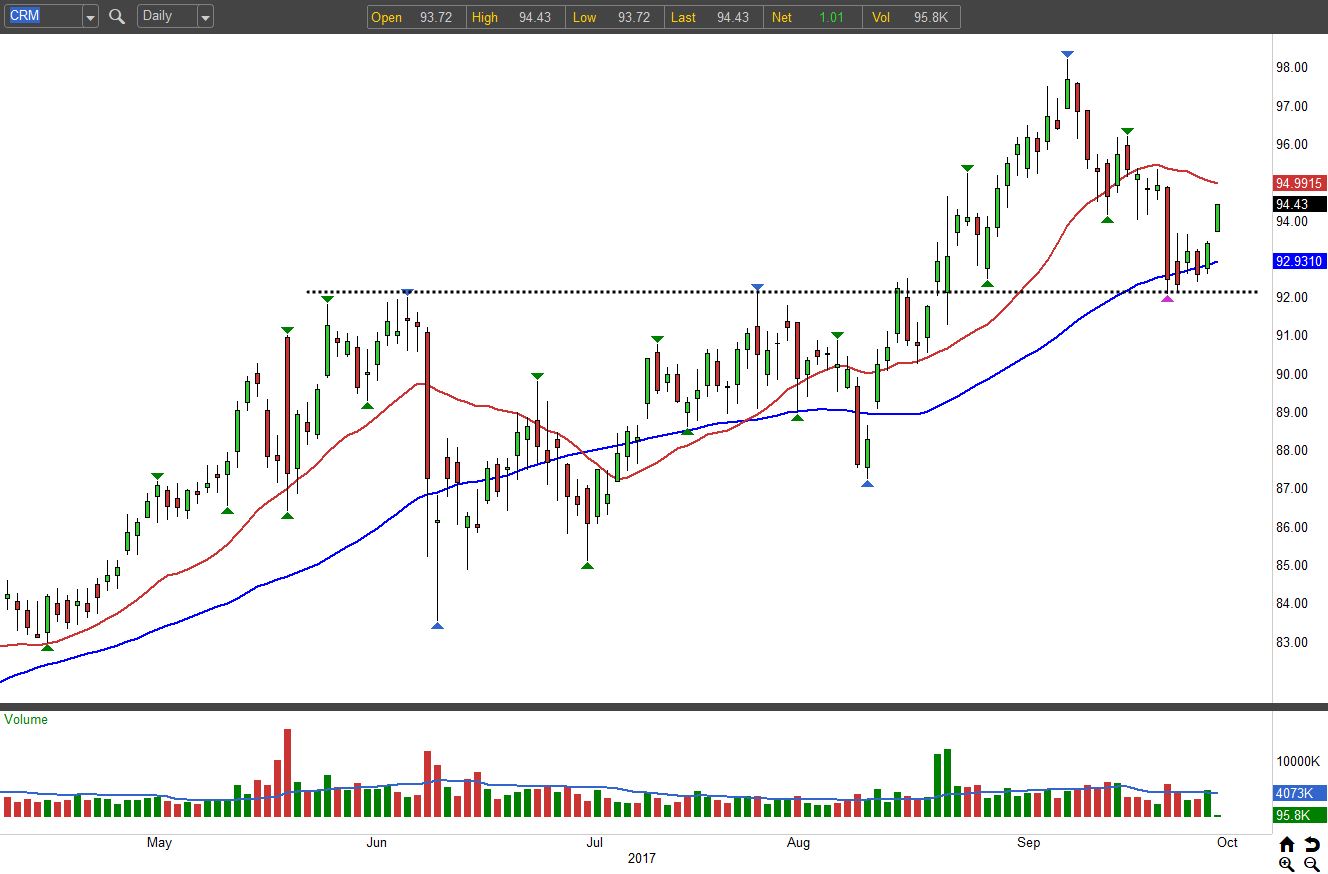 Source: OptionsAnalytix
The final piece of today's trio is Salesforce.com, inc. (NYSE:CRM). Unlike its predecessors, CRM gifted spectators with a deeper pullback in recent weeks. The depth of the downturn ushered CRM to significant support in the form of the 50-day moving average and a pivotal prior resistance zone. With the weekly trend still pointing higher, this dip can only be viewed as a buying opportunity.
And with Friday's pop, it appears the bulls are beginning to run. CRM has the lowest implied volatility rank of all three of today's picks. At 27%, it's low enough to consider long option plays. Buying the Nov $92.50 call for $4.10 offers unlimited upside for the next 46 days. To minimize the damage if the stock
To minimize the damage if the stock sours, exit on a break below the $92 support level.
— Tyler Craig