3 Tech Stocks Up More than Apple, Facebook, and Google
This article was originally published on this site
Perhaps the most exciting segment of the Singularity for me is the Industrial Internet of Things (IIoT), which will change forever how things are made. It's the reason some are calling it the Fourth Industrial Revolution.
I've written often about two of the main sectors contained in the IIoT. The first is cobots or collaborative robots that will work together with humans in manufacturing. The second is additive manufacturing, which is also known as 3D printing because it involves building objects layer by layer out of substances such as metals or polymers.
But I've barely touched upon a third area – digital twins. Let me now fill you on this and point to a few companies heavily involved in the use of digital twins.
What Is a Digital Twin?
A digital twin is a virtual copy of a real machine or system. It is sometimes described as a bridge between the physical and digital worlds. These virtual models are built up based on many gigabytes and terabytes of sensor data. It is an outgrowth today of much cheaper and better sensors, data transmission and data analytics.
In simplest terms, a digital twin works on a simulation platform connected to a predictive analytics platform and which gathers data from a range of sensors from a wide scope of devices/machines and then analyzes the data.
However, a digital twin is not exactly a new concept. NASA developed the concept of a digital twin for its space shuttle program.
Here is a basic example of the usefulness of digital twins: In the past, car companies would build prototypes and then crash them to see whether the cars would hold up to real world situations. Now with digital twins, car companies can use CAD (computer-aided design) data and simulate crashes to see how well their car design will hold up.
Of course, the uses for digital twins extend far beyond cars. It includes oil rigs, jet engines, wind turbines, power plants and pretty much anything worth monitoring.
The value of digital twins to companies is obvious. It offers them numerous advantages throughout the entire lifecycle – from product design, production planning and engineering, to commissioning, operation, servicing and modernization of plant systems and equipment.
Virtual twins allow companies to validate designs earlier and test the configuration of a machine or product or system in the virtual environment. By carrying out checks earlier in the engineering process, the risk of failures and errors in critical phases of the lifecycle, for example during commissioning, is reduced. Eliminating such risks would otherwise only be possible with great effort, cost and time.
Any subsequent modifications can be tested and verified in exactly the same way, accelerating the introduction of a new product. Furthermore, with the help of these virtual models, the operating data can also be used to optimize parameters for production such as energy consumption.
Digital Twin Market Potential
As you can imagine, the potential for virtual twins is vast. According to the German Association for Information Technology, Telecommunications and New Media, every digital twin in the manufacturing industry will have an economic potential of more than 78 billion euros (over $90 billion) by 2025.
A report from TechSci Research says that the digital twin market is expected to grow at a compound annual growth rate (CAGR) of 37% during the forecast period 2017 through 2022. The report points to high demand from the electronics and electrical/machine manufacturing industry as the main driver behind this high growth rate.
Not surprisingly with any rather new technology, the growth geographically is coming from the Asia Pacific region. The firm Research and Markets says that region led the way in 2016 in the overall digital twin market and is expected to continue leading in the 2017 to 2023 period.
This kind of growth rate is what you should look for in an investment and is similar to what I've seen in the robotics sector.
Digital Twins Investments
So how can you invest into this exciting new part of the Industrial Internet of Things?
There are a number of very large companies involved in the space including tech giants Microsoft (Nasdaq: MSFT)and Oracle (NYSE: ORCL) as well as industrial powerhouses General Electric (NYSE: GE) and Siemens (OTC: SIEGY).
But instead of these large companies, I prefer the smaller software companies that are involved with CAD design modeling. Here are three companies to consider.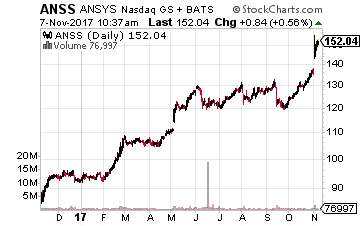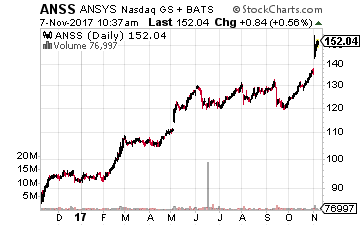 Living in western Pennsylvania, the company at the top of my list is from the area – ANSYS (Nasdaq: ANSS). It is a dominant player in the high-end design simulation software market and is used by most of the well-known manufacturing companies.
The company generates revenues in two areas – software licenses (57.5% of 2016 revenues) and maintenance and services (42.5%). Revenues in 2016 were about $988 million. I expect revenues to climb significantly in the years ahead as the company expands its simulation solutions to areas like 5G  telecommunications product designs, autonomous vehicles and ADAS systems, as well as the Industrial Internet of Things.
Its stock spiked 10% last week on the back of a great earnings report. It also recently closed a three-year contract worth over $45 million, which was the largest in the company's history. The stock is now up 60% year-to-date and 77% over the past 12 months.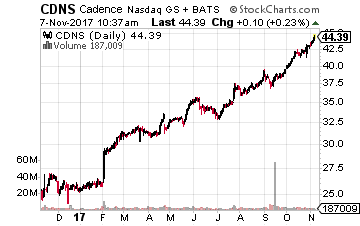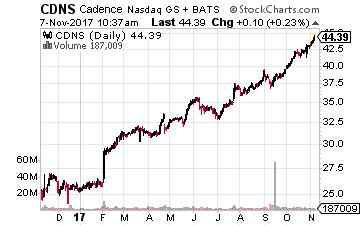 The second company is Cadence Design Systems (Nasdaq: CDNS). Over 90% of its revenue is recurring, which is outstanding.
In addition to IIoT, it is also involved other fast-growing sectors such as aerospace, autonomous vehicles and augmented and virtual reality (AR/VR). It has won orders from Infineon and MobilEye who are developing advanced driver assistance systems (ADAS) technologies. However, its core currently remains the semiconductor market and the design of integrated circuits.
The stock's performance has been stellar with a gain of 75% year-to-date and 77% over the past year.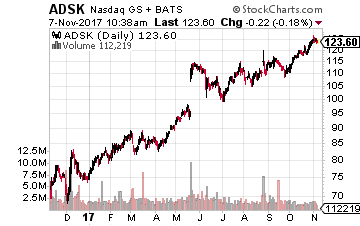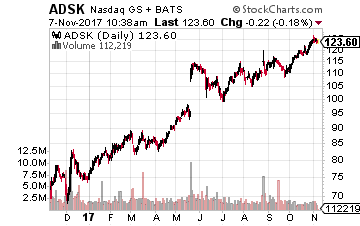 The final company is Autodesk (Nasdaq: ADSK), which generated over $2 billion in revenues in fiscal 2017. It serves customers in architecture, engineering and construction, manufacturing, and digital media and entertainment.
The company's business transition from licenses to cloud-based services should benefit it over the long-term through higher subscriptions and deferred revenues. Its management forecasts long-term CAGR of 20% from subscriptions that will lead to 24% CAGR in recurring revenues.
That forecast along with its results have propelled the stock 68% higher year-to-date and nearly 80% over the past year. One caution though – on a non-GAAP basis, it is still losing money.
I do expect though all three of these companies' stocks to continue outperforming the general market.
A historic event the World Economic Forum predicts will create more wealth in the next 7 years than in the entire history of civilization combined.
But only small group of fast acting investors will accelerate their wealth by 3,000%.