7 'Strong Buy' Stocks Bloggers Are Raving About
This article was originally published on this site
Like me, I'm sure many of you already follow the 'strong buy' recommendations of analysts that receive a lot of attention, analysts that work for leading financial institutions such as Goldman Sachs, Deutsche Bank and Credit Suisse (to name but a few). But there is a completely different group of financial experts who are also capable of delivering robust returns for investors — financial bloggers. So which stocks are bloggers raving about right now?
Here, I combine the wisdom of both financial bloggers and the Street to find 7 top stocks. I used the nifty TipRanks Stock Screener to scan for stocks which have a Very Bullish sentiment from top bloggers and a Strong Buy consensus rating from top analysts. These are the best-performing analysts who consistently outperform the market based on their success rate and average return per rating. You can track these analysts to ensure you are basing crucial investing decisions on analysts who tend to get it right.
From the list generated by these criteria, I picked these 7 compelling 'Strong Buy' stocks. Now let's dig down into just why these top stocks are so popular with online bloggers right now:
Strong Buy Stock: Microsoft (MSFT)
Microsoft Corporation (NASDAQ:MSFT) has no shortage of supporters right now. And two of the most recent bullish blogger pieces highlight a crucial element of the MSFT story for investors — dividends. Did you know that Microsoft has managed to grow its dividend by 225% in just eight years? Top blogger Valuentum Securities Inc. even wonders if MSFT is setting itself up as a future Dividend Aristocrat. This is the name given to an elite handful of companies that have raised their dividends consecutively for over 25 years.
MSFT's dividend prowess comes from the fact that this is one of the most cash-rich companies around. Right now the company is sitting on a stupendous cash pile of around $135 billion. These cash flows are partly generated by the extreme success of MSFT's Azure cloud platform. Top blogger InvestorPlace's Aaron Levitt praises Microsoft's renaissance as a cloud company under the leadership of CEO Satya Nadella. He points out that in the last quarter Azure grew 90% year-over-year.
Five-star KeyBanc analyst Brent Bracelin agrees. He picks MSFT as one of his favorite cloud platforms to own in software as:
"The combination of Office 365, Azure and Dynamics 365 not only makes Microsoft the largest cloud platform in the world, but also ranks it as one of the fastest-growing among its Cloud Titan peers."
Bracelin — one of the Top 50 analysts on TipRanks — reiterates his Buy rating with a $110 price target.
Strong Buy Stock: Alcoa (AA)
High-flying aluminum stock Alcoa Corporation (NYSE:AA) is a great buy right now. The stock has the seal of approval from both bloggers and the Street. Indeed we can see that blogger sentiment is 100% bullish with positive articles from publications across the board.
This upbeat mood comes on the back of the company's stellar Q1 earnings results and guidance. For the quarter, AA announced profit of 77 cents per share and revenue of $3.09 billion. These figures easily exceeded consensus expectations of 70 cents and $3.08 billion respectively. Berenberg Bank explains in its mining report: "The confluence of current events (trade actions, sanctions and supply disruptions) has created highly favorable trading environments for Alcoa."
Encouragingly, top blogger IP.com's James Brumley believes that "things could get even better for Alcoa as the year progresses."  The company is projecting a full-year 2018 global deficit for both alumina and aluminum.
In the recent earnings call, AA revealed that: "Due to delays in projects to expand smelters in China, the Company expects the global aluminum deficit to grow to between 600,000 – 1 million metric tons, up from last quarter's deficit estimate of between 300,000 – 700,000 metric tons." Meanwhile global aluminum demand is due to rise 4.25 to 5.25%.
And this tightening aluminum market further strengthens AA's pricing power. As a result, management has upgraded 2018 guidance and signaled their intention to return cash to shareholders in Q2.
Strong Buy Stock: XPO Logistics (XPO)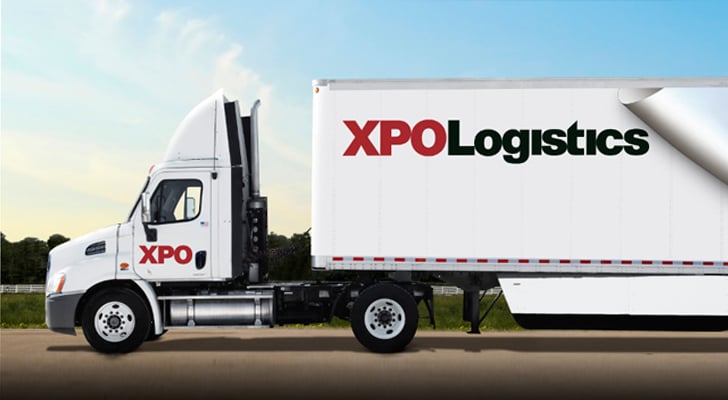 Bloggers are raving over transportation hot stock XPO Logistics Inc (NYSE:XPO) right now. And with good reason. With over 95,000 employees, the company is an industry leader in both transportation and logistics. But it is the company's 'rock solid' business that is really getting commentators excited.
Leo Nelissen notes that revenue is growing at a CAGR of 87% since 2014 while EBITA is growing at 157%. These figures are through the roof. He calls the stock a "real winner" (Editor's note: source is behind a paywall) due to its massive growth spurt across the US and Europe. In fact XPO has huge expansion potential in Europe where it has its eye on the $455 billion European transport segment. Already XPO is the largest provider of truck brokerage and largest owned fleet in Europe.
From a Street perspective, we can also see that XPO boasts 100% buy ratings from best-performing analysts. In the last three months, six top analysts have published buy ratings on the stock. Meanwhile their average price target of $113 indicates just over 8% upside potential from the current share price.
Top Oppenheimer analyst Scott Schneeberger is more bullish than consensus. He sees shares spiking 14% and explains that XPO won $2.8B (annualized revenue) of new business in 2017 with a global pipeline of $3.2B. "Pairing strong business conditions/ the 2017 new business wins, we anticipate high-single digit organic revenue growth in 1Q18, which could persist over the balance of 2018" concludes Schneeberger.
Strong Buy Stock: Applied Materials (AMAT)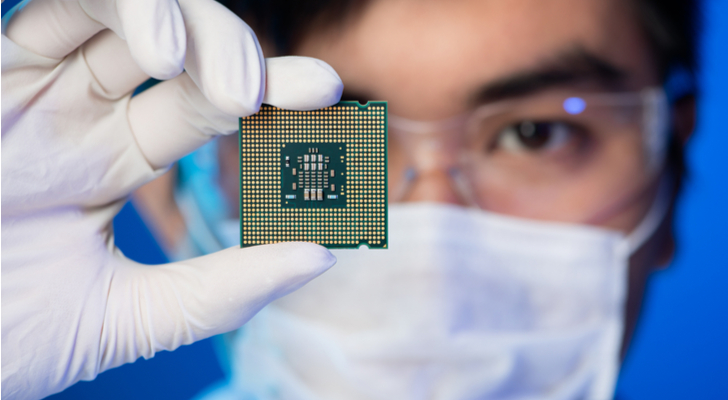 This semiconductor stock may be a controversial choice right now but as far as bloggers are concerned, it's full steam ahead. Share prices in Applied Materials, Inc. (NASDAQ:AMAT) are down from close to $58 on April 17 to just above $51. Weighing on the semiconductor space is China's plan to boost domestic chip production as part of its ongoing trade tussle with the US.
However, the subsequent pullback in prices has been described as a 'kneejerk' reaction by bloggers. Crucially, as blogger Joseph Hargett points out, Chinese semiconductor firms are far behind their US, Japanese and European rivals. "In other words, competition from Chinese chip makers isn't coming anytime soon, making yesterday's selloff rather premature," states Hargett.
Plus with prices at these levels, the Street is now predicting considerable upside potential of over 42%. This would take shares to over $72. Nine analysts have published buy ratings on AMAT recently — so no hold or sell ratings here. Analysts are confident that demand for DRAM chips remains favorable with "upward memory spending pressure."
One of these analysts is TipRanks' Number 2 analyst, Craig Ellis from B.Riley FBR. He recently reiterated his AMAT buy rating with a $77 price target. "We believe AMAT's +100% dividend boost and $6.0B share buyback hike to $8.8B exemplify confidence in fundamentals sustainability and growth execution," writes Ellis.
Strong Buy Stock: Align Technology (ALGN)
Global medical device company Align Technology, Inc. (NASDAQ:ALGN) wins the award of top-performing S&P 500 stock in 2017. Shares shot up in the year from $96 to $223 during the year. The company is pioneering a new wave of teeth straightening technology with its popular 'clear aligners.' So say goodbye to the high school movie makeover, because this is fast becoming an increasingly feasible alternative to traditional braces.
"We've seen a maturation of Invisalign's clear aligners over the past decade," explains Robert W Baird analyst Jeff Johnson. "They went from a product that was passable for some patients but not good for all back in 2011, to a product that by mid-2016, had orthodontists saying 'I can use this technology in most cases.'"
Luckily for investors it seems like Align's growth spurt is only just beginning. Top-ranked blogger Keith Speights believes Align has the power to double again over the next couple of years. First of all — even with the rapid uptake — the company still only accounts for 11% of the global orthodontics market. This means its expansion potential is huge. And at the same time, aligners are currently usable in only 65% of teeth misalignment cases. Align wants to take this figure to 80%.
The stock is also a top pick from the Street. Note that Goldman Sachs has also just selected Align as one of its 30 buy-rated high dispersion stocks. This means that it boasts "micro driven, idiosyncratic returns" not dictated by the general market forces. Good news when the market is as choppy and unpredictable as it is right now.
Strong Buy Stock: Home Depot (HD)
Home Depot Inc (NYSE:HD) is a key beneficiary of the housing market upswing. A recent report by CoreLogic reveals that US house prices are peaking again. The average home price is now 1% higher than it was in 2006, the report said — with the greatest improvement in West Coast states.
According to TipRanks, this home improvement chain store boasts a 91% bullish blogger rating right now. This works out way more bullish than the average services sector stock. Indeed, just a couple of days ago, five-star blogger Valuentum Securities Inc. described Home Depot as 'building for the long haul.' The financial blogger continued:
"We find Home Depot's comparable store sales numbers highly impressive, but we find its return on invested capital (ROIC) targets downright amazing." Indeed, its targeted ROIC stands at a very impressive 40%.
Meanwhile Morgan Stanley's Simeon Gutman sees the stock spiking a further 19%. He is betting on the stock following 'reassuring' meetings with Home Depot management. Gutman told clients:
"Our meetings reinforced several strengths of the story: a favorable macro backdrop, an ability to take market share through differentiation, investing for the future, and organizational cohesion that increases productivity and efficiency while minimizing execution risk."
Strong Buy Stock: Booking Holdings (BKNG)
Last, but by no means least, we have this extremely promising online travel company. Andres Cardenal is one of the Top 100 bloggers out of over 6,400 tracked by TipRanks. On April 10 he sets out why he is such a fan of the Booking Holdings Inc. (NASDAQ:BKNG) — formerly known as Priceline.com. I particularly like this point "the company makes massive amounts of money." (Editor's Note: Paywall)
This is borne out by the facts — Booking was making $1.88 billion in revenue in 2008, fast forward ten years, and the Street is looking for $14.18 billion in revenue this year.
In fact, Booking has just disclosed a total of 28MM listings on its platform, of which 5.2MM listings are Alternative Accommodations. As a result, Booking now exceeds Airbnb's ~4.85MM, to become the leading supplier of alternative accommodations. This trend is set to continue according to Mizuho Securities James Lee. He has recently initiated BKNG with a buy rating.
Even though the stock is already trading at $2,140 he sees big upside potential of 20%. This means we are looking at prices around the $2,600 mark. Lee believes Booking will continue to gain "disproportional" market share due to its "industry-leading expertise" in performance marketing. In fact, out of the 16 recent analyst ratings on the stock, 13 are bullish with only 3 analysts staying on the sidelines.