Add These 2 Stocks to Your Portfolio
This article was originally published on this site
2017 will likely be remembered by investors as the year of the big rally in technology stocks. Unlike 1999, this year's gains were powered by more than hype. As I've written a number of times, earnings for these firms have been fabulous.
In the third quarter of 2017, S&P technology companies had an earnings growth rate of about 21%. That kept the sector's P/E ratio in the 20 range. Quite a contrast from early 2000 when it the forward price-to-earnings ratio for tech stocks was a whopping 52.
An even bigger story for 2017 was how the tech rally went global and how all the global tech giants became even bigger. Overall, tech stocks globally are up about on average about 42% year-to-date. That is roughly double the gain for the broad-based MSCI AC World Index.
Global Tech Stock Rally
And here's an even more amazing number for you to contemplate… as of the day before Thanksgiving, just eight companies had gained an incredible $1.4 trillion in market capitalization in 2017. That was likely on the back of investor expectations that the big will only get bigger thanks to their huge user base, large cash piles and access to data on consumers.
Here is the list of these eight companies, starting with five American names you'll recognize:
Apple (Nasdaq: AAPL)
Amazon (Nasdaq: AMZN)
Netflix (Nasdaq: NFLX)
Alphabet (Nasdaq: GOOG)
Facebook (Nasdaq: FB)
…along with the three Chinese tech powerhouses:
Alibaba (NYSE: BABA)
Tencent (OTC: TCEHY)
Baidu (Nasdaq: BIDU)
Of the top 10 companies globally by market capitalization, the first seven are all very familiar technology names – Apple, Alphabet, Microsoft (Nasdaq: MSFT), Amazon, Facebook, Tencent and Alibaba.


No real surprises here. But here is something that may surprise you. . . . .
China Tops the U.S.
That is the fact that the top Chinese tech stocks have easily outpaced the FAANG stocks in 2017. I brought these stocks to readers' attention earlier in an article on the so-called BAT stocks – Baidu, Alibaba and Tencent.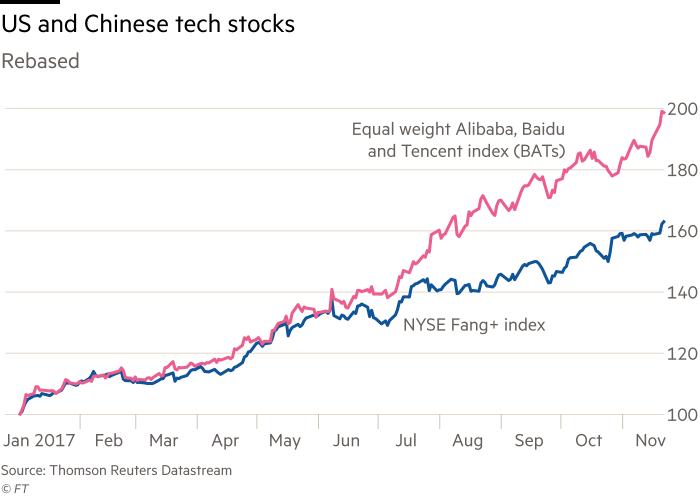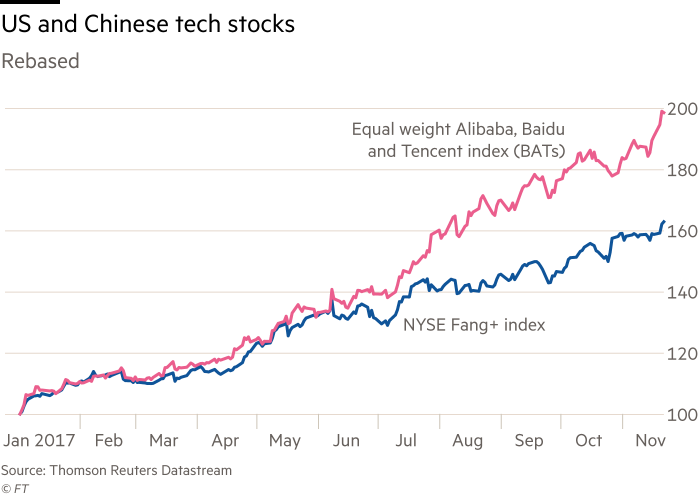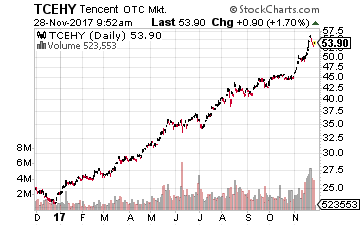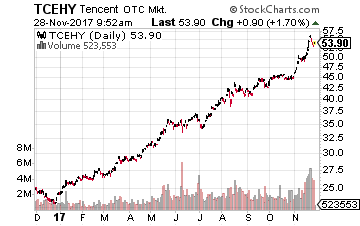 This differential came to the fore last week when, at least temporarily, Tencent surpassed Facebook in market capitalization. It became the first of the Chinese tech titans to surpass $500 billion in valuation. It temporarily pushed Facebook out of the top 5 globally in market cap.
Tencent (up 121% in 2017) is a fitting champion for what China is becoming in the 21st century. Its services are ubiquitous in China with more than half of the 980 million users of its WeChat platform spending over 90 minutes daily on the app chatting, playing games, listening to music, paying bills, ordering food, etc. Its QQ social network platform also has about 900 million users.
However, Tencent gets two-thirds of its $32 billion in annual revenue from gaming, with hit games like Honour of Kings 'printing' money for Tencent. People download games, buy add-ons like virtual weapons and sign up for digital media options like its YouTube-like video service.   
Not far behind Tencent is Alibaba, which is up 118% year-to-date and has a market cap of nearly $490 billion. The e-commerce giant will most likely become a member of the exclusive $500 billion club very soon.
And while the U.S. financial media went gaga this week over Black Friday and Cyber Monday, the financial press around the world is still talking about the world's largest online shopping day – Singles' Day in China.
Back in 2009, Alibaba started the Singles' Day sales event and it has grown to enormous proportions, benefiting chiefly Alibaba. This year it set another record, with $25.3 billion in sales (a 39% increase from a record 2016) for one day! In a side note, 90% of these sales were conducted via a mobile phone.
Both Alibaba and Tencent dominate another red-hot area of growth in China – e-payments. Stocks here in the U.S., such as Square and Paypal, have soared this year on the back of the move toward e-payments. But in China, the e-payments sector is like Square's and Paypal's growth on steroids. China is the world leader with volumes in 2016 rising nearly fivefold to $8.8 trillion, according to iResearch.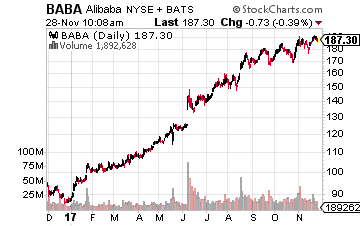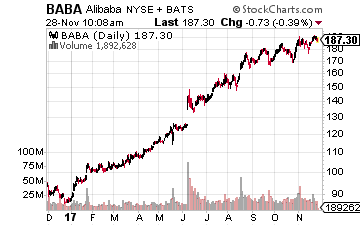 Currently, Alibaba is number one in the sector, as its Alipay unit has a 54% market share. But Tencent's WeChatPay is closing fast with a 40% market share.
The story holds true in the digital advertising space as Alibaba still dominates the sector, with Tencent steadily closing the gap. By 2019, Tencent's ad revenues are forecast to hit $11.4 billion, which would be a 15% share of the digital ad space in China.
Don't Be Afraid
I am happy to say that I've owned both of these stocks for a while. And you should not be afraid to own them just because they're Chinese companies. Here's why…
First off, the Chinese government has specifically stated it wants technology champions that are recognized globally. So while the government may poke its nose into corporate business once in a while, it's not about to kill these two golden geese.
More importantly though is the growth of China's middle class, which is doing most of the consuming and generation of revenues for both Tencent and Alibaba.
According to a study by the consultancy McKinsey & Co. 76% of China's urban population (currently 750 million) will be considered middle class by 2022. In 2000, only 4% of that population was considered middle class. That translates to 550 million people, which would be the world's third most-populous country.
China's consumer economy is forecast to grow by 55% by the end of the decade to $6.5 trillion. That would be an increase of $2.3 trillion or the equivalent of 1.3 times the current German consumer market.
With these sort of economic tailwinds – and the sheer numbers working for you (China is so much larger than the U.S.) – both Alibaba and Tencent should continue their winning ways into 2018.
Tony Daltorio owns shares of Alibaba and Tencent in his personal portfolio because he sees how this new wave of technology merged with a growing consumer base can profit individual investors. Tony's recently completed extensive research on the coming transformation of technology, commerce, government, education, employment, housing, even what we'll eat in the very near future. It's called The Singularity and it threatens to disrupt those who don't adapt and to enrich those who do. The report is currently free for viewing. Click here for more.