Buy This Robotics Stock Before the Machines Take Over
This article was originally published on this site
In order to survive in the 21st century, companies are demanding greater speed and efficiencies in their processes and robots are ever increasingly the answer. That's why robot armies are spreading throughout factories and warehouses around the world as automation transforms an ever widening number of industries.
Global sales of industrial robots rose by 18% to a record $13.1 billion (1.828 million units) in 2016, according to the International Federation of Robotics (IFR). The IFR forecasts the number of units will jump to 3.053 million units by 2020, transforming many manufacturing operations into 'factories of the future'.
Many of these robots will be ones that can work safely alongside humans. These are known as collaborative robots, or cobots. As components become ever smaller and complex, these type of robots can perform vital functions as they can handle the intricacies of manufacturing in ways humans cannot.  Or mundane tasks, such as filling your favorite box of chocolates with individual candies.
Crucial to these type of robotics systems is the rapid advancements being made in software, sensors and robotic vision systems. This looks to be the richest seam to mine when investing in the robotics sector. The IFR estimates this is already a $40 billion market.
Most important among these is robotic vision systems. These vision recognition systems, coupled with artificial intelligence and cameras, allow robots to not only identify objects, but to learn from experience to improve their performance over time.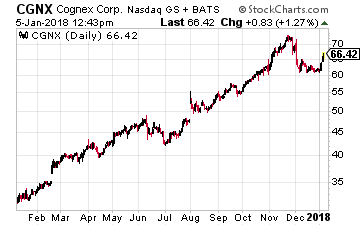 Foremost in this sector is Cognex (Nasdaq: CGNX), which is the leader globally in providing vision systems, vision software, vision sensors and industrial ID readers. It sells its vision systems to most of the big players in the industrial robotics industry including ABB, Yaskawa Electric and Germany's Kuka AG. The only exception is Fanuc, which makes its own vision systems. This translates to Cognex having a 30% share of the vision systems market.
Its business is quite profitable, with Cognex enjoying nearly 80% gross profit margins. And with much of the growth in robotics overseas, it is not surprising that 45% of its 2016 revenues came from Europe. Another 30% came from the Americas and 25% from Asia. The Greater China region – the fastest growing region – alone accounted for 12%.
Cognex is expanding rapidly into the fastest-growing segments of industries that are becoming more automated. For example, the logistics sector (warehouses, etc.) accounts for only 10% of Cognex's revenues, but is currently growing at a 50% annual rate.
Another example is 3D vision, which is a necessity for cobots. Here the acquisitions of companies including Germany's EnShape, Spain's AQSense and Colorado-headquartered Chiaro Technologies gave Cognex's products a lot of traction. Its 3D products grew well in excess of 100% in 2016 and that growth should only accelerate going forward.
Industry tailwinds and Cognex's industry-leading position will keep the stock moving higher in 2018.
Cognex is a core holding in the portfolio of my newsletter, Growth Stock Advisor, a growth oriented advisory service for conservative investors and currently sporting a portfolio with 15 winners out of 16 holdings. I say Cognex is a core holding because it's the type of technology that will fundamentally transform everything we do… from where we live to what we buy to how we work each day and even how we retire. It's part of what I call The Singularity, a movement that is rapidly changing everything about us. If you have a couple of minutes check out my new report on The Singularity and specifically on the Internet of Things and how you can be part of a 3,000% profit opportunity happening right now. Click here.