Copper Has 40%-Plus Upside… Starting Today
This article was originally published on this site
Copper just finished one of its largest short-term spikes ever…
The metal is up 18% since late October. And it soared more than 9% in just three days last week.
That has only happened a handful times since 2000. Based on that history, gains of 40%-plus are possible over the next year.
Let me explain…
Gold and silver got the headlines for most of 2016. And for good reason… Both metals have performed well this year.
That hasn't been the case with copper. At least, not until recently.
The metal has moved sideways for much of 2016. But over the past few weeks, it has staged a massive breakout. Take a look…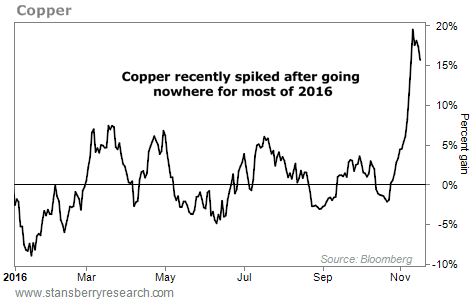 Copper went nowhere for the first 10 months of the year. Now, the metal is up 18% since October 25… and most of those gains came in a flurry last week.
This kind of 9%-plus gain in three days is rare. It has only happened 17 other times since 2000. But history says these extremes tend to happen at the beginning of a major move higher.
The numbers here are a bit crazy. Copper doesn't just outperform after these extremes… It absolutely soars. Take a look…
Simply buying copper would have led to 3.3% six-month gains and 6.7% single-year gains since 2000. But buying after these extremes led to results that were more than six times better…
These 17 extremes led to typical returns of 14.3% in three months… 24.8% in six months… and an incredible 41.9% over the next year.
Even more impressive is that 15 out of the 17 previous extremes led to a positive return over the next year. So copper almost always moves higher a year after these quick spikes.
You could trade this extreme by buying the metal. But we prefer to buy the companies that produce the copper instead…
We own the iShares MSCI Global Metals & Mining Producers Fund (PICK) in ourTrue Wealth newsletter. Shares of PICK are up more than 30% since July… But it's still early in this trade. The shares are still down 50% from their 2012 levels.
Copper – and PICK – deserve a serious look today.