The 3 Best Millennial Stocks to Buy in 2018
This article was originally published on this site
The millennial's favorite trading app, Robinhood, released a list of top 20 user-owned stocks in January, and it instantly revealed three millennial stocks to buy in 2018.
The report shows that "Generation Me" is buying up three of Money Morning Director of Technology & Venture Capital Research Michael A. Robinson's favorite tech stocks…
Robinson is a 34-year Silicon Valley veteran and one of the top technology financial analysts working today.
His work as a consultant, senior advisor, and board member for Silicon Valley venture capital firms has placed him at the center of several major tech innovations.
And even though millennials are some of the newest investors in the market, some younger traders are following Robinson's five rules of investing and making market-beating gains along the way.
Robinson's five rules are:
Find companies with great operations
Separate the signals from the noise
Ride the Unstoppable Trends
Focus on growth
Target stocks that can double
Just look at the some of the projections for these stocks in the next 12 months and beyond:
Millennial-favorite stock No. 3: 29.31%
Millennial-favorite stock No. 2: 42.35%
Millennial-favorite stock No. 1: 54.36%
And these are millennial stocks with staying power – ones you could buy and hold for years or even decades at a time.
For the first millennial-favorite stock on the list, it could climb by nearly 30% in the next 12 months, and that could just be a conservative estimate…
Millennial Stocks to Buy, No. 3: Microsoft
Microsoft Corp. (Nasdaq: MSFT) was the seventh-most-owned stock by Robinhood users, and Microsoft is one of Robinson's favorite way to play the booming $6.7 billion legal North American marijuana industry.
In the summer of 2016, Microsoft invested in Kind Financial, a maker of software that helps state and local governments track the cannabis business.
"Just about everyone I talk with in the California cannabis community praises Microsoft for this crucial piece of technology, which will help legal marijuana companies grow by making sure buyers and sellers comply with rules and regulations," Robinson said.
And Microsoft has much more to offer than just software for the cannabis industry…
"Microsoft gives us a lot of balance from its Office products, its moves into artificial intelligence and augmented reality, and the growth in its overall cloud computing unit," said Robinson.
Like Robinson, Piper Jaffray analysts are also very bullish on the MSFT stock price…
Over the next 12 months, Piper Jaffray projects that the MSFT stock price will climb to $115 per share. From [yesterday's] opening price of $88.93, that's a potential profit of 29.3%.
Millennial Stocks to Buy, No. 2: Facebook
Facebook Inc. (Nasdaq: FB) was No. 5 on the list of top 20 stocks held by Robinhood users, and it's one of Robinson's favorite tech picks for long-term growth.
By 2020, Robinson projects the FB stock price will reach $250 per share.
And some analysts are even more bullish, as Wedbush Securities has a $260 price target for FB stock in the next 12 months.
First, Instagram, the picture app acquired by Facebook in 2012, will see its revenue skyrocket.
In 2016, Facebook generated between $650 and $750 million in revenue from Instagram. In 2021, research site Statista projects Instagram will generate $9.5 billion in revenue.
That's potentially more than 1,000% growth in revenue in just five years.
Second, Facebook will also generate billions in revenue from its virtual reality (VR) company, Oculus VR.
Zuckerberg paid $2 billion for Oculus VR in 2014, but it will soon pay for itself. By 2020, research company Tractica believes $21.8 billion will be generated from sales of VR head-mounted displays, VR content, and VR accessories industry-wide.
Those two catalysts alone could propel Facebook higher.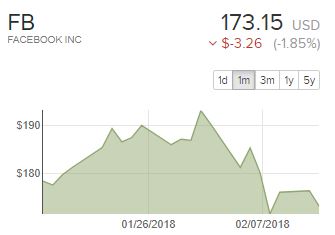 "There is no question in my mind at this point that Facebook will hit $250. The only question is when, and 2020 strikes me as a solid forecast at this point," Robinson told me.
From [yesterday's] opening price of $175.62, that's a potential profit of 42.35%. But that doesn't mean the Facebook stock price would stop climbing after it hits $250.
If there are two things Zuckerberg knows, they're how to scale a business and how to make shareholders a ton of money along the way.
Millennial Stocks to Buy, No. 1: Apple
Apple Inc. (Nasdaq: AAPL) was second on the list of top holdings for Robinhood users.
From 2017 to 2018, the Apple stock price climbed 46.94%, and Robinson expects those gains to continue thanks to Apple bringing its overseas cash hoard back to America.
As of right now, Apple has $250 billion overseas.
But thanks to the Tax Cuts and Jobs Act that U.S. President Donald Trump signed on Dec. 22, 2017, the corporate tax rate will fall from 35% to 21%.
Apple would now clear $210 billion after taxes if it brings that money back home.
Our tech guru said $150 billion will go toward shareholder-friendly programs like buybacks and dividends.
"That's money directly in your pocket," Robinson said.
Because of all the cash coming back and sales for Apple's well-known products, Robinson projects Apple will hit $250 per share in the next 30 months.
From [yesterday's] opening price of $161.95, that's a potential gain of 54.36% by 2021.
"To me, all this makes Apple a 'buy-more-on-the-dips' for current shareholders… and a 'buy-for-the-first-time' for everyone else," Robinson said in his Jan. 29 report.
— Jack Delaney