This Little-Known Israeli Biotech Is Up 468% In 2017
This article was originally published on this site
Israel has long been a powerhouse in medical innovation.
The tiny country of 8.5 million has made some of the most important contributions to the global medical field in the last 50 years.
Today, Israel is unleashing its innovative medical industry on the cannabis industry.
According to a report from Reuters, there are more than 120 clinical cannabis trials in Israel at the beginning of 2017, more than any other country.
Foreign countries and firms are eager to license Israel cannabis medical patents. In the last year outside countries and companies have invested $100 million to license Israeli medical cannabis patents.
That number is expected to grow to more than $1 billion in the next two years – an increase of 1,000%.
Israel is winning in the global cannabis industry for two reasons.
As I mentioned, its economy is geared towards medical research. There are currently more than 1,500 companies in Israel's medical industry.
2nd and even more important, Israel has created a friendly environment for cannabis research. Medical cannabis has been legal in Israel since the early 1990's.
This legal status is important. It means Israeli companies don't have to worry about getting in trouble with the federal government – something US companies still have to worry about.
Now – I want to show you how you can profit from Israel's booming medical cannabis research industry.
This little-known cannabis biotech is up 468% in 2017. But despite those gains, I still see plenty of growth potential.

OWC Pharmaceutical (OTC:OWCP) is an Israeli cannabis biotech.
Shares are traded on US, over-the-counter (OTC) markets under the ticker symbol OWCP. Average daily trading volume is 3.5 million shares – this is a liquid stock that can handle lots of volume.
OWC is an early stage cannabis biotech.
The company has a market cap of just $125 million and reported virtually no revenue in 2016.
But don't worry – no revenue is normal for early stage biotechs. Let me tell you what OWC does have.
OWC is conducting cannabis research and clinical trials and developing proprietary cannabis technology and delivery systems.
The goal for this research is two fold. First, to develop branded drugs and medicine. And secondly, to license its proprietary technology and research to other pharmaceutical and cannabis companies.
I see OWC making progress on both fronts.
For example, OWC is developing a "sublingual soluble tablet" for pain treatment. Sublingual means below the tongue – this would be a cannabis-based pain pill that would be placed under the tongue instead of being smoked. OWC estimates 10 million potential patients in the US.
OWC is also developing a topical Creme for the treatment of psoriasis. OWC estimates this market at 8 million potential patients in the US and Canada.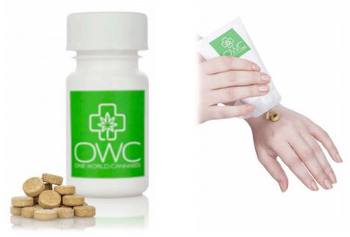 OWC is also working on applications to treat cancer of plasma cells and PTSD (post-traumatic stress disorder).
As of April, 2017 OWC was conducting two clinical trials, developing three delivery systems, including tablets and topical and owned eight patents.
I don't see a mega blockbuster right around the corner. But these are all positive developments that tell me OWC is effectively deploying capital and building a foundation of technology to support future growth.
OWC Has Been On A Wild Ride On The Chart
OWC has been on a wild ride since last fall.
Shares crashed hard last fall before exploding higher in November.
Shares are still up big in 2017 – but are down more than 64% from the all-time high. Take a look below.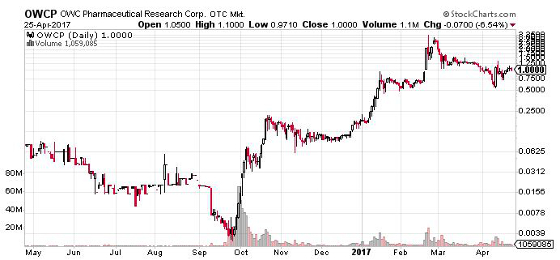 Chart courtesy of StockCharts.com
The Big Picture On OWCP
OWC is a high-risk, high reward cannabis stock. This is a very early stage cannabis biotech. It does not have any commercial products or meaningful revenue. OWC is working hard to develop proprietary cannabis technology to treat a wide range of ailments.
Shares are down big from the all-time high, but still up huge from the low last fall. At the highest level, I see this as an investment in Israeli's strong medical industry. If you own shares, you have to expect and accept major short-term volatility.
To get the latest analysis as soon as it is released, please subscribe to our free weekly newsletter.