3 Stocks That Are Ready to Run
This article was originally published on this site
The list of sectors benefiting from the bull market's latest surge is as varied as it is long. With optimism on the rise, the search for profits is driving money into virtually every stock on the Street.
But do you know who sits atop the list of those who sat the rally out? It's a space where sentiment soured last month while stocks elsewhere were buoyed by boatloads of cash. We're talking gold stocks, or gold miners if you will. It's a space that scored a promising breakout in August, only to drop almost every day in September.
To survey the space, look no further than the Vaneck Vectors Gold Miners ETF (NYSEARCA:GDX), which counts a who's-who of gold miners among its top holdings.
September's slide ushered the fund back to its breakout area in what chart-watchers like to call a retest.
And rather than slipping right back into its trading range of old, buyers swooped in on Friday with a vengeance.
GDX scored a massive, high-volume, bullish candle signaling the time for a comeback in the shiny stuff is nigh.
Check out these three gold stocks that are ready to run.
3 Gold Stocks Ready to Run: Newmont Mining Corp (NEM)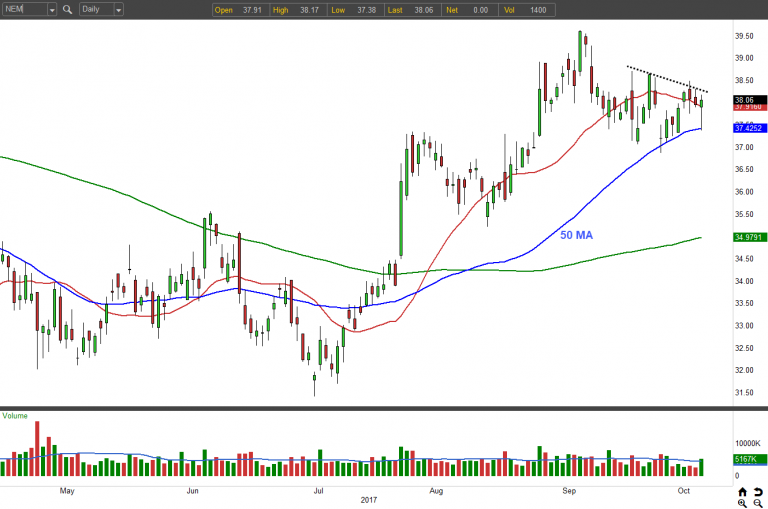 We begin with Newmont Mining Corp (NYSE:NEM), which is the top holding for GDX. Perhaps the most attractive trait for NEM is its relative strength. While the rest of the sector was sinking last month, Newmont Mining stayed afloat. In fact, it didn't even breach its 50-day moving average. And now that the pressure is off gold stocks, NEM should be one of the first to recover.
Friday's rally generated a bullish hammer candle, suggesting that after six weeks of dithering, NEM could be ready to rip. As a trigger, I suggest waiting for a pop above Thursday's high ($38.30). Once that level is cleared, the stock should revisit its recent highs near $39.50.
Buy the Dec $38 calls for $1.80.
3 Gold Stocks Ready to Run: Franco Nevada Corp (FNV)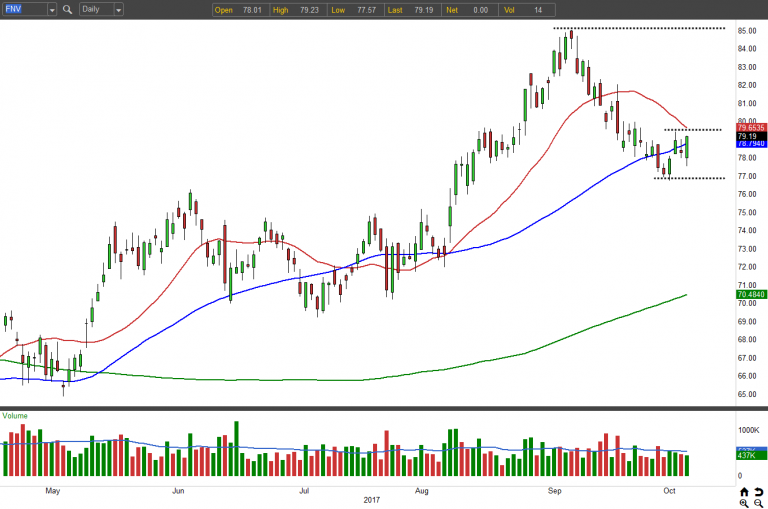 Like its predecessor in this list, Franco Nevada Corp (NYSE:FNV) has also held up better than its sector in recent weeks. And that means it looks much more attractive from a technical perspective. With last week's turnaround, FNV is now firmly back above the 50-day moving average and appears poised for another leg higher. Since the setup is similar to NEM, let's spend some time outlining the potential entry (or trigger), stop, and target.
To confirm FNV is following through, use last Wednesday's high as your entry ($79.45). For a stop loss, last week's low ($76.76) which is support, should do the trick.
Finally, for a profit target, use the prior pivot high near $85.
Buy the Jan $80 calls near $4.
3 Gold Stocks Ready to Run: Barrick Gold Corp (ABX)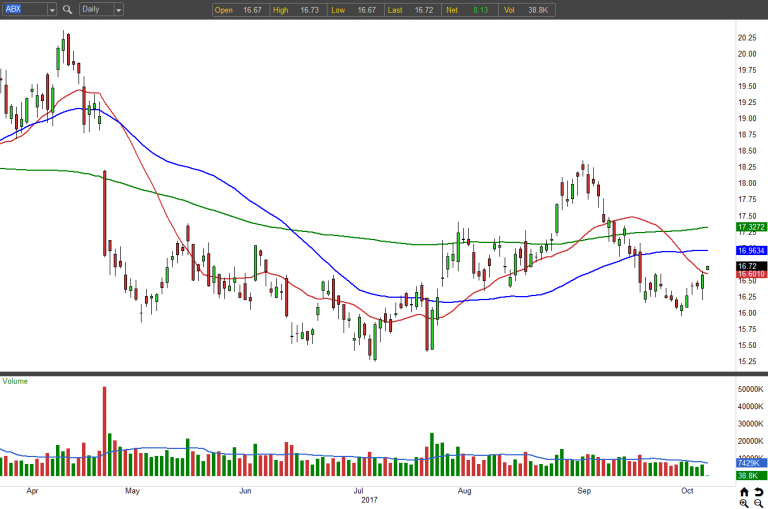 Barrick Gold Corp (USA) (NYSE:ABX) rounds out today's trio. It's weaker than both FNV and NEM but should receive a boost if the entire sector makes a comeback this week. Plus, it's a great deal cheaper than the others, so price-sensitive players should find it easier to trade.
Since cratering on poor earnings in April, ABX has been bouncing around in a trading range.
It did start trending higher in August, but September's swoon was deep enough to knock ABX back into its old range. Worse yet, it's now submerged beneath all major moving averages. Nonetheless, if Friday's surge in gold miners persist, ABX will rise again.
Buy the Dec $16 calls for $1.20.
— Tyler Craig
10 Worry-Free Stocks to Survive the Coming Correction [sponsored ad]
These ultra-safe stocks rarely take a hit from the market. And even if they do, they bounce back like a rubber ball right after the dip. If you're interested in a million-dollar retirement portfolio, you'll definitely want to read this. Click here now.